Northwest CL and FF modeler Bill Darkow dies
Article from The Really Great SAM 8 Speaks newsletter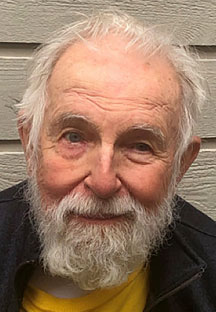 William Alfred Darkow was born August 15, 1932, in Akron, Ohio, and passed away peacefully March 6, 2021, in Olympia, Wash. He was the only son of William E. and Esther (Painter) Darkow.
Bill is survived by his loving wife of 64 years, Caroline; daughters, Kerrin Rene and Colleen Lorraine; son, William John; six grandchildren; and two great granddaughters. A daughter, Sylvia Kathleen, and his sisters, Lois Warber and Louise Hudack, preceded him in death.
Bill was a public school teacher, having taught in Neah Bay, Bremerton, and Lacey, Washington.
He was an internationally known and avid designer, builder, and flyer of control line and free flight model aircraft. He was a member of the Society of Antique Modelers and of the Northwest Skyraiders. He also enjoyed fishing and hunting.
Bill was an active member of St. Mark's Lutheran Church in Rochester, Wash.
Due to the COVID 19 virus, a private family service is planned. In lieu of flowers, the family suggests a donation to a local food bank.
Some further notes from Bill's son:
Among his many accomplishments in model aviation:
Was a longtime member of Society of Antique Modelers (SAM 8) and spent many happy afternoons flying free-flight at Harts Lake Prairie, Wash.
Also was a member of the NW Skyraiders, where he competed with some success flying his bright red Yak-9 in Navy Carrier, and also served as contest director on a number of occasions.
Wrote column "Classic Flyers" for Flying Models Magazine 4/90 to 5/92.
Designed & built:
Texas Wildcat CL Profile Scale Stunt (pub. Model Aviation - 10/89)
Kayaba KA-1 CL Profile Scale Autogyro Carrier (pub. Model Builder - 1/95)
It was the autogyro model and the controversy surrounding it that caused this sentence to be added to the Navy Carrier rules: "Autogiros and helicopters, or aircraft which rotate their propellers to a horizontal plane to act as rotors for hovering flight, are prohibited." Before being outlawed, Bill was the first (and probably only) flier to log an official flight with an autogyro in Navy Carrier competition.
Doing a Google search on "control line autogyro" led me to find three builders in the UK who had built and flown the Kayaba, including one converted for electric power. There are pictures and videos on YouTube, as well.
And designed with John Hall:
Curtiss Seahawk CL Profile Scale Carrier (pub. Model Aviation - 12/92)
Several examples of his design and building work can be found on the flyinglines.org Favorite Planes pages.
My father took great pride in finding unusual, obscure, and otherwise atypical aircraft to model, and the challenge of taking the road less traveled (or blazing entirely new trails) was the hallmark of his work. There is nothing he enjoyed more than to come to the flying field with a new aircraft and having people say, "what the hell is that?"
Remembrances of Bill Darkow
(EDITOR'S NOTE: Flying Lines invites CL modelers to share remembrances of CL community members who have left us.)
By Mark Hansen
I had to think back to remember the first time I met Bill Darkow. I was at the Spring Racing Tune-Up, in Portland, Oregon, in 1996. He and his son were competing at Sport Race and if memory serves me right, they came in third. The both had on rather unusual looking hats, black fedoras, and were dressed in a black slacks and white shirts; they really stood out. I had to go talk to them, and so I asked Bill about his plane, and not knowing me at all, he explained the rules, and his prop, and tank and why he had chosen the plane he was flying. I liked him right away.
My next encounter with Bill was when I wrote the now famous "Punctilious" letter to FL and then he responded with a strongly worded letter of his own. Not long after, I saw him at a contest and introduced myself as the Punctilious author, he said: Oh. Hm ... Are you angry? No, I say, I just needed to let you know why I wrote that letter. We were good friends from that point on.
Bill always had good advice for me. When I complained I was going to miss a contest because of work, Bill would say: "Life is what happens when you have made other plans." Or when I complained I had given a very nice gift to a fellow modeler, who did not appreciate it, and took it to a swap meet and sold it. He told me of driving far and wide to find the right gift for a granddaughter, only to see it sitting in the yard in the rain. He was outraged, but then realized, when you give a gift it is no longer yours. He always had little bits of wisdom to pass on, and he did it without being overbearing or arrogant.
One thing I really liked about Bill was his penchant for odd aircraft. He would find a funny old plane from one of his modeling magazines and think—"That is weird," and then build one. The Black Flying Wing, the Skyleeda, his Kyaba Autogyros, Flying Flounder, you name it, Bill would build it. He once showed me a cartoon of a guy flying a control line "Blimp" and he said, if I can find a way, I will do it. I rained on that parade and told him the general rules don't allow for gas other than air inside the model. Me being me, I would purchase his cast-offs, with mixed and varied results.
Speaking of Autogyros, once at a contest I met Bill's grandson, who told me, Grandpa is teaching me to fly. I asked with what, and he said it was a throttled plane, it was white. I said, oh the Supermarine S3, not an Autogyro? His grandson said: "To Grandpa, there are only three words in the rule book: Autogyros are prohibited." Bill never quite got over that one, but I did see him fly his Fox Combat Special, Mk 3, with a reverse rotation prop, powered 'gyro at two contests, Tail Hook in Tacoma and at one of the Fireballs events I CDed. He placed third if memory serves me, and the flights were quite entertaining to watch. I told him that they would never win, because they were too slow, and when you tried to slow them down, they dropped from the sky. His retort: But you always get a 100-point landing. To this day I still want one for myself.
Bill was the reason the NW Fireballs had the "Firecats" show team. Bill came and pitched the Idea, and then Jim Cameron ran with it. Bill would come to every event, he had created a banner that he could pull behind his Supermarine S3 that read N.W. Fireballs. Some found it boring, but to me it was just another "outside the box" modeling idea of Bill Darkow. I would never come up with such an Idea and I fly Combat.
During one show team event, at Portland International Raceway, I was flying one of my Nelson-powered "Kill Spot, Kill" when the motor mounts broke right at the back screw holes and it launched the engine over the spectators' heads and into a paved parking lot. Embarrassed, I went and retrieved the engine (there is a good story here, ask me some time), and when I returned, I found Bill standing facing me akimbo, and he said in a forceful way: "You need to safety check your gear before you bring it to an event like this. That just made every one of us look bad. I am surprised we have not been ask to leave. That was very irresponsible of you." I told him I had no idea what had happened, and that I had pull-tested the plane before the flight. I did figure out the problem. Boy was I embarrassed as a man of science, to be lectured by a middle school English teacher on safety. His remonstrations were my motivation to find the problem and rectify it.
As stated above, I would often purchase planes from Bill. One plane was the "Black Flying Wing" Bill had gotten from a 1949 magazine article. From memory it was designed by a Northrop engineer and had the same leading and trailing edge sweep as the YB-49. When Bill brought around plans for this plane, I took one good look at it, and told him: "Looks good, but build it out of some good contest grade balsa, and make sure to use a uniflow tank." A few weeks later Bill arrived at the field with the completed plane, powered by a Veco 19. He was using 60-foot .015 lines and I don't think the engine was completely broken in. It really didn't fly that well. It would yaw and if you did not stop it, it would get worse and worse, until it almost did a flat spin. Bill fiddled with this plane for about a month, until he was frustrated to the point of not wanting it any longer, and I bought it for $40, without the engine. Me being the kind of guy I am, I put a Webra Glo-Star 20 on it, which gave it a fair bit more power. I also raised the thrust line by about an eighth of an inch, and that made it want to turn better outside maneuvers. I flew it for years, and did a fair bit of Firecats airshow work with it. It was always greeted, by — Fly the Stealth Bomber! Bill was at several of those events and was always proud of his Black Flying Wing.
Years before the Stunt guys were flying electric planes, Bill brought one out to the field that I though had great potential. It was really a big plane and though it looked like a kit, I think it was a scratch built. Looked a bit like a Cardinal, but wasn't. He had a speed controller and timer, and after you turned the plane on, it counted 30 seconds and then off it went. It was a real shame, the plane suffered a leadout failure, about one lap after takeoff. This left Bill rather discouraged, and he never continued with is electric experiments.
The thing that always stuck me about Bill was his never-ending energy for the hobby, and his boundless creativity. One could criticize him for being too far outside the box, but you never got bored with the stuff he brought out. I never tired of his oddball planes; they were just so much fun. Of the three planes I purchased from Bill: The Skyleada, The Black Flying Wing, and The Flip only the Skyleada is no more. The Black Flying Wing is in the collection of Portland area modeler, Sam Baird, and the Flip is owned and flown by Jim Cameron. Bills legacy lives on!
He drifted away from Control Line, and went into Free Flight, so I saw a great deal less of him. I still remember him fondly though, kind, gentle, friendly fellow he was. Bill you are missed.
---
This page was upated March 30, 2021