Northwest fliers participate in 2022 Ringmaster fly-a-thon
See fly-a-thon website for up-to-date worldwide flight total
Control-line model aviators in several Northwest locations put up flights on various kinds of Ringmasters over the Oct. 1-2 weekend (and surrounding dates) as part of the worldwide Ringmaster Fly-A-Thon sponsored by the Brotherhood of the Ring.
The Brotherhood's John Cralley gathers flight data from around the world and compiles a spreadsheet showing what variants of Ringmasters were flown at the many locations where the flying took place. Latest flight data is available on the fly-a-thon website.
Worldwide report: 10,481 flights
By John Cralley
The final worldwide total of Ringmaster flights reported to the coordinators as of Oct. 112 was 10,481 flights by 605 fliers. See the graphic for official commentary:

---
Northwest Ringmaster flights
In the Northwest, flights are known to have taken place in Auburn, Wash., Chehalis, Wash., Eagle Point, Ore., Junction City, Ore., Redmond, Ore., Salem, Ore., Portland, Ore., and Richmond, B.C. and Salmon Arm, B.C. At least 999 flights were made by at least 65 pilots at Northwest venues.
The reports below are from the various organizations and individuals who participated; some of the data is taken from the worldwide report..
---
Washington state

Rod Claus (left) an Jim McCartney fly two Ringmasters at a time at Auburn Municipal Airport. Dave Gardner photo.
Auburn, Wash., Ringmaster flights
Oct. 1-2, Auburn Municipal Airport, Auburn, Wash.
Eleven pilots from the Northwest Skyraiders flew 57 flights over the two days.
We combined the results of both days, for our totals this year. Overall it was not a bad turnout with all those flights on one circle! Well, some guys ran some practice
flights with Carrier planes on another circle, but they weren't Ringmasters!
Here is the schedule of names and number of flights. Some of the airplane/engine data was not necessarily recorded — this IS a low-key event, but they were all Ringmasters of some sort!
All in all, a great time was had by everyone who attended. Saturday was clear and VERY sunny! (too damn bright!), but made up for it with some late morning wind — not bad, just "bouncy.". Sunday started much the same way, with a batch of successful flights, then some wind, then some closure.
Saturday also featured our 'dancing with the stars', with Rod Claus and Jim McCartney flying some interesting "two-up" flights. There was some potential miscommunication between the pilots ("I said I was going INVERTED, with OUTSIDE LOOPS — why are we flying head-on.??") There really wasn't enough time to say all that — mostly "holeee crap"!
Thanks to those who helped make it all work, including Jim McCartney, Rodney Claus, Randy Ling and Steve Holt (for helping fix the rolling gate!) — and all the others gathered to enjoy the camaraderie that this event brings together. It was my pleasure to be the 'fast and loose' event organizer, with, perhaps, a reasonable
event tally and herding the loose cats!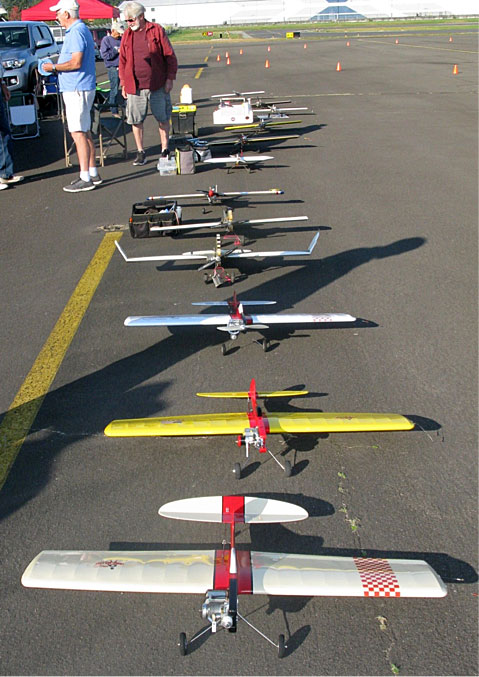 Lineup of planes at Auburn Airport on Saturday. Dave Gardner photo.
Chehalis, Wash., Ringmaster flights
Sept. 30-Oct. 2, Faro Field, Chehalis, Wash.
The Faro Field Flyers started Friday early afternoon and flew three circles until dusk each day, for a total of 699 flights.
We had 11 pilots throughout the weekend with four of us trying to break the 100 flight total to get a t-shirt.
After that it just became competitive then to see who could get the most.
Fliers were:
Jeff Christenson
Tina Christenson
John Milton
Chuck Rudorfer
Sonny Lewis
Marc Winz
Doug Oertli
Brad Parker
Mick Heart
Rich Schaper
Gene Lafond
Planes included six Ringmaster S-1 either from Sterling kits or from plans; six Ringmaster tributes kitted by Skyward Hobbies; and one Ringmaster Super Flash built from blown-up plans.
Olympia, Wash., Ringmaster flights
Jim Dickerman flew 20 flights on an electric S-1 Ringmaster at the Thurston County Miniature Aircraft Association field.
---
Oregon
Eugene, Ore., area Ringmaster flights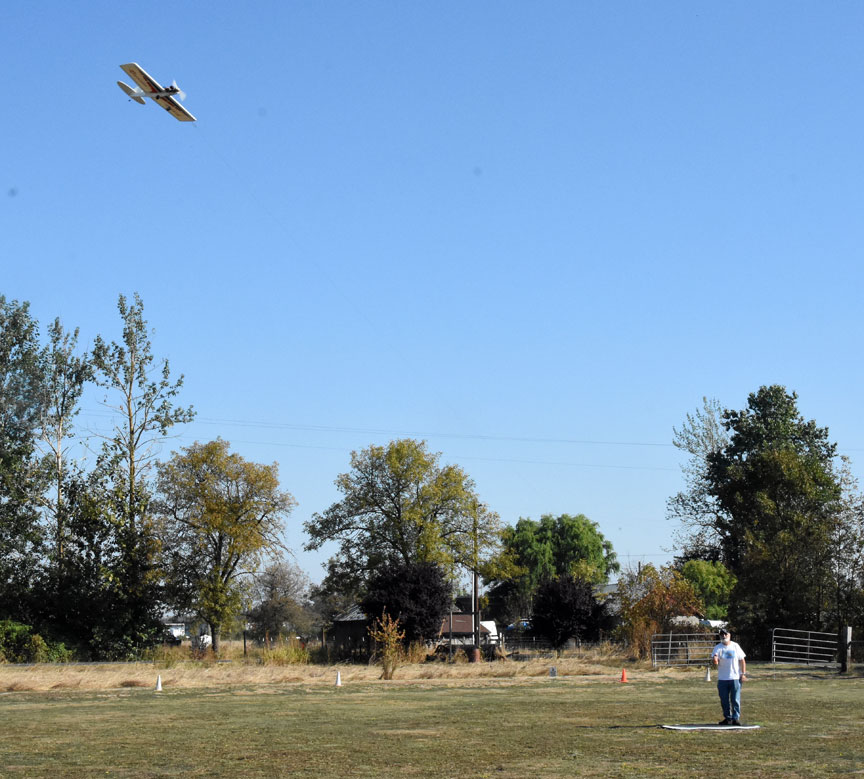 Gene Pape puts an S-1 Ringmaster though its paces. Flying Lines photo.
Oct. 2, Can Do Ranch, Junction City, Ore.
The Eugene Prop Spinners worked Ringmaster flights into their weekly flying session. Gene Pape, Gary Weems and John Thompson flew, with support from Jim Corbett and Mike Denlis. Flights were:
Gene Pape, S-1, four flights
John Thompson, Super (1 flight), Baby (2) and S-1 (1)
Gary Weems, Super, one flight.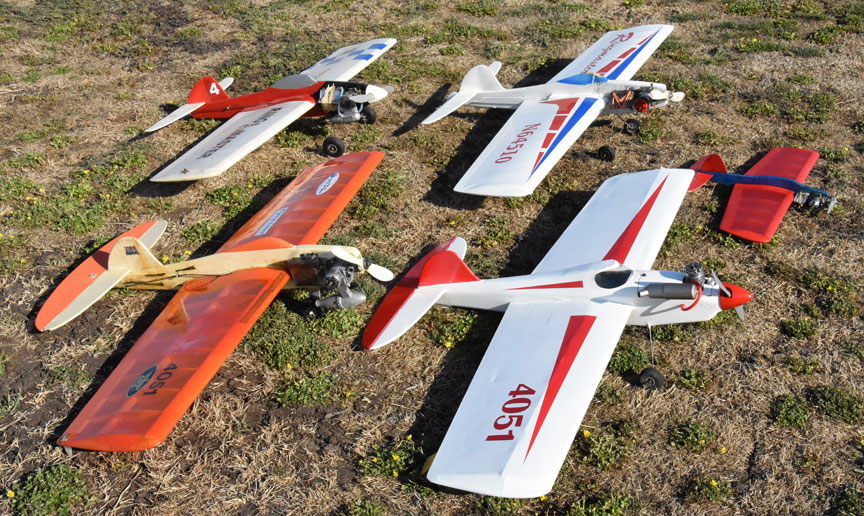 Prop Spinners Ringmasters await action. Flying Lines photo.
---
Salem Ringmaster flights
Oct. 1-2, Bill Riegel Model Air Park, Salem, Ore.
By Mike Hazel
The Western Oregon Control Line Flyers had a small local turnout for the event, but fortunately some of the Roseburg gang decided to make the drive and join us. Weather was nice and the wind was manageable most of the day. There were some other planes in the air besides Ringmasters, but the Rings got most of the air time. Following is a summary of the flights in order with the Ring version, everyone putting in just one flight per plane:
Alan Rader, S-1
Bill Mix, Junior
Mike Hazel, Baby, Junior, Giant
Bob Lewis, S-1
Craig Bartlett, S-1
Dave Shrum, Baby
Portland Ringmaster flights
Delightful fall weather enhanced the beauty of a wide variety of Ringmaster designs at Jim Walker Memorial Field in Portland. Don Curry photo.
Reported by Don Curry
Oct. 2, Jim Walker Memorial field, Delta Park, Portland, Ore.
Fliers included Terrance Bardue, Dave Baxter, Jim Cameron, Don Curry, Leighton Mangels, Chris Nicholls, Doug Powers and Dave Royer. They made 113 flights on S-1, Baby, Super, Imperial and Baby Imperial Ringmasters. The flying session was hosted by the Northwest Fireballs.
Dave Baxter prepares a Ringmaster for flight as another team gets a plane started on the asphalt circle. Don Curry photo.
Ringmasters large and small await flights in Portland. Don Curry photo.
A very nie Ringmaster Imperial. Don Curry photo.
---
Medford, Ore., area Ringmaster flights

Various Ringmaster variants await action alongside the carpeted circle in Eagle Point, Ore.
Oct. 2, Rogue Eagles RC Club, Eagle Point, Ore.
By Jess Walls
We had five pilots fly 16 flights total. One S-1 Ringmaster and 1 S-2 version. We also had non-flying Imperial, Super and Junior Ringmasters.
The S2 saw most of the action because it is throttle equipped! We would put in 5-6 laps, then land and someone else would take over. Returning pilots especially like being able to throttle back and land when they start to get dizzy!
Jess Walls, Walter Hicks, Marshall Palmer, Rich Schwegerl and Guy Laine were the pilots.

Guy used to be quite active in speed and stunt then he moved to R/C pylon racing for a while. It has been many years since he flew C/L but he flew today because of this event!!
Eastern Oregon Ringmaster flights
Reported by Lynett Lickley
Field of Dreams RC Club circle, Redmond, Ore.
Even over the mountains people are celebrating Ringmasters. Today John Lickley and I flew ours and it was great. The engine was an Enya .25 SS ball-bearing. The original owner was not around to see its maiden flights but his sons were and were pleased with its performance. John repainted it and now it is proud member of our airplane family. There were a total of three flights by two pilots.
---
British Columbia Ringmaster flights
Richmond, B.C, Rice Mill Road site, Oct. 1-2
Ron Simonson made a five-lap "flight" with his Ringmaster using a single-wheel, uh, landing gear. Chris Cox photo.
By Chris Cox and Larry Lewin
No fewer than three Vancouver area clubs all met together to participate in the 2022 Ringmaster Fly-A-Thon. Primary organizers, the Vancouver Gas Model Club, plus the Pacific Aeromodellers Club and the BC Aces enjoyed an absolutely beautiful day for flying at the Rice Mill Road flying site.
It's been pre-Covid since we last saw this number of flyers in the Vancouver area participate in a contest/fun-fly. It was a truly magical day that happens much too infrequently these days. Some of the more notable participants were Chris "Partner" Sackett (BC Aces president and past VGMC president, and mono-line flyer extraordinaire), Henry Hajdik (past PAC prez), Dave Finney (who I have not seen for 20 or more years), Tom and Neeltje Stevens visiting from The Island (Qualicum), John Deadman (MAAC Zone Director District H), Dave Loveday (new District H control-line rep) and wife Mary, and Grandchildren Rose, Ava (James) and Riker (Stephen) Cox. In total we had 19 different flyers, flying 11 different Ringmaster for a total of 75 flights!
Of the 11 different Ringmasters, we saw the standard S-1, Junior and Baby Ringmasters, a Super Ringmaster, a Ringmaster Imperial (more on this later), a mono-line S-1 Ringmaster, and several electric Ringmasters. Probably the winner of most flights went to Larry Lewin who logged 20 flights (and about 80 landings) on his electric S-1. He set it up for 8 laps, so he was able get five flights per battery charge. Landings were typical Ringmaster hippy hops, but Larry did manage to put in one greaser to the delight of the observing crowd. Tom Stevens put up about 8 flights on Saturday on his diesel powered Junior and Baby Ringmasters, and and returned Sunday to log an additional 8 flights on his electric Ringmaster. Also, I received word that long time VGMC and PAC member, Barrie Shandel put up a flight on a very rare Ringmaster Imperial. The Imperial was given to Barrie by PAC member Harold Youds, who got it from VGMC member Gerry Boyd several years ago.
Gord Spuryt shows off his S-1 Ringmaster. Chris Cox photo.
The most utilized Ringmaster of the day was Stephen Cox's 25 year old pink S-1. We set the little OS .20FP for about 10-12 laps per flight, and it logged approximately 25 flights before the day was through. People flying the Pink Demon were Chris Cox, James Cox, Stephen Cox (first flights in about 15 years), Rosie, Ava and Riker Cox, Ron Simonson (PAC, long time RC flyer, just getting back into control line), Gord Spuryt and son PJ (PAC, PJ flew his dad's S-1), Dave Loveday, Glenn Little, Dave McCheyne, Henry Hajdik, Paul Bedford and Dave Finney. It was one busy little airplane! Only mishap was when I landed it upside down when testing for inverted tank run (it didn't) as we hoped Alan Resinger (clockwise flyer) might have a go on it.
Ron Simonson went above and beyond the spirit of the event by unicycling (Yes, I said unicycling) five laps while holding his S-1. He even demonstrated inverted flight and one "roll." It was of our opinion that this should be included as a successful "flight".
People were so happy with the day, talk of next year's Fly-A-Thon was already taking place. Hard to imagine it could possible be better than 2022, but fingers are crossed.
Dennis Cousineau describes the ingredients of his "special brew" to Partner (Chris Sackett). Ron Simonson looks on, thinking it might be a margarita.
The Pink Demon sits up front, taking a break from its record 25 flights. Pink fuel and a pink airplane? A match made in Heaven. Chris Cox photo.
Chris "Partner" Sackett showing off his monoline S-1 and his beautiful Super Ringmaster. Chris Cox photo.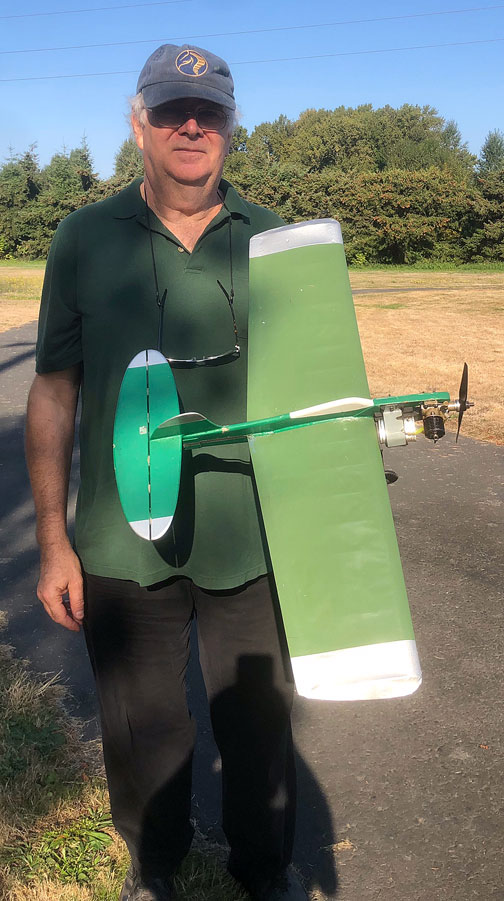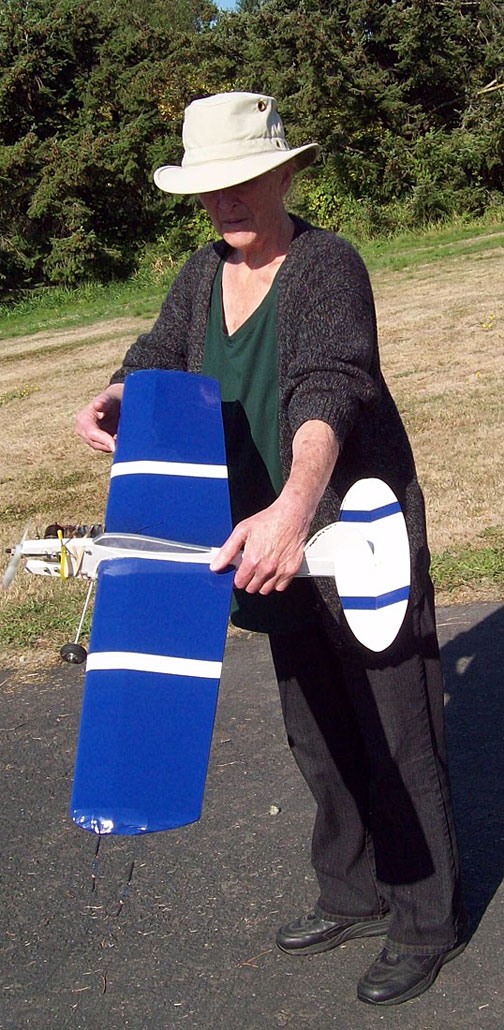 Left: Tom Stevens shows his PAW-powered S-1. Chrix Cox photo. Right: Neeltje Stevens shows off husband Tom's PAW-powered S-1. Larry Lewin photo.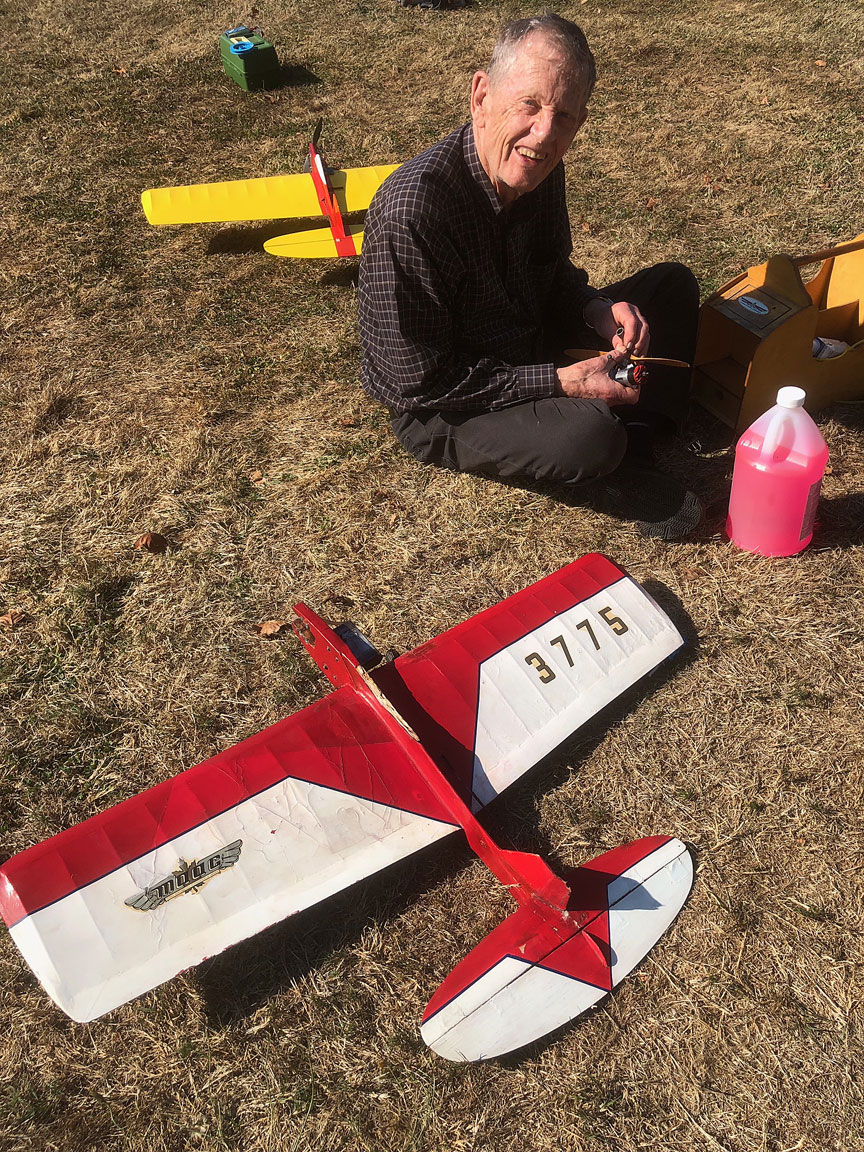 Dave Fannie making some "adjustments" to McCox powered S-1. Chris Cox photo.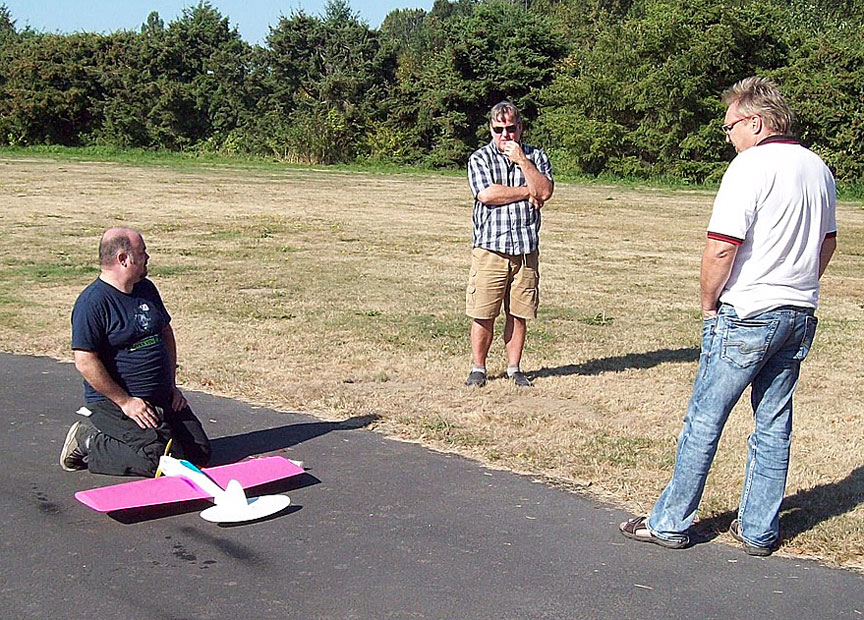 James Cox prepares to fire up the Pink Demon for another of its 25 successful flights. New VGMC member Eric on the left and MAAC District H control line committee member Dave Loveday provide valuable advice. Larry Lewin photo.
---
This page was upated Oct. 16, 2022
E