The 2019 Northwest Control-Line Regionals
Roseburg, Ore., May 24-25-26, 2019
Paul Gibeault delighted spectators at the 48th Regionals with a flight of his scale SR-71, powered by two Cox .049s and a rocket booster. The rocket made smoke, sparks and sped up the plane considerably. The performance was good enough for first place in 1/2-A Scale. Flying Lines photo.
Watch a video of the SR-71 flight. Chris Cox video.
A little rain didn't dampen spirits at the 48th Regionals
Attendance continues to rebound at the Northwest Regionals, now firmly established in Roseburg, Ore., after five straight years at the local airport -- with plans already underway for No. 49 next Memorial Day Weekend.
Fliers from all over the western United States and Canada gathered at Roseburg Regional Airport, with 67 people putting up official flights, an increase of four over 2018 -- and five who entered but did not fly would have brought the total to 72.
Weather was reasonable most of the time, except for rain that set in on Saturday afternoon. Combat fliers suspended the 80mph event for the day when it got wet but were able to complete the event on Sunday morning and still get in the AMA Fast event, compressed from double- to single-elimination. Some intrepid Profile Stunt fliers continued through the rain on Saturday, though several passed the second round.
Judges Mike Haverly (left) and Tim Wescott got a little shelter from Jerry Eichten's umbrella as Dennis Nunes makes his second-round flight in Profile Stunt as the rain set in on Saturday afternoon. Flying Lines photo.
The work of putting on the Regionals was handled by the Eugene Prop Spinners, the Umpqua Valley Modelers, Roseburg area control-line fliers and many individuals who volunteered as event directors and workers.
The 67 individual entrants accounted for 187 event entries, up from 185 in 2018
Former world and national champion Paul Walker again emerged from a world-class field to capture the prestigious Regionals Expert Precision Aerobatics championship, flying his 2019 Impact to victory over former world champion David Fitzgerald and Canadian Stunt great Chris Cox. Cox's 2019 Hellcat captured the Concours d'Elegance award for the most beautiful Stunt plane.
Field setup and teardown was again under the direction of Eugene Prop Spinners President Mike Denlis, with strong worker support from the Prop Spinners, the Umpqua Valley Modelers and Roseburg control-line fliers, along with a number of contestants on Thursday and Sunday. Events were directed by Chris Cox (Aerobatics); Gene Pape (Combat); Mike Potter (Navy Carrier); Doug Powers and Richard Entwhistle (Racing); Walter Hicks (Scale); and Will Naemura (Speed). Registration work was done by Annette Johnston and Laura Hazel, and Richard Entwhistle hauled the carrier deck to the site and away again.
Excellent food was provided by the Rocket Dogs food cart.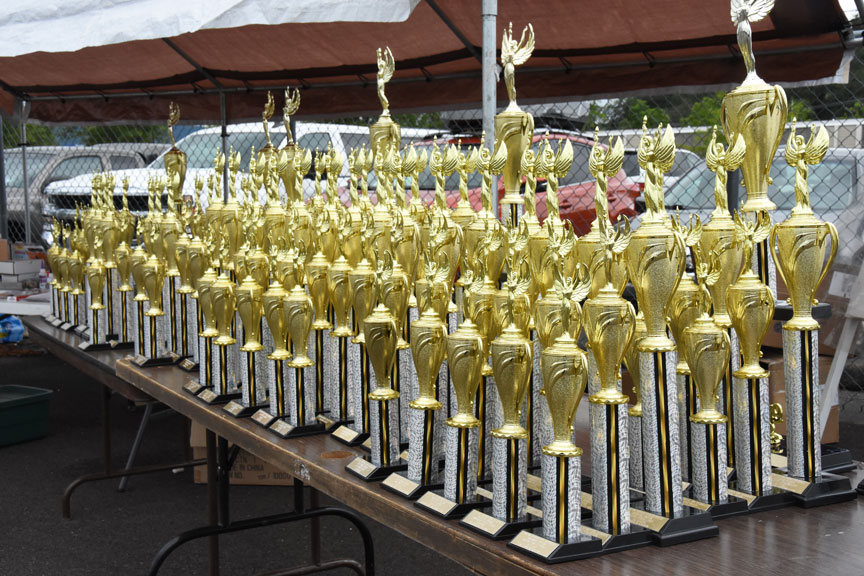 After several years of awarding plaques, the Regionals returned in 2019 to awarding trophies through third place in all events. Flying Lines photo.
The contest offered trophies through third place in all events, plus huge grand championship trophies in all events. An array of high-quality merchandise prizes was given away on a "door-prize" system, so every contestant came away with a good prize, win or lose.
The "loot"! A wide array of prizes was awarded in "door-prize" fashion, with every entrant having an equal chance at a big prize. Flying Lines photo.
The trophy and merchandise prizes were made possible in part by generous donations from Regionals contestants and supporters.
Trophy sponsors were: Ken Bird, Burt Brokaw, Tom Brightbill, Chris and Joan Cox, Pete Cunha, Jerry Eichten, Flying Lines, Dave and Angela Gardner, Orin Humphries, Jive Combat Team, Vic Lichtenberg, Mill-Tech Inc., the Northwest Fireballs, Mark Schluter, Paul Walker and ZZ Prop.
Donating either discounts or merchandise for the prize table were Brodak Manufacturing, Eugene Toy & Hobby and the Northwest Skyraiders.
Elsewhere on the Flying Lines website, see updated Northwest standings, Northwest records and Regionals records.

The 2019 version of Chris Cox's Hellcat captured the coveted Concours d'Elegance award for aerobatics airplanes at the 2019 Regionals. The award for the best-appearing stunt plane is chosen by a ballot of the pilots and judges. Flying Lines photo.
---
Event directors' reports
Combat
By Gene Pape
This year was the best Regionals Combat for me in a long time because of all the help I had available all weekend. Dave Crabtree from Roseburg and Gary Weems spent all three days judging. Russ Hester spent all three days ably taking care of my equipment as well as his own. In the middle of the contest when it became apparent that we needed to pick up the pace of the competition, Lane Puckett, who had pulled a calf muscle on his way to third place in 1/2-A which kept him from continuing to compete, generously volunteered to run the rest of the matches. This allowed me to concentrate on taking care of paperwork, pull testing, and generally keeping things moving.
Regionals Combat started looking like Greg Machen was going to dominate. He won .15 fast without a loss and his flying was very impressive.
Combat Event Director Gene Pape (center) conducts the pilots' meeting for AMA Fast Combat on Sunday morning. Rich Salter photo.
But wait, who was that guy in second place in .15 Fast? Oh yeah, some guy named Jeff Rein who has dominated combat at the Regionals at the Regionals for several years. Jeff went on to win all of his remaining matches on the way to winning all three of the remaining combat events. Jeff has been the Combat Grand Campion at the Regionals nearly every year (maybe every year) since I resumed flying the event in 2008. Most years, however, he has had serious competition. This year he just beat everybody. In my match with him in Fast, he killed me in less than 10 seconds after the horn sounded to start Combat. Clearly, he has been taking advantage of all the practice he has been doing since he moved south.
Russ Hester quietly had a very good contest as well. He finished third in .15 Fast then second in 80 mph and Fast. He has been a great addition to combat in the Northwest since he stated flying here about a year ago.
The remaining trophies went to John Knoppi, who finished second in 1/2-A, Doss Porter who finished third in 80 mph, and Don Jensen who finished third in Fast.
All in all a very pleasant contest.
Navy Carrier
By Mike Potter
Watch this space for the event director's report.
Steve Holt's Northwest Sport 40 Carrier plane bounces to a stop on the deck, but telltale grass in the tailwheel is evidence of a "splash" landing. Flying Lines photo.
Scale
By Walter Hicks
First and foremost, a good time was had by all involved!
Paul Gibeault, entering his first-ever Scale competition, kept us all entertained. A built-up 1/2-A SR-71 with two hopped-up .049 Mouse Race motors and a model rocket engine on top of that. After several attempts the rocket lit off with flames and smoke and proceeded to propel the SR -71 even faster that it was going with the Mouse Race engines. Very fast and realistic flight earned him first place in 1/2 A Scale.
Burt Brokaw flew his Fun Scale P-51 Mustang to first place with some excellent piloting skills. Burt has also won the Nats with this plane. Vic Lichtenberg built an excellent Great Lakes Special with superb documentation which was proxy flown by Burt Brokaw; not only was the plane well documented, it also flew very well.
1/2-A Scale had three entries, all of which had twin .049 power, Orin Humpries had a very well-documented and built SR-71, John Wright flew his well traveled Bristol Beaufighter, as well as Paul Gibeault with the SR-71 with very fast Mouse Race engines.
Orin Humphries had an excellent flying Monocoupe in Fun Scale that was superbly documented, he flew a restored Beechcraft Staggerwing in Profile scale again with excellent documentation.
John Wright was Grand Champion with his entries in 1/2-A, Fun Scale, Sport Scale and Profile Scale all placing well. John flew a great-flying Corsair FG-1D in Profile Scale, which had also won the Nats in the past. His Cessna 195 also a good flyer in Sport Scale. A P-47 D was flown by John in Fun Scale.
The quality of documentation, craftsmanship, and flying skills was at very high level for this years Regionals and was very entertaining to watch.
A Beech Staggerwing entered by Orin Humphries in the Profile Scale class. Flying Lines photo.
Speed
By Will Naemura
Another year, another adventure! The 2019 NW Regionals is now history and a fantastic experience for all that were there, together. I say together, because this is what makes the event so special. Together, we have unforgettable memories over the past 48 years! Together, our lives have been woven together as we remember the good and not so good moments. Together, we have another year of memories to add to the NW Regionals phenomena.
In looking at the results, we had some good to great Speed with most competitors achieving better results than last year. The constant action at the Speed circle was noticed by many with Friday being the busiest day due to the forecast that Saturday afternoon would bring in some rain. A big shout-out to all that helped to time flights and to tear down the fencing after the event. Together, it was a great event!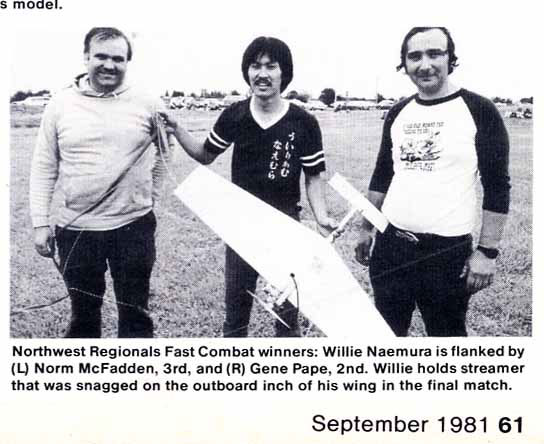 For whatever reason, this year's NW Regionals had me reflect upon the impact of the event in my life. Maybe it was because of John and Mike talking about this being the 48th year running and how 50 years will be such a landmark moment. This going alongside the fact that the NW Regionals is one the few contests, outside of the Nats, that has all of the AMA CL events. Maybe it is because I realized that the NW Regional started a few years before I started flying competitive CL events at the age of 16! I didn't know back then that this event would span the decades of my involvement in the sport.
Its amazing how the NW Regionals has helped to shape my life as it is today. It started as a young teenager in the early 70s. I went to my first NW Regionals as a spectator. What I saw just blew my mind. It was absolutely insane watching three Fast Rat Racers in the same circle. Somehow most survived even though it seemed like a combat version of the ultimate man's race. What I ended up learning is that "it's insane, until it's not!" Then, in the middle 70s, being mentored by Dan Rutherford, I built and competed in Jr. Goodyear racing. I had no clue on what I was doing, but with the help of Dan and others, somehow there was success. In the late 70s, I went to college at University of Oregon in Eugene. There, I teamed with Gene Pape and John Thompson. With Gene's help, I learned how to cut foam cores and the spent countless hours at his house, watching and learning how to be competitive in Combat. And, before I graduated, I won Fast Combat at the NW Regionals, again making what seemed "impossible, possible"
Will Naemura, flanked by Norm McFadden and Gene Pape, after Will's win in AMA Combat at the 1981 Regionals. The photo is from Model Aviation magazine. Charlie Johnson photo.
Moving back to Portland, I teamed with Phil Granderson. I learned how to compete on a larger scale and gained the passion to compete on an international level in F2D Combat. This, along with being mentored by Charlie Schutte in F2A Speed, started the next chapter of my aeromodelling tortures adventures!
The investment of their time and their willingness to mentor me helped me to understand that it takes a team of people to be successful and that "we can do much more together than apart." The process also helped me to understand that "with every problem, comes and answer and then a change to become better." These are the same set of principles that I am using today to train a new set of leaders at the company I am working for in Germany.
As we move forward into the next years, let us appreciate the experiences we have together and how precious these moments are. I know that with every missed year will be a missed adventure! This is what brings me back to NW Regionals to help every year. No matter where I am in the world, I will always be back to experience as many years that I can, together.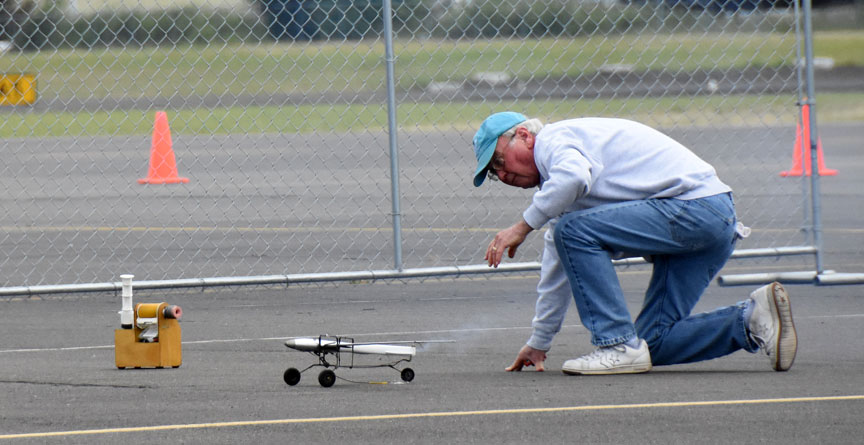 Jim Booker launches Will Naemura's FAI Speed entry. Flying Lines photo.
Stunt
By Chris Cox
To begin, the requisite shout out to John Thompson and Mike Hazel for their outstanding commitment and dedication to the Northwest Regionals. Without John and Mike, it is probably safe to say we would not have a Regionals to come to every year. What an outstanding dynamic duo.
As usual, during early preparation, things were moving along swimmingly well until word was received that Barb White's mother had taken a nasty fall, resulting in a fractured fibula. As a result, Barb was needed to care for her mom and was no longer able to attend and quite literally keep the event organized and running smoothly. Luckily, Annette Johnston was able to step in for Barb and assist John in seeing people were registered and pointed in whatever directions they needed to be pointed.
Barb was also my go-to person with respect to score sheet preparation, scoring and posting said scores in minimal time so that everyone was kept up to date (generally within minutes of landing). As a result, I pulled Joan from her judging duties and put her in charge of organizing score sheets and score tabulation. I tried to help out from time to confirm her score sheet addition, as did Annette and new recruit, Sheri Holcomb (she's a keeper, Mark Scarborough!). That said, Joan did an amazing job, closely matching Barb's organizational skills, making my job so much easier. Mike Denlis once again stepped in to organize model weigh-in and pull testing. It is so nice to have someone like Mike who knows exactly what to do and gets it done with minimal interference from me! Ethan Mills was once again quick to accept the job of Chief Score Runner. Thanks Ethan! On Sunday, I did spot Sheri sharing some of the score running duties with Ethan. This was organized without my assistance. Who could ask for more?
The Regionals is partly Stunt contest and partly Stunt seminar. Lanny Shorts (left) consults with stunt great Paul Walker. Steve Linstedt photo.
The competition itself went well, with no complaints registered (or at least that I heard of). Showers were forecast for the better part of the day Saturday, but luckily they held off until the beginning of the second round of Profile. Slightly more than half the contestants chose to carry on and fly regardless, so both rounds of Profile were considered official. This was a good thing for Howard Rush who had a less than satisfactory first round score flying his twin-engine, Gordon Delaney Pathfinder Two. After annoying most contestants running and tuning the engines between rounds, he was able to put up a very nice flight in Round 2 and garner a convincing win, sans appearance points. The second round officially came to an end when John Wright was unable to start his (normally) trusty Supretigre. Seems the water injection may have been a tad on the high side … .
The weather forecast for Sunday stated it would clear up early morning and be quite pleasant for the remainder of the contest. Unfortunately, things took a little longer than predicted, as it was still drizzling and quite frankly cold when I showed up at the field shortly after 7 a.m. Luckily, the drizzle was lightening up, and by the time we began the appearance judging, the drizzle had all but stopped, although it remained quite cool for the remainder of the day. Flying was underway shortly after 9 a.m. with thick air and very decent flying conditions throughout the remainder of day.
Bob Welch, who used to fly with Joe Dill over 40 years ago made his stunt debut in Advanced, making it clear he has not forgot what flying stunt is all about, posting very respectable scores and coming in first. Bob's building and finishing skills were very apparent on but his profile and full fuselage Buccaneers. Nice job Bob and welcome back! In Expert, we saw some very good flying taking place. Howard Rush, who I should have mentioned earlier is still recovering from a (his second) knee replacement, put up a couple of very nice flights, indicating he will be vying for top spot at all future 2019 competitions. Alan Resinger was all smiles following a solid first round flight. David Fitzgerald and Paul Walker were once again battling each other for top spot, coming out within a half point of each other, David in the lead. The second round was going to be an interesting one!
David was first of the top dogs to fly in Round 1 and dropped a couple of points. Following a less than ideal score in Round 1, I was able to post a pretty good score in Round 2, putting me in third place, but with both Brett Buck and Howard still to fly (dang it…). Howard put up another very solid flight, but to his disappointment, and my delight, he scored .5 less than I did! My third place was still secure, but Brett was waiting in the wings and he seemed determined to do better than his less than wonderful first round score. Scores were going up in the second round, so although another very good flight was flown, Alan was unable to improve on his first round score. It was now Brett's turn to fly, and despite a very good flight, there were couple of issues picked out by the judges. Brett was solidly in fifth place. Finally, it was Paul's turn to fly. Paul's airplane, although named an Impact, clearly departs from previous Impact models. Anyhow, let's just say Paul was "on" and put on a bit of a Stunt Clinic for the rest of us to watch, upping his score by a whopping 12 points for a 625.0 total! OK Paul, we give up … .
Finally, a huge thank-you to all the volunteer judges. Hopefully I do not forget anyone, but in no particular order: Tim Wescott, Mike Haverly, Alan Resinger, Jerry Eichten, David Fitzgerald, Paull Walker, Walter Hicks and Bruce Hunt! Also, thank you David Fitzgerald and Brett Buck for looking after the Advanced and Expert Appearances Judging!
And of course, I can't say it often enough, but thanks to Joan and her unwavering support of my addiction.
Click on results chart below for larger view

---
Regionals Photo Gallery
A random selection of scenes from the 48th Regionals
Roseburg Regional Airport provides plenty of space for this large contest. View from the north end of the field near the Scale pits shows the stunt pits, with Speed/Racing circle at the south end of the asphalt, and Combat in the grass area farther south. Carrier is out of the picture to the right of the combat circle. Flying Lines photo.
David Fitzgerald (left) and Brett Buck examine Scott Dinger's Precision Aerobatics plane during Sunday morning's PA appearance judging. The appearance judging adds a score of 1-20 to the pilots' flying score. Flying Lines photo.
All the Advanced and Expert Precision Aerobatics planes on display for Sunday morning appearance judging. Flying Lines photos.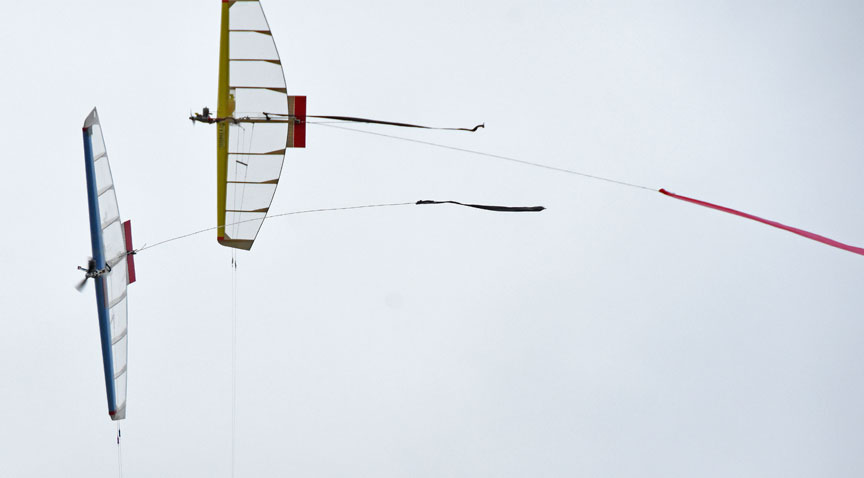 Close action in 1/2-A Combat. Lee Letchworth's plane on right has scored a cut and is carrying part of Greg Machen's black streamer. Flying Lines photo.
Left: Flying Clown Racing action on Sunday: Paul Gibeault makes a pass over Leighton Mangels. Right: Combat center circle action: Lane Puckett (left) and Buzz Wilson keep their handles together (best way to score a cut) in 1/2-A Combat. Flying Lines photo.
Longtime Navy Carrier Event Director Mike Potter keeps the flying organized. Flying Lines photo.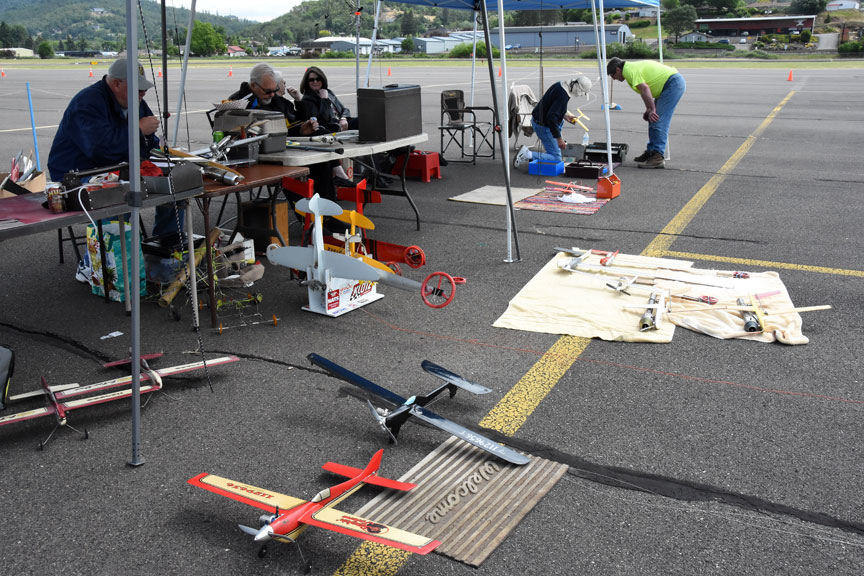 Tinkerers at work in the Speed pits. Flying Lines photo.
Lane Puckett launches Russ Hester's 1/2-A Combat plane as opposing pilot Don Jensen awaits the start of the match. Flying Lines photo.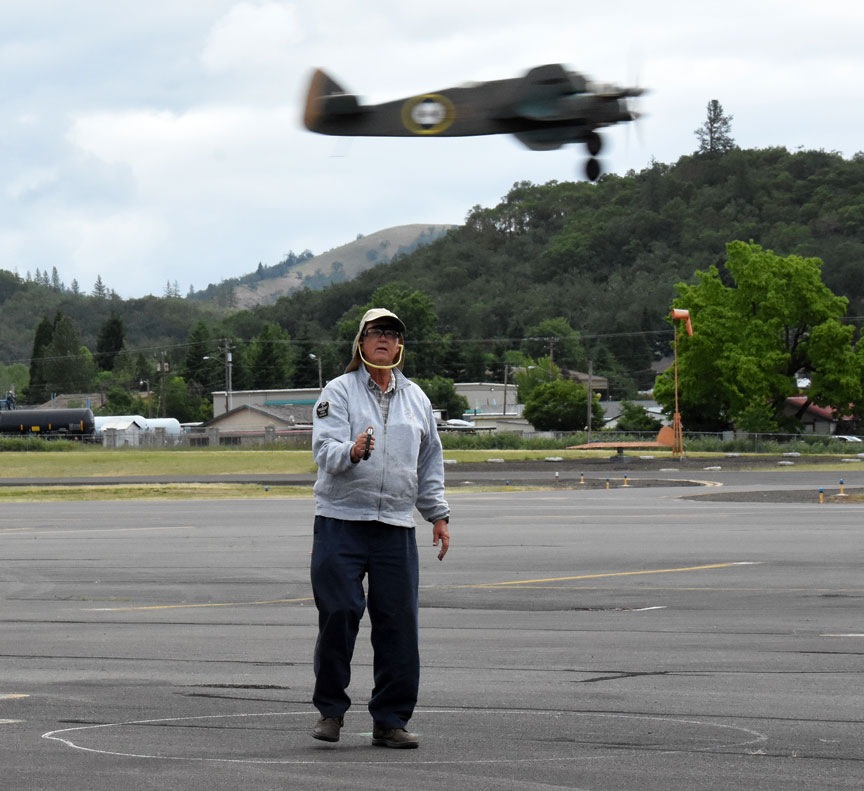 John Wright flies his twin-engine 1/2-A Scale plane. Flying Lines photo.
Navy Carrier planes lined up awaiting action. Flying Lines photo.
More close action in 1/2-A Combat. Flying Lines photo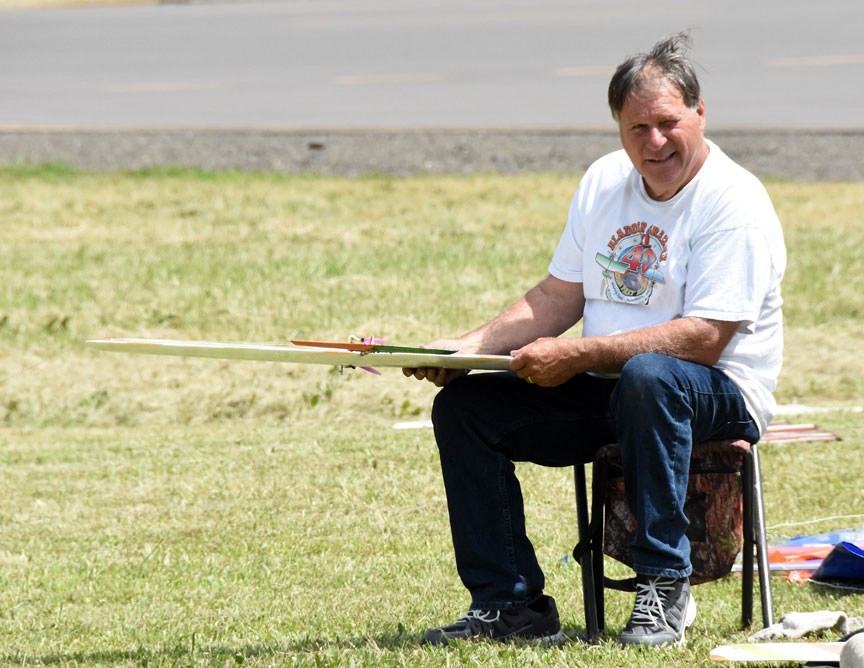 Robert Smith in the Combat pits between matches. Flying Lines photo.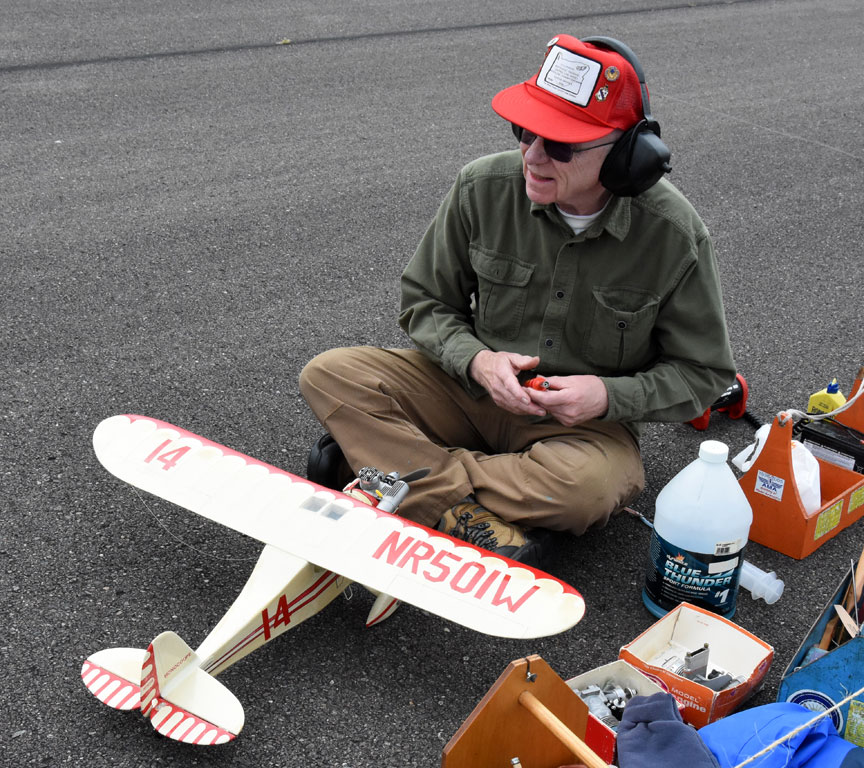 Orin Humphries gets his Monocoupe ready for an official Scale flight. Flying Lines photo.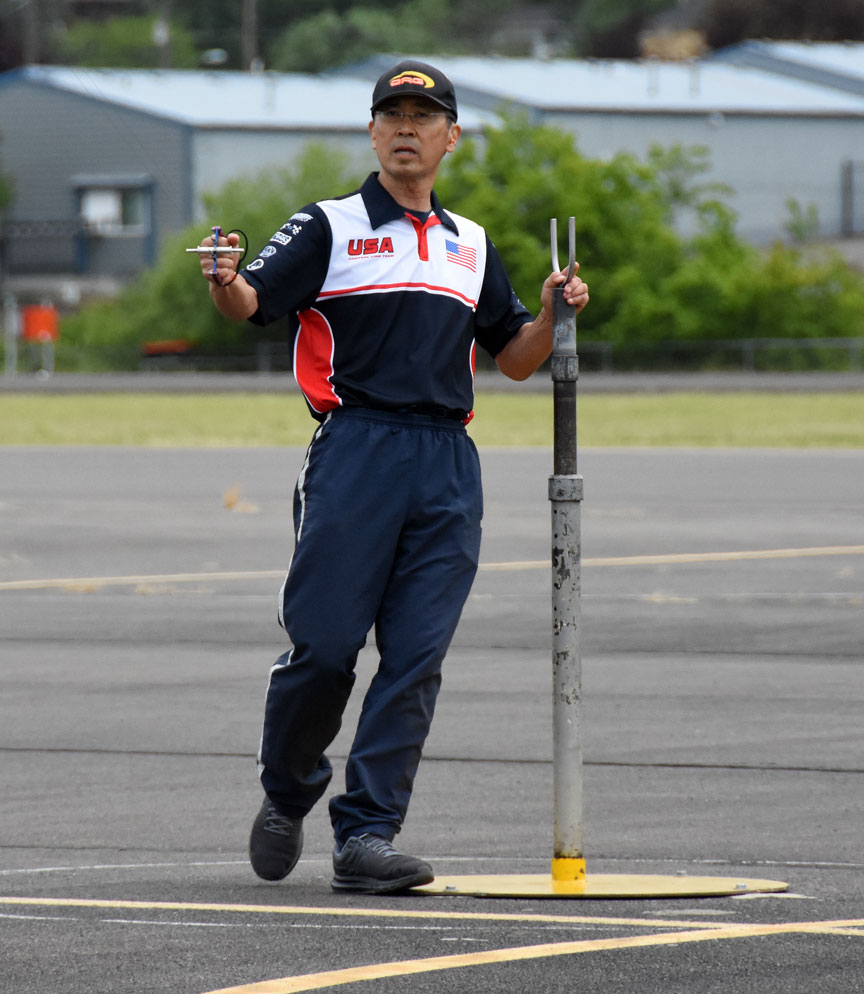 Will Naemura gets ready to enter the pylon during an FAI Speed flight. Flying Lines photo.
Scott Dinger's Continental makes a Classic Stunt flight. Flying Lines photo.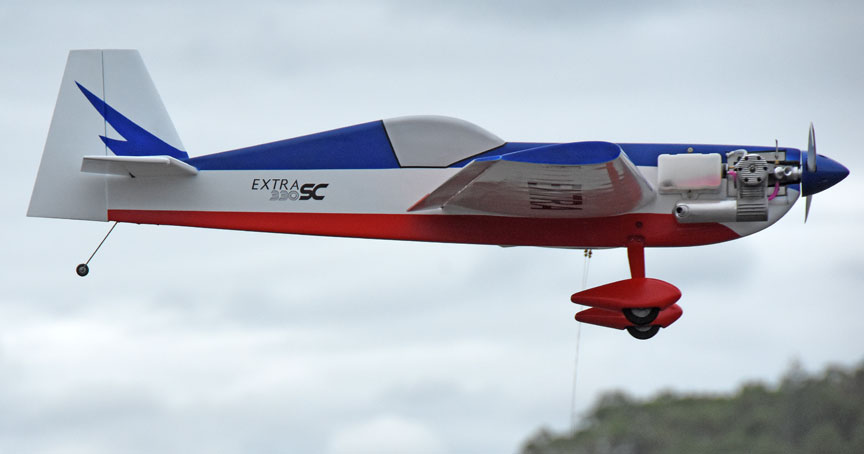 Walter Hicks' Profile Stunt plane glides in for a landing. Flying Lines photo.
Steve Holt's Sport 40 Carrier plane makes a pass during slow flight. Flying Lines photo.
Combat Grand Champion Jeff Rein had the upper hand in matches all weekend, taking first place in three out of the four events. At left he battles Buzz Wilson in 1/2-A, and at right Doss Porter in 80mph. Flying Lines photo.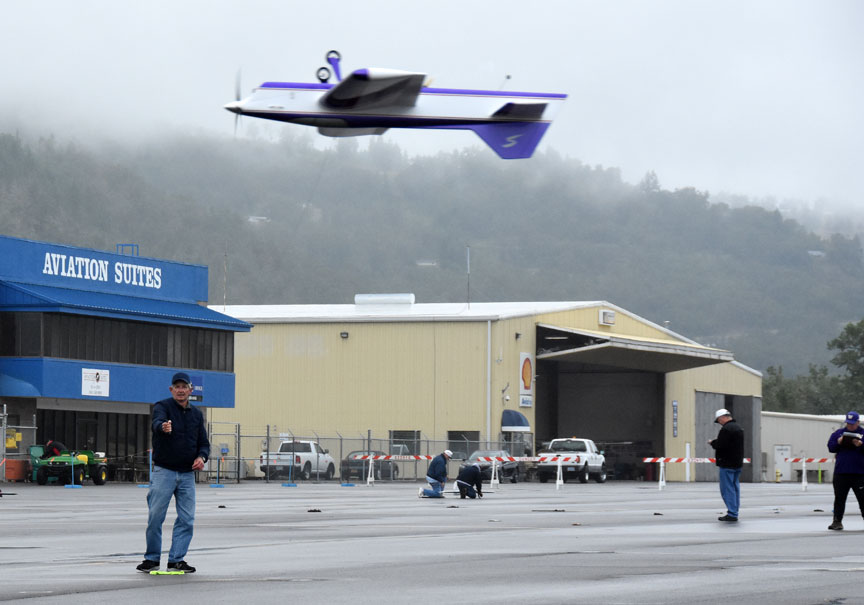 Marshall Palmer makes an official flight in Expert Precision Aerobatics. Flying Lines photo.
The sky was still gloomy when Marshall Palmer made this flight in Expert Precision Aerobatics with his Skipjack, but it gradually cleared up. Flying Lines photo.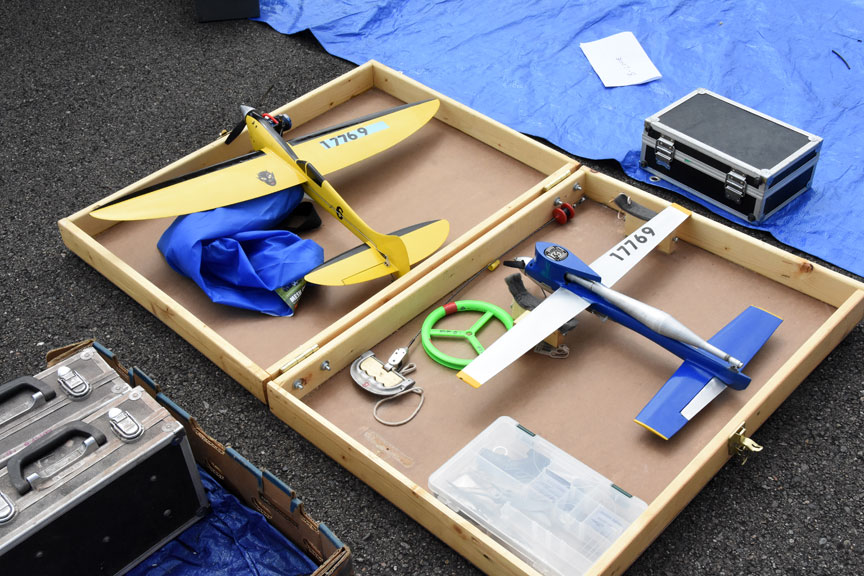 Nifty traveling box holds Ken Burdick's Speed planes. Flying Lines photo.
Flying Clown in backround takes off after Doug Powers' launch, as Richard Entwhistle is still getting Leighton Mangels' plane started. Flying Lines photo
Chris Cox's Concours-winning Hellcat glides in after an official flight in Expert Precision Aerobatics. Flying Lines photos.
Winning Precision Aerobatics plane by Paul Walker has an interesting profile, the result of ground-up design for electric power. Flying Lines photos.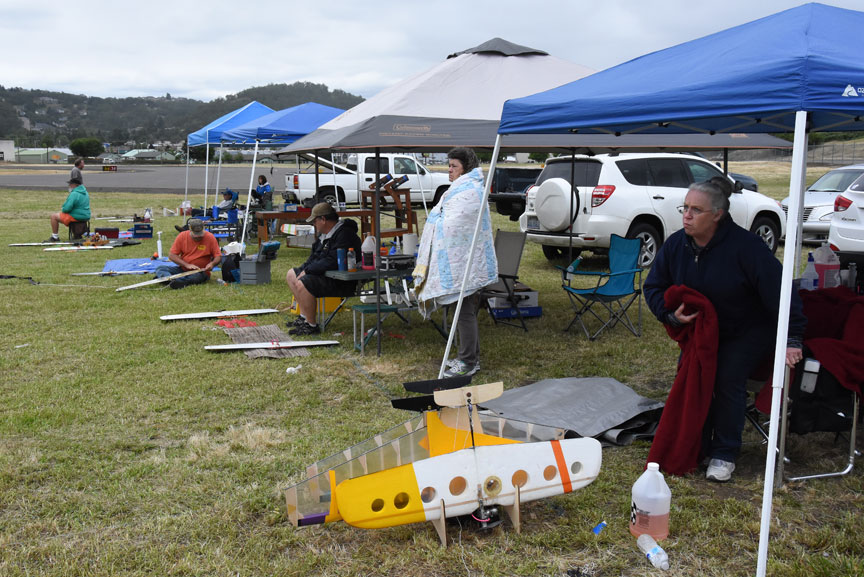 The Combat pits. Flying Lines photo.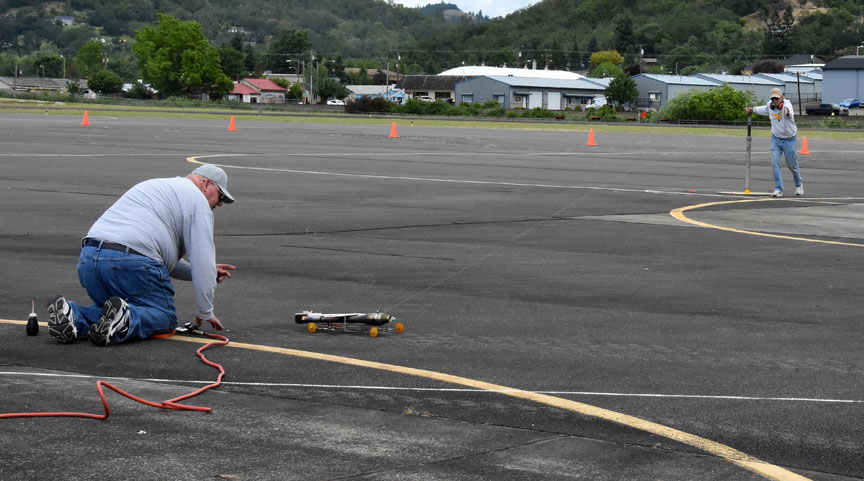 Howard Doering pilots a jet just launched by Joey Mathison at the Speed circle. Flying Lines photo.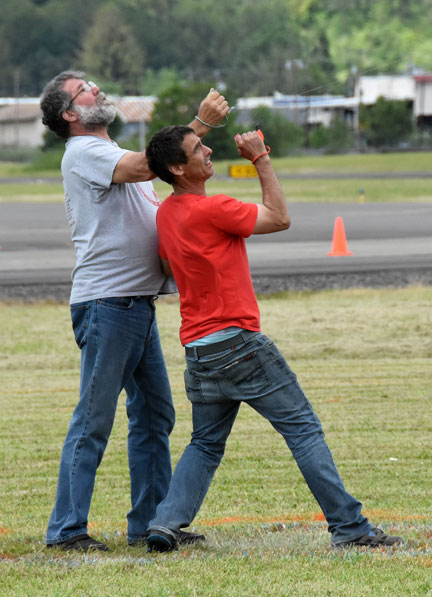 More Combat center circle action: Left: John Knoppi (left) battles Jeff Cohen in .15 Fast. Right: Lee Letchworth (foreground) and Greg Machen in 1/2-A. Flying Lines photos.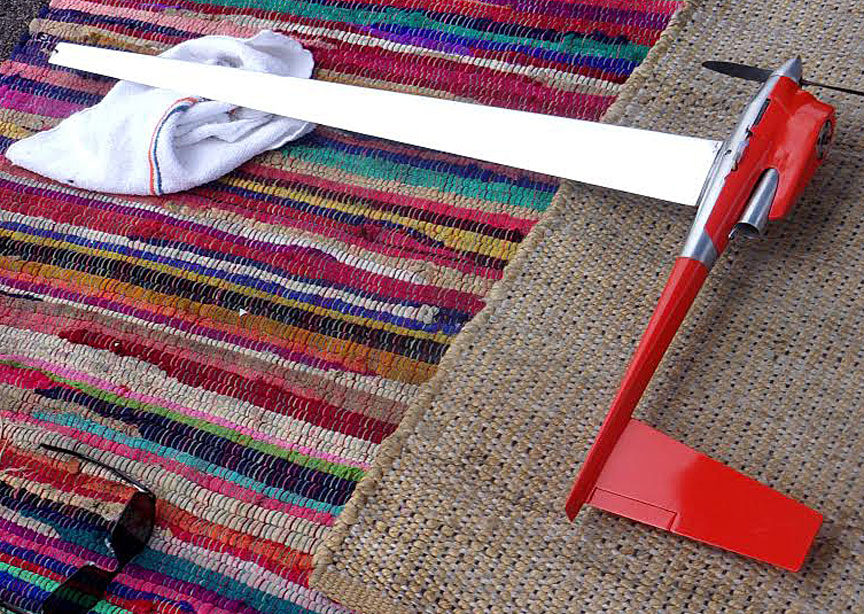 Speed planes: Left: Brad Anderson's asymmetrical plane. Right: Paul Gibeault's Formula 40. Steve Lindstedt photos.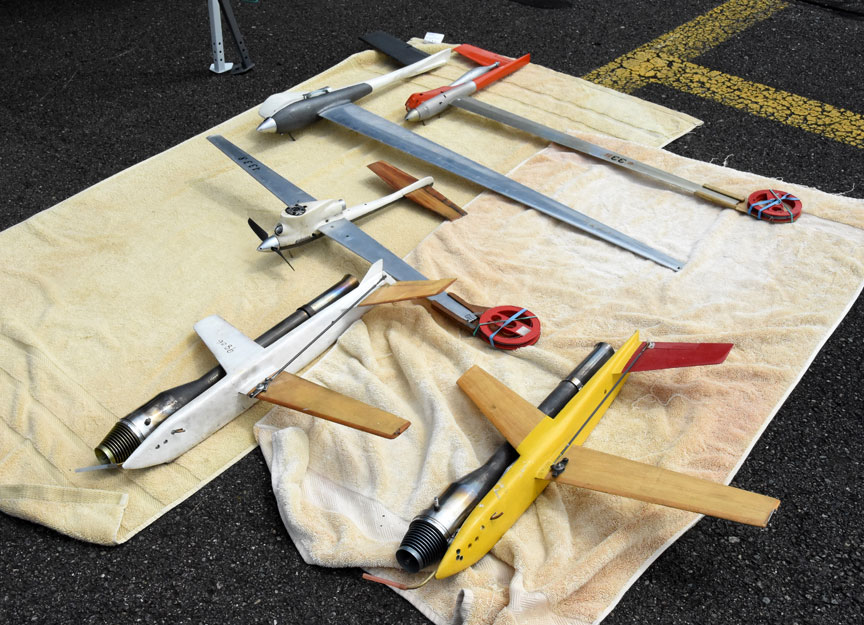 A variety of Speed planes await action. Flying Lines photo.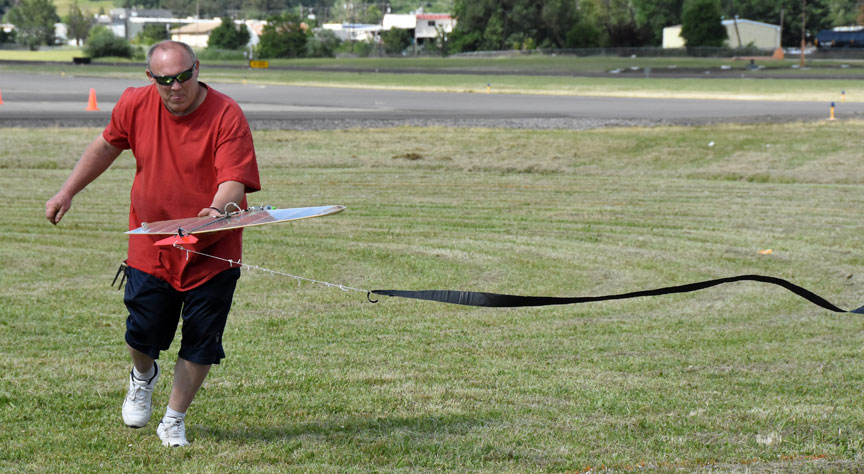 Greg Machen carries a 1/2-A Combat plane out of the circle for a pit stop. Flying Lines photo.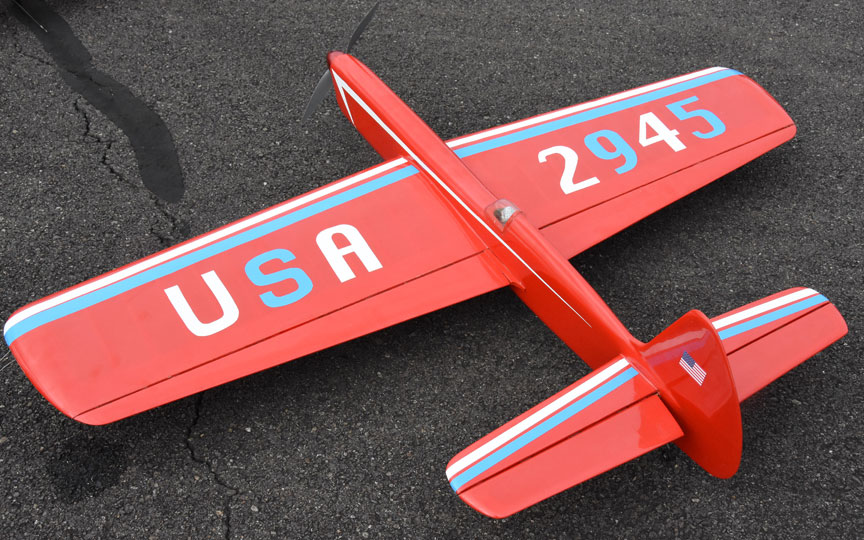 Left: Tom Brightbill's Stuka for Old-Time Stunt, in unusual U.S.-British markings of a postwar test plane. Right: Lanny Shorts' Classic entry. Flying Lines photos.
Two Orange beauties for Classic Stunt: Pete Cunha's Lark and Mike Haverly's Chizler. Flying Lines photos.
Left: Scott Dinger's Continental for Classic Stunt. Right: John Leidle's Classic plane. Flying Lines photo.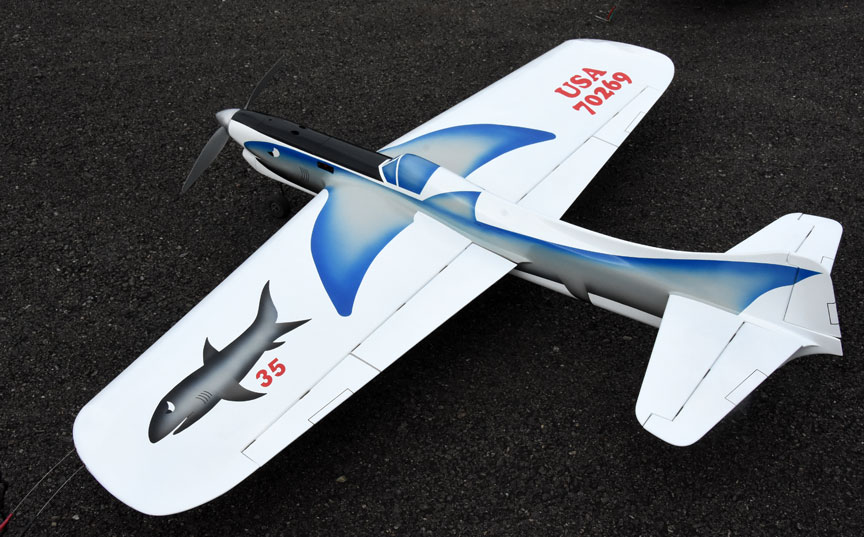 Left: Jim Rhoades' Apteryx, which he flies in both Classic Stunt and Expert Precision Aerobatics. Right: Pat Johnston's Shark 35 for Classic. Flying Lines photos.
Two approaches to the SR-71 Blackbird for 1/2-A Scale. At left is Paul Gibealt's built-up, Jetex-boosted version, and at right Orin Humphries' profile version. Flying Lines photos.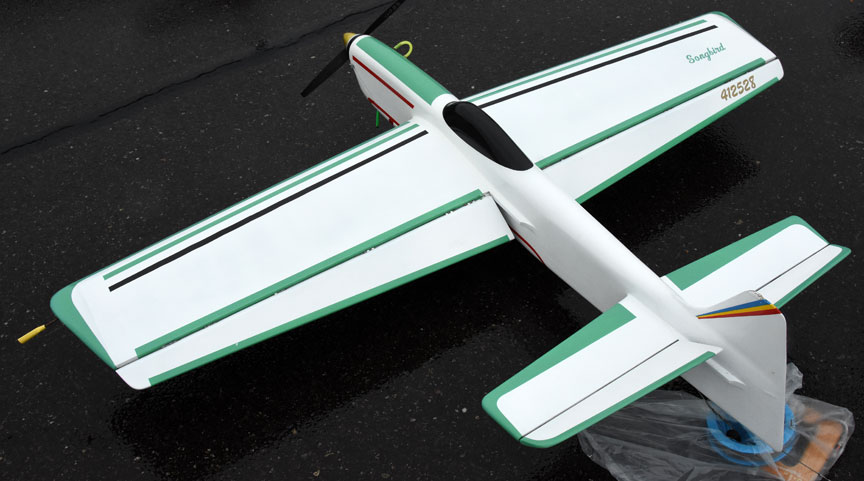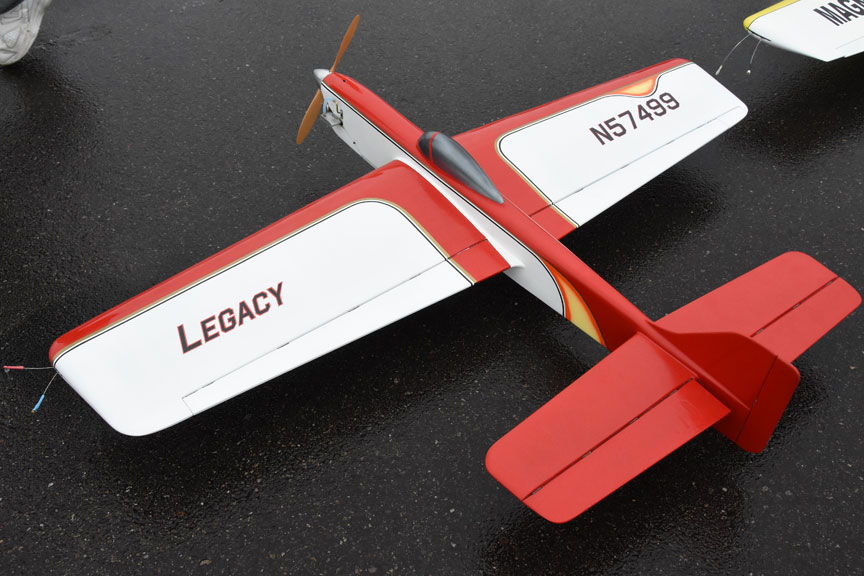 Left: John Leidle's Songbird, flown in Expert Precision Aerobatics. Right: Pete Cunha's Legacy, flown in Advanced PA. Flying Lines photos.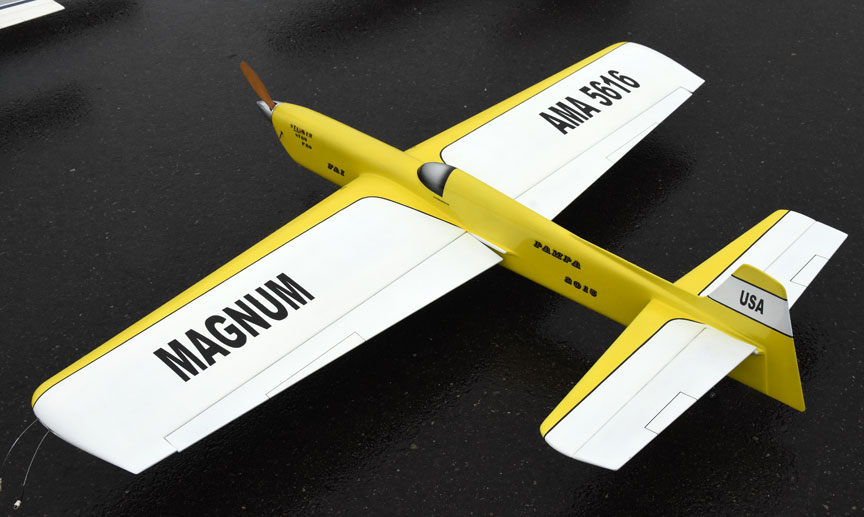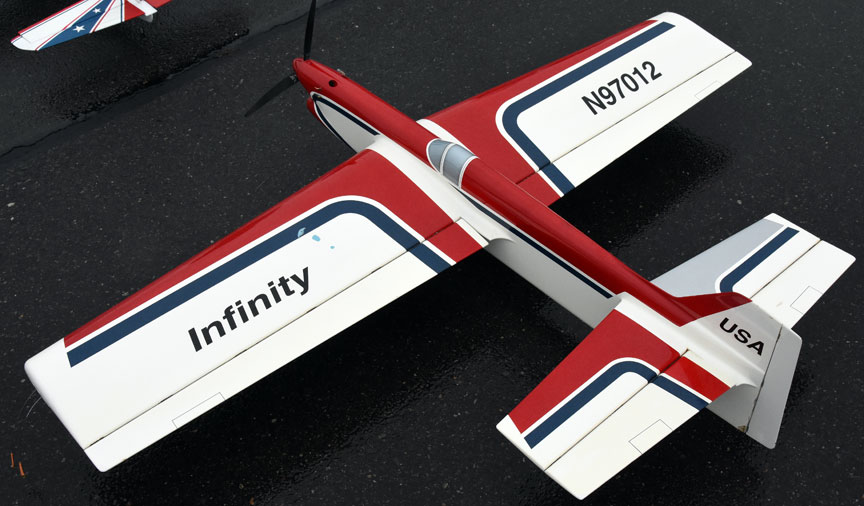 Left: Dave Royer's Magum, flown in Advanced PA. Right: Brett Buck's Infinity, flown in Expert PA. Flying Lines photos.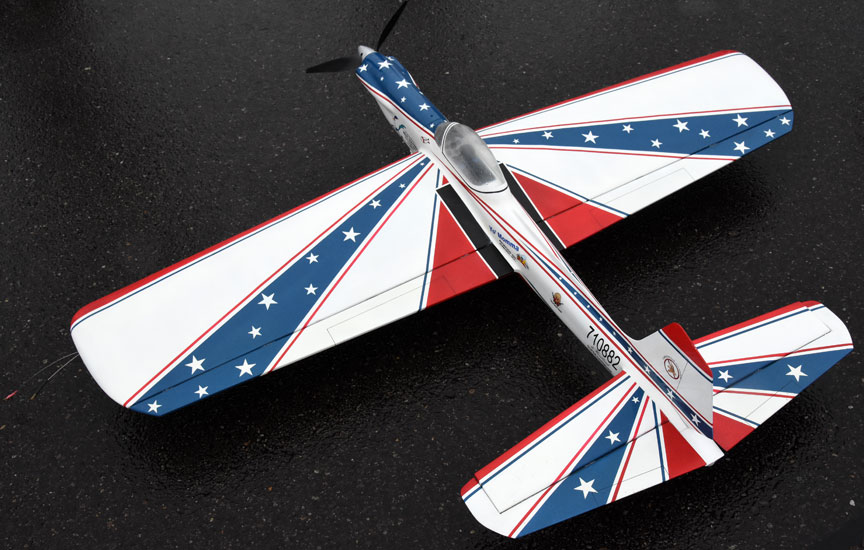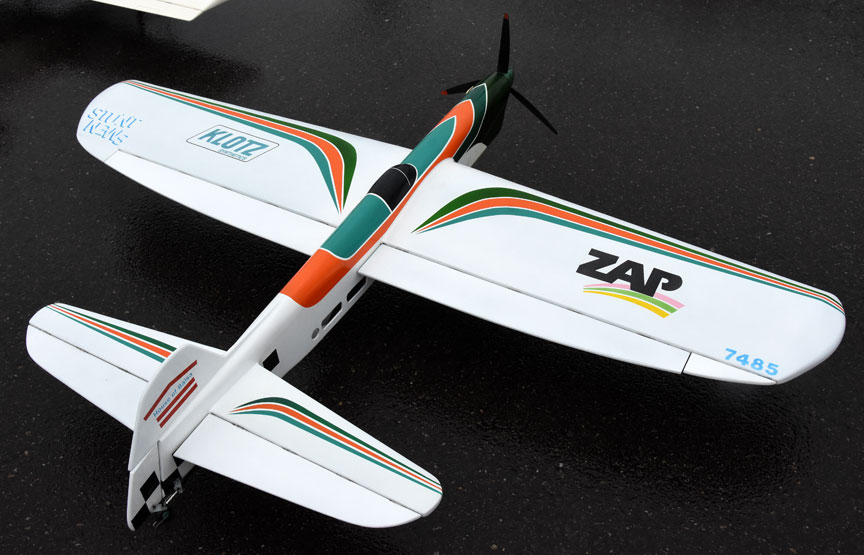 Left: Mike Haverly's Chipmunk, flown in Expert PA. Right: Scott Dinger's Expert PA entry. Flying Lines photos.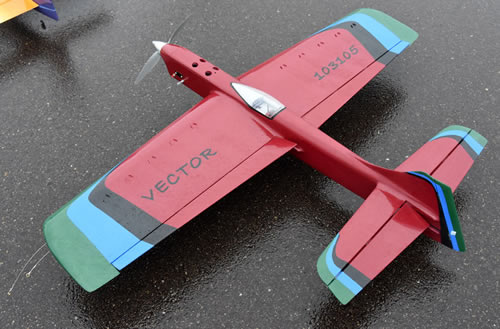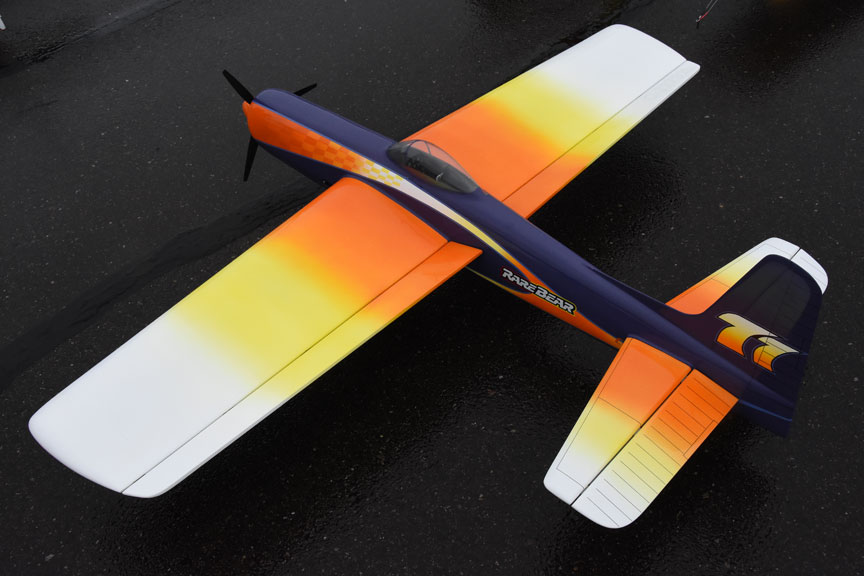 Left: Mark Schluter's Vector 40, flown in Advanced PA. Right: Alan Resinger's Rare Bear, flown in Expert PA. Flying Lines photos.
Left: David Fitzgerald's Thunder Gazer. Right: Pat Johnston's Bearcat. Both are flown in Expert. Flying Lines photos.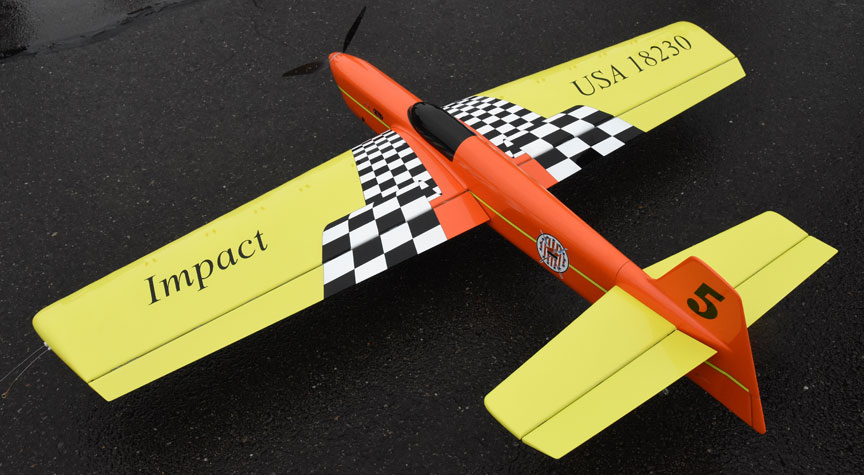 Left: Bob Welch won Advanced PA with this plane. Right: Howard Rush's Impact for Expert PA. Flying Lines photos.
Left: Paul Walker's 2019 Impact won Expert PA. Right: Dennis Nunes' Gladiator 35 for Classic Stunt. Flying Lines photos.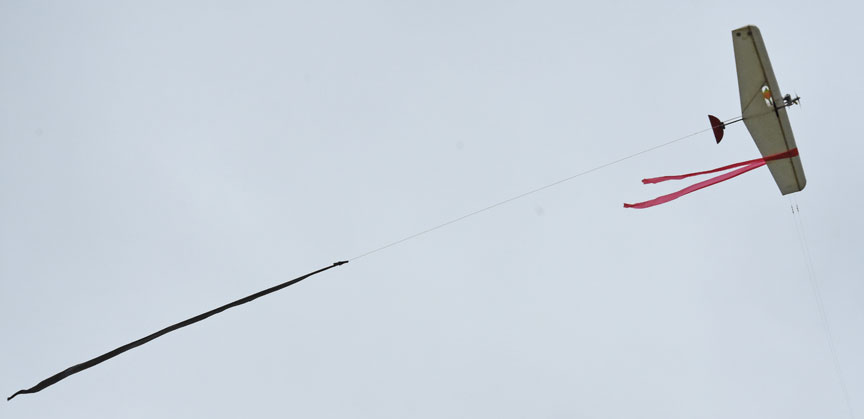 This is what it's all about in Combat: Jeff Rein's plane carries away his opponent's streamer. Flying Lines photo.
---
This page was upated June 10, 2019