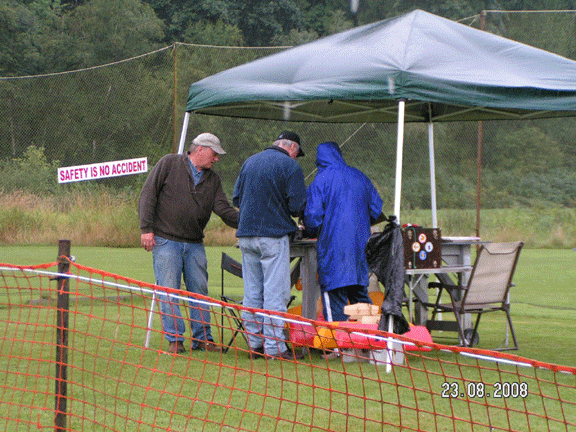 Twenty-one fliers showed up for the annual Mission, B.C. fun-fly, but many spent a lot of time huddled under the canopy, though some flying (below) did occur despite the conditions. Hopes are for better weather next year! Photos supplied by Paul Bedford.
Mission wings "NS with BS" fun-fly
Aug. 24, 2008, Mission, B.C.
Upon arriving at the field Sunday morning I was greeted with a smattering of rain. Just behind me Jack Oster arrived and we both started to unload our gear. Don McKay from Washington State also arrived and set up for the day's events. The rain however continued to increase in volume. We all helped raised our 20 x 20 shelter as more and more pilots started arriving. Chairs were quickly occupied and the bull sessions started while the rain continued relentlessly.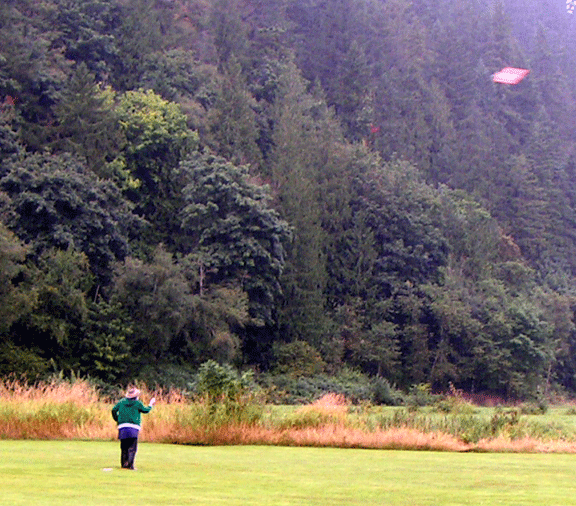 Adrian Duncan was the first to brave the rain flying his DBat. From then on others joined him and the rest sat and waited in vain for the rain to stop.
Impromptu combat was the only event to go ahead. Many different types of rain gear were employed as were the many different types of combat craft. The rest with no gear sat and wished the rain would go away. We even tried putting our craft back into our vehicles but the rain continued.
Despite the weather 21 persons were at the fun-fly making it the biggest attendance ever. Lots of burgers and snacks were consumed, plus coffee. Our chef, Simon Durkin, was very busy keeping things hot.
At approximately 4 p.m. everyone had had enough water down their neck and in their shoes and it was all wrapped up quickly so as to go home.
Paul and I thank all of you for attending. We did not ask for the rain. We do ask that you come again next year and just maybe the weather will be on our side.
And if you were wondering... no one qualified for the NS with BS. What the heck is NS with BS you ask? Come again next year and find out!!!
-- Paul Bedford / Paul Dranfield

---
This page was upated Sept. 11, 1009