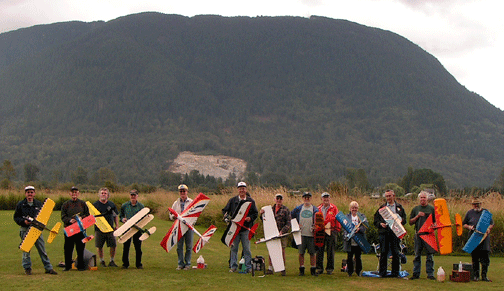 The Mission Wings club shows off their planes at the Aug. 26, 2007, fun fly, in the lovely setting for a flying field in Mission, B.C. Left to right: Paul Bedford, Jack Oster, Wayne Scott, Glen Little, Hube Start, Bruce Duncan, Paul Dranfield, Mel Lyne, Harold Youds, Vivian and Henry Hajdik, Greg Davis and Adrian Duncan. Photo below is of some of the informal diesel combat action. Photos supplied by Paul Bedford.
Mission wings "NS with BS" world famous
Controline fun fly
Aug. 26, 2007, Mission, B.C.
The day started wet. Forecast was for more wet until it got dry. Twelve pilots with nothing better to do started arriving shortly after the gates opened. At the pilots' meeting it was explained that a mandatory pull test, plus registration, coffee, doughnuts, some supplied by Henry Hajdik , followed by burgs, dogs and heartburn were to be available to everyone. By then the wet had eased and the fun got started.
All told there were 12 pilots, including Bruce Duncan our C/L Assistant Zone Director.
1st event, longest flight. And 2nd event, half-longest flight
These two events were combined together and involved fantastical calculations by judges Lionel Chambers and grandson Mark. The final result was Jack Oster who took top honors flying one of the smallest planes of all, an Acrostar. His time was 4 seconds.
3rd event, most aerobatic flight
Won by Wayne Scott with 170 "boring" maneuvers. I was reminded that crashes don't count. Thank you, Greg Davis.
4th event, balloon bust
Me. Yay! One balloon. I didn't tell Greg crashes don't count.
5th event, bladder bust
We had all seen enough water all day and didn't want to spoil the sunshine so this event was not held.
Pilots were also involved with impromptu "Dbat" over on the second circle. The CD was busy calling pilots back to the main circle so they could have more fun. Some accepted, others declined. What's wrong with these people? Later. Mel Lyne was seen giving lessons to Mark and Lionel.
All in all, the whole day was a little bit disjointed but everyone who was there was having fun. Lunch was between flights and "Junior" (Simon Durkin) was our chef.
The Mission wings would like to say "Thank you" for the support they received from the Pacific Aero Modelers and the Vancouver Gas Model club. Also to all of the many spectators who came and watched. Ron Belcourt was a spectator but gladly jumped in to help when asked. Thanks Ron.
There was an award ceremony at the end of the day and there were prizes for everyone but most had disappeared so the truly wonderful prizes will be saved for next year. Maybe.
If this report makes little or no sense to any of you, well you just have to come next year and then the secret of the "NS with BS" will be revealed. Stay tuned.
This page was upated Sept. 5, 2007