Dave La Fever's Gee Bee captured the "fun" spirit of the Lucky Hand Fun Fly. And it flew! Flying Lines photo.
Lucky Hand Fun Fly 2015
Salem greets summer with annual poker hand party
Salem, Ore., June 6, 2015
Warm and windy skies greeted 16 participants who showed up at LHFF held at the club field of the Western Oregon Control Line Flyers. There were also a few modeling and nonmodeling spectators watching the flying, which was nearly nonstop all day with two circles being used.
The fliers came from Portland to Medford and points in between. Seen in the air were plenty of stunt planes of various persuasions, combat ships, plus a little 1/2-A sport plane action. There were also flights of miscellaneous sport planes, one GeeBee scale bird and a NW B Proto speedster.
Alas, there were some mishaps. Floyd Carter reduced his new electric plane to splinters, victim of a strong wind gust. Other than that, just a couple of "hard landings."
Special thanks go to Tom Brightbill who was first to show up and used his gas powered blower to thoroughly clean off the paved circle.
First and second place winners were the Gold Dust Twins from Roseburg: Dave Shrum, who took 80 bucks home with him, and Bob Lewis, who picked up a nice Brodak Vector kit. Alice Cotton-Royer from Portland took third place and took a selection from the fine array of merchandise prizes.
Official entrants in the fun-fly were: Tom Brightbill, Floyd Carter, Alice Cotton-Royer, Mike Denlis, Mark Hansen, Gary Harris, Mike Hazel, Walter Hicks, Dave La Fever, Bob Lewis, Gene Pape, Scott Riese, Doug Powers Dave Royer, Dave Shrum and John Thompson.
If you missed this event, then you missed out on a great day of flying. Hope to see everybody next year!
Lucky Hand Fun Fly photos
Dave Shrum collects the $80 cash prize for having the best poker hand. Flying Lines photo.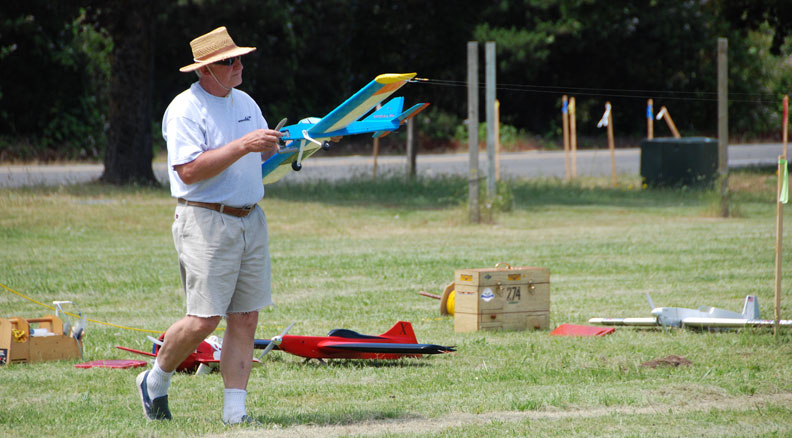 Doug Powers carries his Skyray out to the circle for a flight. Flying Lines photo.
A lot of the flying was of the "shade tree" variety. Here are Scott Riese (left) and Alice Cotton-Royer (right). Someone help us out with the ID of the gentleman in the middle! Flying Lines photo.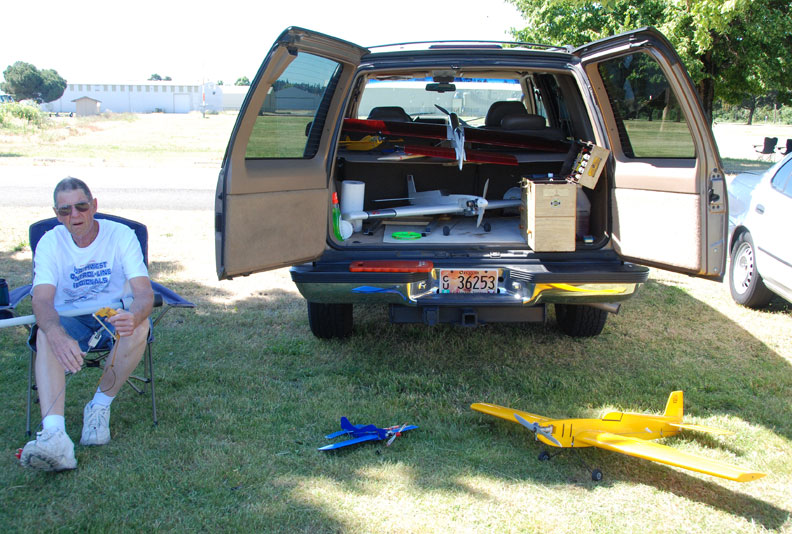 Mike Denlis brought a variety of planes, including the yellow monoline-controlled Tutor. Flying Lines photo.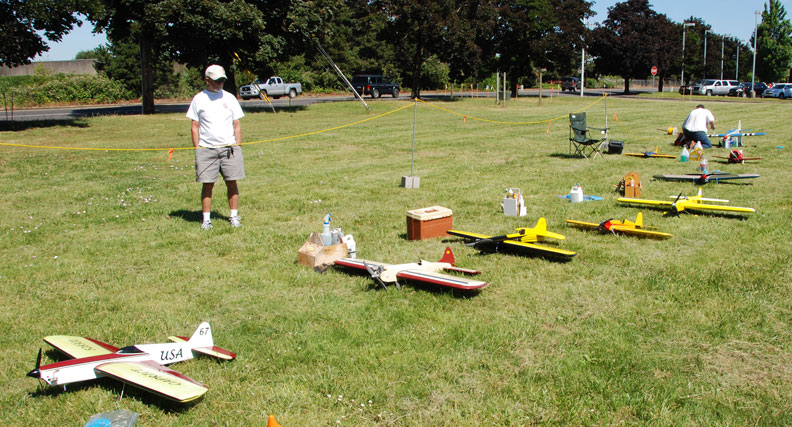 One of two busy pit areas; this one is for the asphalt circle and has mostly stunt planes. Flying Lines photo.
The other pit area was for the grass circle. At left is Bob Lewis' Magician, and at right are some Beaver State Combat Team combat planes. Flying Lines photo.
The Salem sunshine captured the glint of the glitter in the finish of Scott Riese's fine Caprice, which he flies in Classic Stunt. Flying Lines photo.
Floyd Carter's new P-40, built from Pat Johnston plans and powered by the Black Tiger Motor System from RSM Distribution. Flying Lines photo.
Front-end detail of the P-40. Flying Lines photo.
Dave Shrum (left) and Bob Lewis came up from Roseburg, Ore. Flying Lines photo.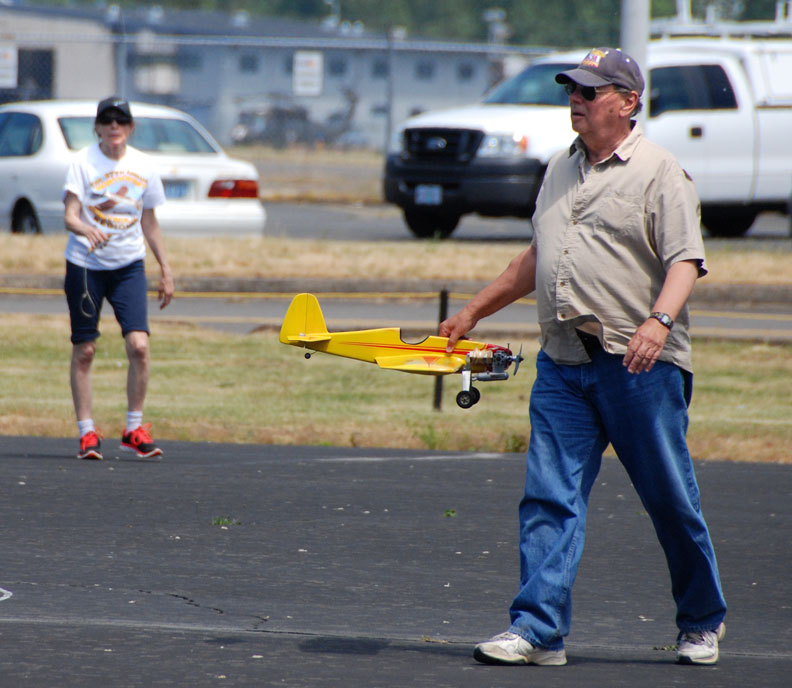 Dave Royer carries Alice Cotton-Royer's Firecat back to the pits. Flying Lines photo.
Floyd Carter's semi-scale stunter modeled after the DeHavilland DH103 "Hornet," powered by two AXI 2208/34 electric motors, met a quick end on its maiden flight. A wing warp caused slack lines in inverted flight. Alice Cotton-Royer and Tom Brightbill help pick up the pieces. Flying Lines photo.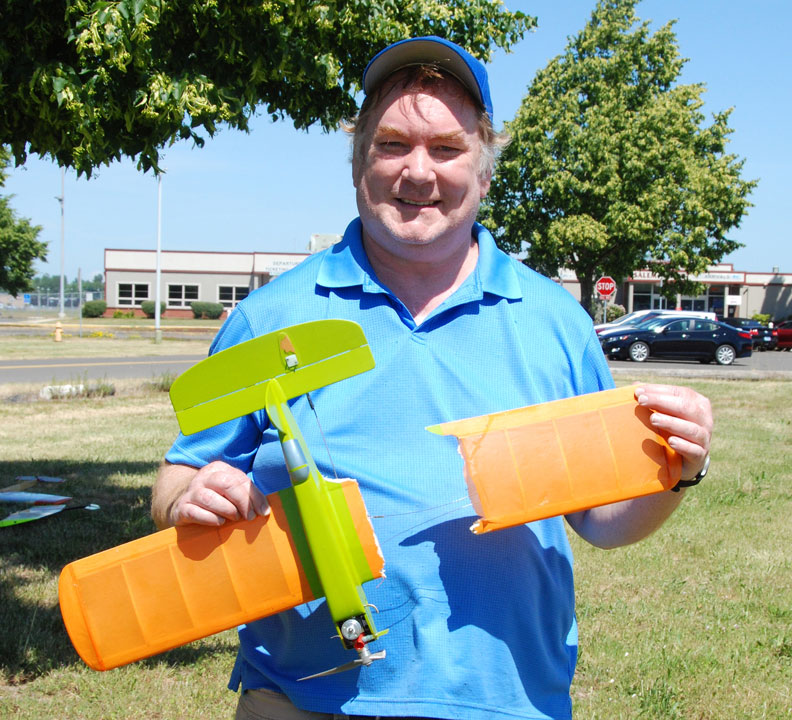 Another mishap made two pieces of Mark Hansen's cute All-American Stunt Trainer, a 1950 Hal DeBolt design powered by a Medallion .09. Flying Lines photo.
Every flight got a card, and the best hand won -- that was Dave Shrum, upper left. Flying Lines photo.
---
This page was upated June 8, 2015