Can you remember your "first plane"?
Hey Fun Flyers:
Looking at John Thompson's new Golden Hawk has me thinking about how most of us were probably first made dizzy by flying one of these simple 1/2A models or perhaps one of the ready-to-fly ( early ARF = Almost Really Flys! ) airplanes. See the Golden Hawk article.
In my case it was the TD4 and John flew the PT19 from Cox. Next door neighbor kids liked the Firebaby and you'll remember many others.
Anyway, I thought it would be fun to see how many of us can come up with an example of the airplane that was the trainer that taught us to fly, "back in the day."
So,for the Oregon Fun Flys, see what you can scrounge up to dazzle the rest of us with. I also think we should offer some flying time to those who used to fly what we have but no longer have one. Let's share these and have some fun! See you around the circle,and Merry Christmas/Best Wishes for the holidays to you all.
For information on the Oregon Fun Fly Series, see Where the Action Is.
Photos: Below is a closeup of the Golden Hawk built by John Thompson from a Black Hawk Models kit. At right are the Golden Hawk and Mike Denlis's Cox TD-4 at a recent Eugene Prop Spinners flying session. Flying Lines photos.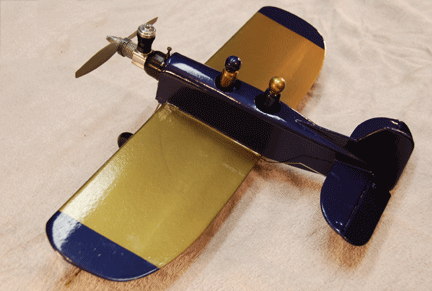 This page was upated Dec. 6, 2007