Chehalis Cup Contest No. 4
Saturday, Aug. 28, 2010, Chehalis, Wash.

Jeff Rein repeats as C-Cup winner
By Buzz Wilson
The 2010 Chehalis Cup completed the season Saturday August 28th. This was the first season the event was held at Yard Birds Mall. During the rainy months, boots are a requirement, but Saturday saw the site dry with freshly cut grass. All of the Northwest flyers would like to thank Yard Birds for their support.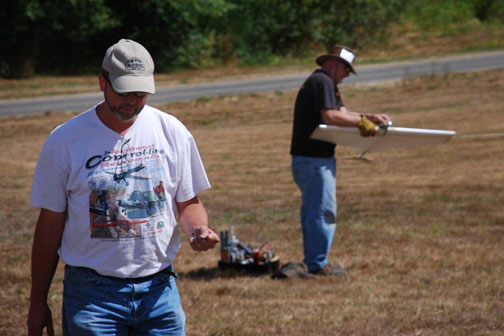 Nine flyers turned out to fly combat - one Beaver, one Alien, and the rest locals. During the course of the season, thirteen flyers competed in the C-Cup. At the beginning of the day, Jeff Rein was leading the C-Cup points standing. Ken needed to win all of his matches and Jeff needed to lose his for Ken Burdick to win the "Cup."
Mel "the Alien" Lyne and Ken flew the first match of the day and resumed where they left off in Half A at the Bladder Grabber. It was one of the better matches of the day with Ken winning. I looked to see if Mel gave Ken any money. Mel suffered a wallet malfunction.
Jeff had to work and would not be at the contest until after lunch. This is not a problem with the rounds format. Jeff's matches were pre-drawn. He would fly Mel, Gene Pape, Ken, and Buzz Wilson once he got to the contest.
Kenny Johansen and Gene Pape were flying big iron engines. The rest were using F2D equipment. This was Kenny's first C-Cup and one that he will not forget anytime soon. Kenny was pitting for Mel and decided it was time to imitate a stunt flyer. Don McKay volunteered to take him to the emergency room. (Photo at right shows Kenny leaving the circle with severely cut finger, while Ken tunes the engine that did the damage. Gene Pape photo.)
Jeff's first match was with Mel, and for Ken to have a chance at the cup, Mel would need to beat Jeff. Ken had done his part by winning his matches. Jeff and Mel put on a good match with Mel getting two cuts on Jeff. Jeff got one on Mel. Mel lost on ground time. At this point, Ken was no longer in the hunt for the "Cup."
Jeff next flew Gene, beating him and the big iron. Jeff's next match was with Ken. It was a typical Jeff and Ken match with Ken prevailing. Jeff was next scheduled to fly me, but the winds had picked up and I knew no good would come from the match and forfeited to Jeff.
If was time to set up the semifinals and finals — Jeff, Ken and Robert Smith were in based on their records. There was a three-way tie for the fourth position — Mel, Jim Green, and Buzz. Based on records, Jim was eliminated and the fourth position would be between Mel and Buzz. A coin toss decided the fourth position. The semifinals would be Buzz flying Ken and Jeff flying Robert. Jeff beat Robert. In my match with Ken, we got in a line wrap. Ken was flying a plane that could not do inside loops. In a resulting line wrap, his .018 lines beat my .015 lines. Jeff and Ken would fly for first and second and Robert and Buzz would fly for third and fourth. Robert put up a Bee Swatter (a plane that is very tail heavy and uncontrollable) and was disqualified for maneuvering before the start of combat. Jeff and Ken flew another killer match ending in a mid air and a victory for Jeff.
Results of Chehalis Cup Contest 4 80mph Combat (Northwest standings points in parentheses):
1. Jeff Rein, Covington, Wash. (9)
2. Ken Burdick, Kent, Wash. (8)
3. Buzz Wilson, Belfair, Wash. (7)
4. Robert Smith, Roy,Wash. (6)
5. Mel Lyne, Garibaldi Highlands, B.C.
6. Jim Green, Bellevue, Wash.
7. Gene Pape, Eugene, Ore.
Jim Green
Don McKay, Redmond, Wash.
Photo: Two 80mph Combat planes in action in Chehalis Cup Contest No. 4. Gene Pape photo.
Following is the final point standings for the 2010 Chehalis Cup.
1. Jeff Rein, 26 points
2. Ken Burdick, 18
3. Robert Smith, 12
4. Gene Pape, 10
5. Buzz Wilson, 8
6. Don McKay, 6
7. Tristan McKay, 5
8. Gary Harris, 4
9. Jim Green, 2
10. Mel Lyne, 1
11. Dave Fisher, 0
Kenny Johansen, 0
John Thompson, 0

Winners of Chehalis Cup Contest No. 4, from left: Jeff Rein, who also was the serious champion, receiving Chehalis Cup series championship trophy from Buzz Wilson; Ken Burdick, second place; Buzz Wilson, third place. Gene Pape photos.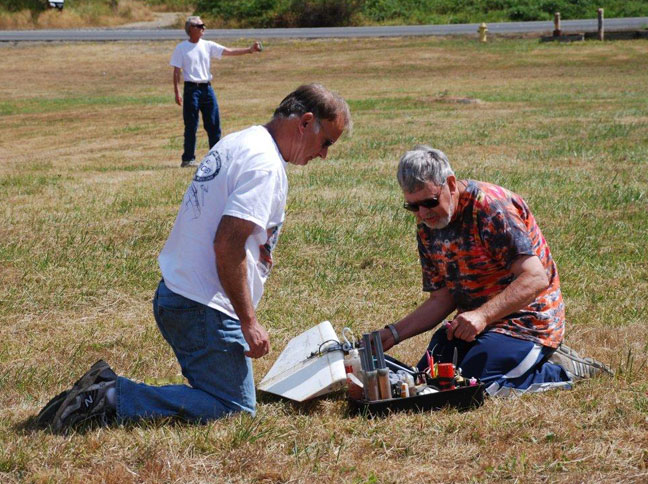 Action in the pits: Mel Lyne pits his plane with Jim Green's help while Jeff Rein flies in the background. Gene Pape photo.
---
This page was upated Aug. 31, 2010