Stunt fliers gathered in Richmond, B.C., for the annual Western Canada Stunt Championships. In the front row are the Expert Precision Aerobatics top three (form left): Paul Walker (second), Alan Resinger (third) and Chris Cox (first). Click on the picture for a larger view. Photos by Joan Cox, Chris Cox, Laura Rogers and Bob Baldock.
2018 Western Canada Stunt Championships
Aug. 5, 2018, Richmond, B.C.
Report and results provided by Chris Cox
As luck would have it, the weather for the 2018 Western Canada Stunt Championships could not have been better. Warm, sunny sky and light winds. The Field of Nightmares was not living up to its reputation. We had 17 competitors show up for this year's competition, ensuring that next yea'rs event will indeed take place. We had guests from Seattle, Deer Park, Prince George, Calgary, and Edmonton. Not to mention much better local participation than previous years. Thank you everyone contributing to a wonderful time.

Following a dwindling entry level the past couple of years, it was decided to cancel the Saturday Old Time and Classic events, and make Saturday a tune-up and practice-only day. Sunday would feature only the four PAMPA Precision Aerobatics events. It would appear that this worked out very well, allowing pilots an opportunity to get their equipment set up an running adequately for Sunday's competition. A quick poll of those in attendance seemed to support the idea and found the help of the more experienced pilots most helpful.
Results
(Northwest standings points in parentheses)
BEGINNER PRECISION AEROBATICS 2 entries)
1. Gordon Jack, Prince George, B.C. -- 250 (2)
2. Paul Bedford, Maple Ridge, B.C. -- 219.5 (1)
Judges: Chris Cox and Steve Helmick
INTERMEDIATE PRECISION AEROBATICS (6 entries, 5 flew)
1. Bryan Carr, Calgary, Alberta -- 444
2. Dennis Cousineau, Vancouver, B.C. -- 438 (4)
3. Warren Horbachewski, Calgary, Alberta -- 429
4. Bob Baldock, Langley, B.C. -- 350.5 (2)
5. Larry Lewis, Mission, B.C. -- 349
Judges: Chris Cox and Steve Helmick
ADVANCED PRECISION AEROBATICS (5 entries)
1. Arkady Gorodetsky, Vancouver, B.C. -- 472.5 (5)
2. Neil Rogers, Calgary, Alberta -- 459
3. Joe Yau, Coquitlam, B.C. -- 452 (3)
4. Hube Start, Abbotsford. B.C. -- 436 (2)
5. Paul Gibeault, Leduc, Alberta, 417
Judges: Paul Walker and Alan Resinger
Chris Cox shows off the prizes for Expert Precision Aerobatics. Chris served as event director, too.
EXPERT PRECISION AEROBATICS (4 entries)
1. Chris Cox, Delta, B.C. -- 594.5 (6)
2. Paul Walker, Deer Park, Wash. -- 591.5 (4.5)
3. Alan Resinger, Delta, B.C. -- 556 (3)
4. Mike Haverly, Auburn, Wash. -- 530 (1.5)
Judges: Steve Helmick and Joan Cox
Photo gallery

Neil and Laura Rogers drove down from Edmonton to do battle with his newly acquired SV-11 (built by Monty Summach from Saskatoon). Piped OS .46VF for power. A very nice-flying airplane and power set up.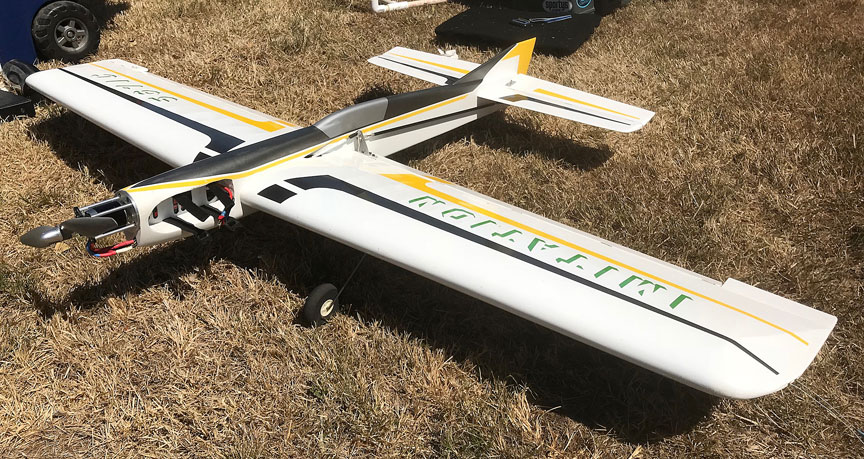 Brian Carr from Calgary was flying this slick electric Imitation. Bryan had this set up working very nicely once he got his lap time figured out.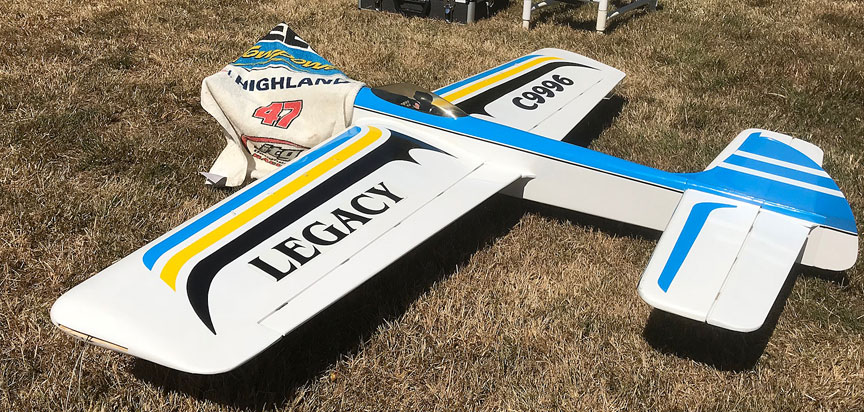 Joe Yau's very capable electric Legacy.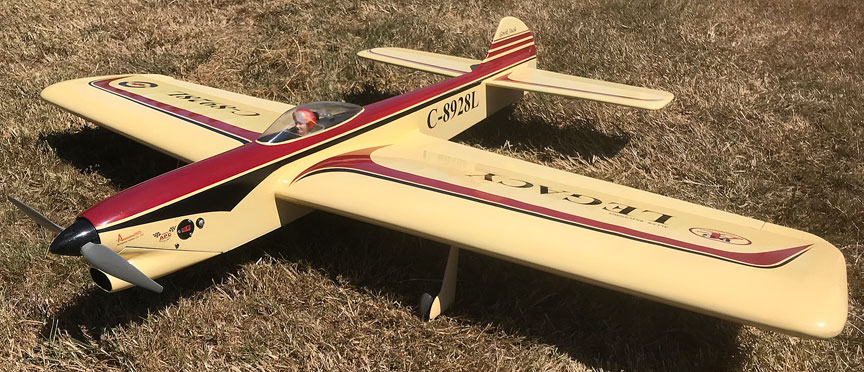 Gordon Jack's Legacy (not the ARF version). Gord is an extremely competent RC Pattern flyer, who is returning to the more demanding event of control-line Stunt.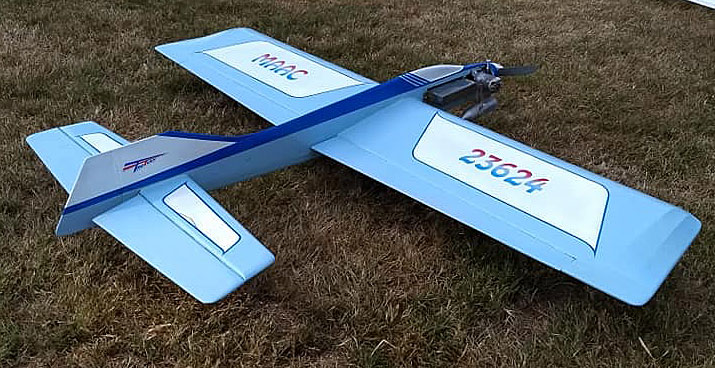 Bob Baldock flew very well as the third owner of the nicely built Pathfinder, originally built by Keith Varley.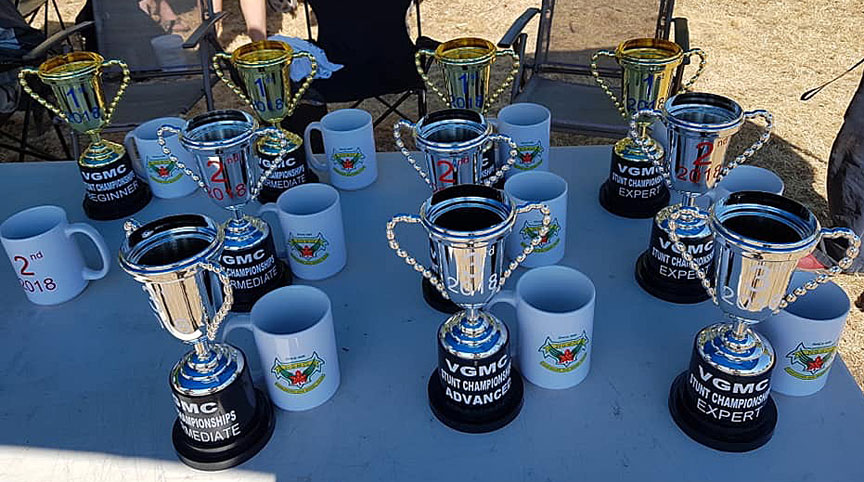 Trophies and souvenir mugs.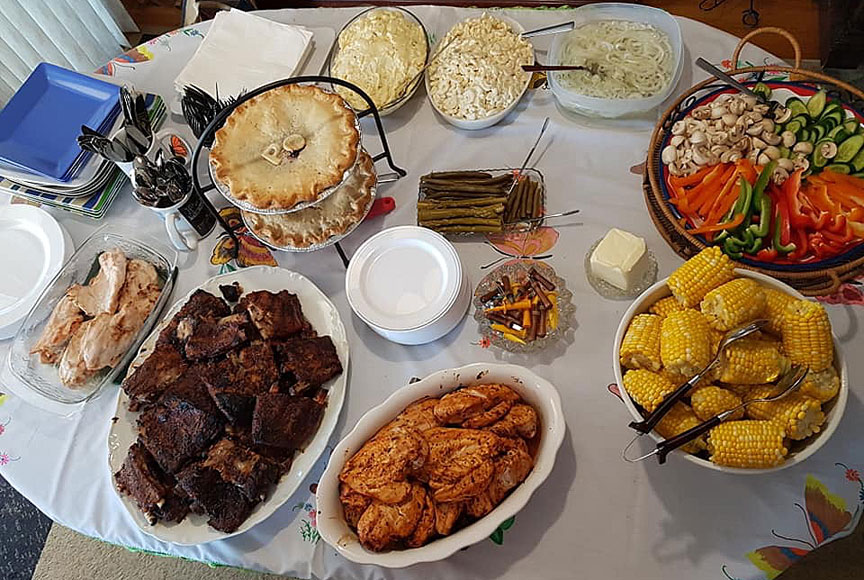 Just a sampling of the Saturday night feast!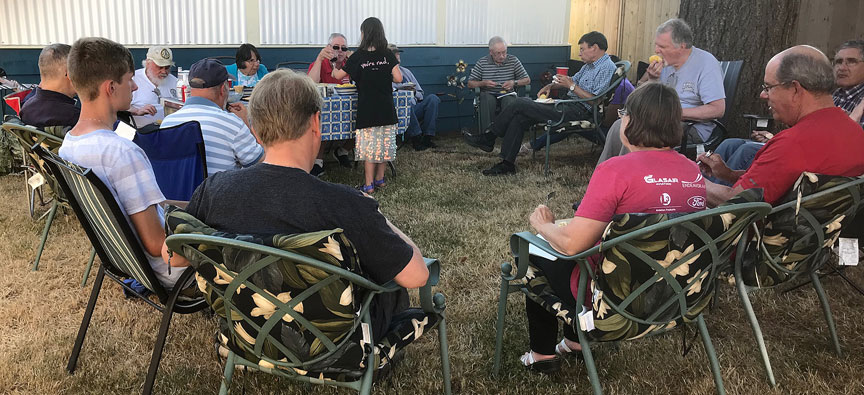 The evening BBQ at the Cox residence.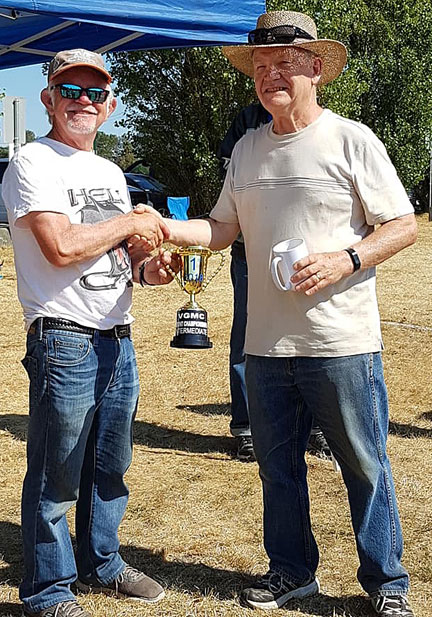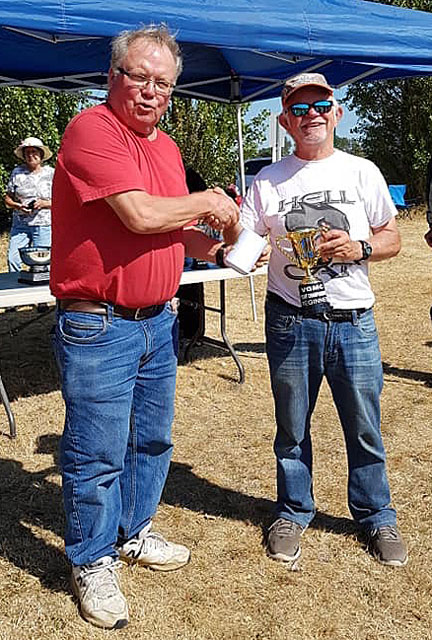 At left, Chris Cox (left) congratulates Bryan Carr on his first-place finish in Intemediate Precision Aerobatics. Bryan is congratulated for his First Place finish in Intermediate. At right, Gordon Jack gets congratulations and a trophy for first place in Beginner Precision Aerobatics.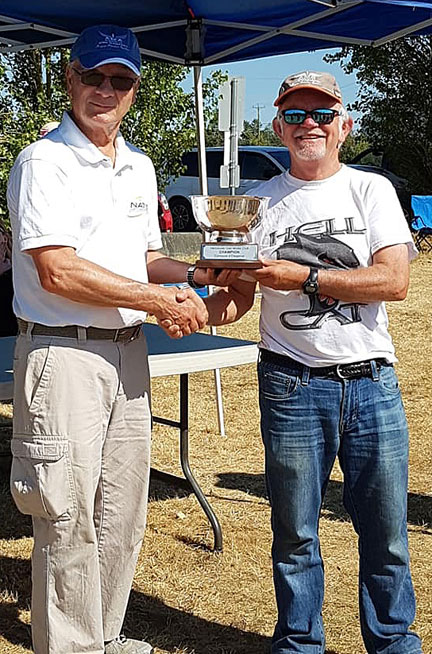 Chris Cox receives the Concours de'Elegance award from last year's winner, Alan Resinger (left).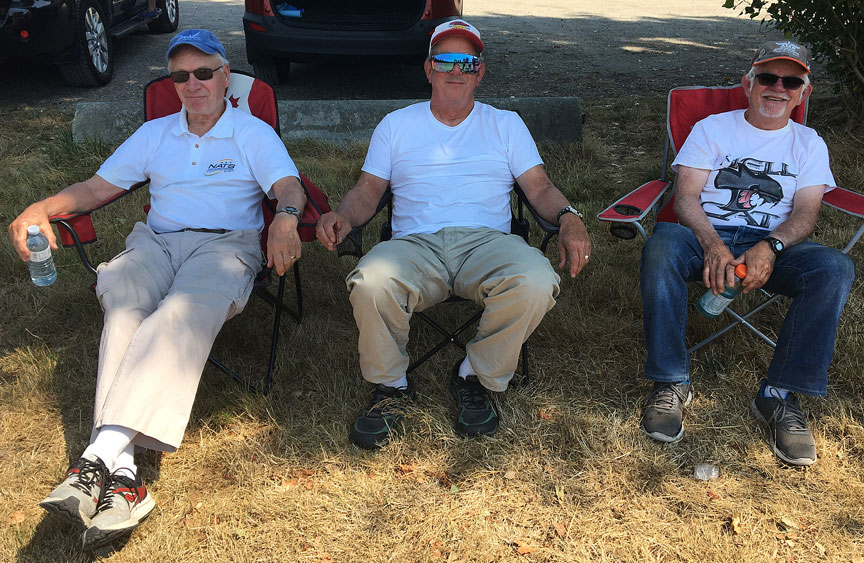 Shade-tree Stunt fliers (from left): Alan Resinger, Paul Walker, Chris Cox.
---
This page was upated Aug. 6, 2018