Planes and fliers on one of three flying areas in use at Sunshine Park in Roseburg for Oregon Flying Fun No. 2. Flying Lines photo.
Oregon Flying Fun No. 2
Postponed fun-fly delivers the fun
Feb. 15, 2014, Roseburg, Ore.
By Bob Lewis
Well, it was Feb 15 but we finally put the Feb. 8 Roseburg stop in the Oregon Flying Fun series in the history books. The 8th was a better day, but nobody could get here through the snow and ice up north. The 15th wasn't too bad until the gale force wind kicked in about 1 p.m. The temperature was about 45 degrees and no rain! I actually flew at 9:00 and the weather was already good. Too bad we couldn't have started earlier, but it's hard enough to get everybody here -- from as far as Portland. Still we got in a lot of flights.
One of the highlights of the day was flying Pete Benning's 38 Special biplane after Dave Shrum restored it after I cracked it up. Pete flew it himself along with Shrum.
Thanks to Peggy Shrum and Loni Lewis for running the lunch bar. Thanks to Dave Shrum, Mike Massey and Bob Lewis for stocking the prize table. Lots of great kits and engines went to new homes.
Among those attending were Ron Anderson, Steve Bernard, Jim Corbett, Dave Crabtree, Mark Hansen, Richard Kennedy, Mike Massey, Gene Pape, Gordon Rea, Dave Shrum and John Thompson,
Below is a gallery of photos that captures some of the action.
The third in the series of four Oregon fun flies is scheduled for 10 a.m.-3 p.m. at Bill Riegel Model Airpark at the Salem, Ore., Airport, on Saturday, March 8. See Where the Action Is for details.
Oregon Flying Fun 2 photos
The Pete's Flying Service bipe, a full-body .38 Special, was the star of the fun-fly. Pete Benning (above) and Dave Shrum both flew it. Bob Lewis photo.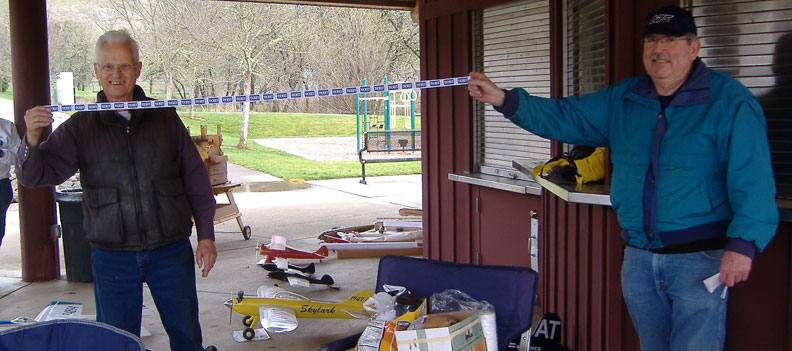 Dave Shrum (left) and Dave Crabtree show off the flying raffle tickets, each one representing a flight. Bob Lewis photo.
Very generous prize table included several kits with engines. Bob Lewis photo.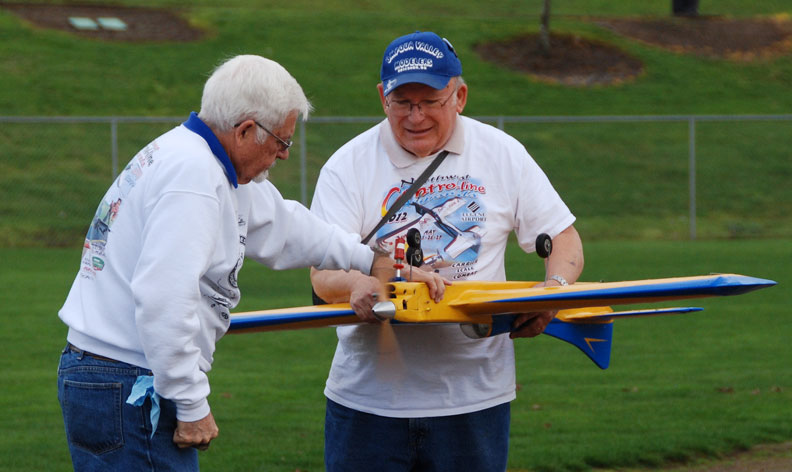 Mike Massey fires up the engine on his Shark, with Bob Lewis holding Flying Lines photo.
Bob Lewis often builds several different versions of his planes. The plane at left is a larger version of the Akromastrer shown below. Flying Lines photo.
Bob Lewis's Akromaster. Flying Lines photo.
Bob Lewis launches the bipe for Pete Benning's flight (below) as Dave Shrum watches. Flying Lines photos.
Pete Benning at the handle. Flying Lines photo.
Dave Shrum displayed several beautiful recent projects, including this classic La Donna. Flying Lines photo.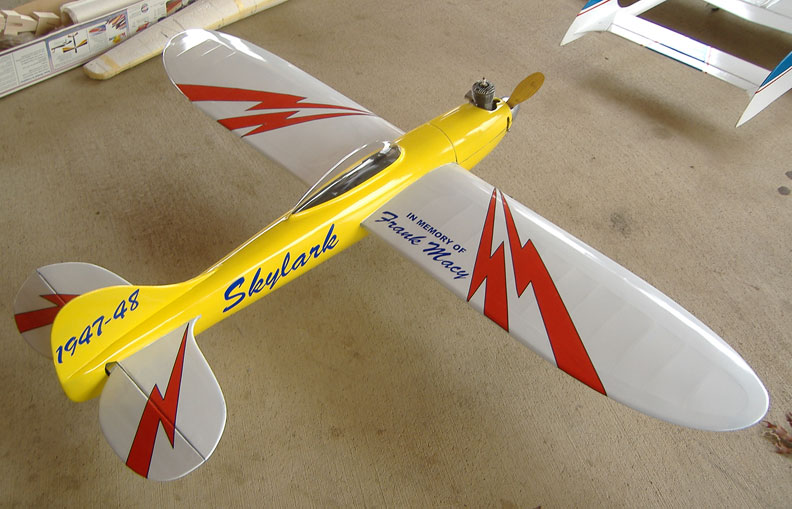 Dave Shrum's old-time-era Skylark. Flying Lnes photo.
Jim Corbett (left) put the first flights on his Baby Clown, recently converted to electric. Gene Pape flew several 1/2-A airplanes, including this Russian-style high-performance 1/2-A combat plane. Bob Lewis photos.
Richard Kennedy (left) and Mark Hansen got in a lot of flights. Bob Lewis photo.
---
This page was upated Feb. 16, 2014