Oregon Flying Fun -- 1
Jim Christiansen's Tutor made one of the first flights of 2008, at the Oregon Flying Fun No. 1 event on Jan. 1 in Portland. Flying Lines photo.
Fun-fly series under way
Jan. 1, 2008, Portland, Ore.
Yes, there were control-line planes in the air on Jan. 1, 2008!
Oregon CL fliers kicked off the New Year with the annual gathering in Portland. Weather this year was considerably more "flyable" than the 2007 washout. It was cold and a bit too windy for comfort, but that didn't stop the dozen or so participants from putting up quite a few flights. Stunt, combat and sport planes were flown on the asphalt and grass circles from about 10 a.m. until nearly 1 p.m., when the fliers dispersed, some of them to the nearby Elmer's restaurant for a long (warm!) lunch.
The event was sponsored by the Northwest Fireballs and organized by Mark Hansen (shown flying at right). Among others attending were Jim Cameron, Scott Riese, Leo Mehl, Bill Veselik, Ted Gritzmacher, Jeff Christianson, Greg Hart, Richard Entwistle, John Thompson and Mike Denlis. There also were several others ... unfortunately unknown by name to the FL editor.
The second in the series of four Oregon fun flies is scheduled for Sunday Feb. 10, 10 a.m.-3 p.m. at Eugene Airport in Eugene, Ore. See Where the Action Is for details.
Oregon Fun Fly 1 Photos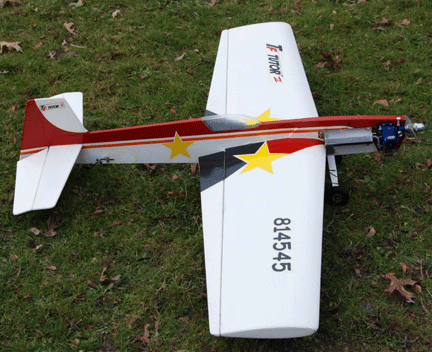 The camera came out of the car only for a few minutes on the chilly day, but did capture some of the action. At left, Jeff Christianson lands the ARF Tutor shown close-up at right.
Bill Veselik's new warbird.
Jim Cameron and Mark Hansen put up quite a few flights. At left, Jim launches Mark's 1/2-A combat plane. At right, Mark's body languages shows just how chilly it was for the fun-fly.
Left: Jim Cameron's very old but still good-flying modified Flite Streak. Right, Mark fires up the Fora .049, with Jim holding. All photos by Flying Lines.
This page was upated Jan. 3, 2008