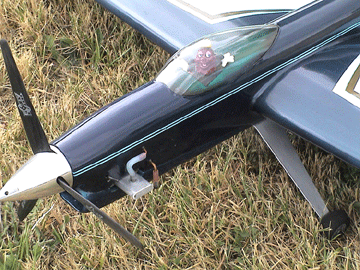 The California Raisin Pilot in Bruce Hunt's Lark never had to push his panic button at the 2008 Lucky Hand Fun Fly. All photos by Bruce Hunt.
2008 Lucky Hand Fun Fly
Small turnout for WOLF's annual poker party
July 5, 2008, Salem, Ore.
The 2008 edition of the Lucky Hand Fun Fly held on July 5 was rather sparsely attended, but everyone attending had plenty of fun and got some flying in. At times, the spectators outnumbered the fliers. Conditions were pretty good, with pleasant temperatures, and wind varied from light to moderate.
Bruce Hunt flew his Lark several times. Jerry Eichten flew his OS40VF-powered SV-11, working on some engine run issues which appeared to be resolved. Mike Hazel flew a loaner Banshee from Bruce. Floyd Carter came up from Eugene and flew a trio of planes: Wildman, Venus, and his original trimotor electric bird. Hmmm, three planes, three modes of power: Gas spark ignition, glow, and electric!
The fliers were too busy flying and having fun to even bother with the poker draw, considering the light turnout. Regarding the attendance, perhaps the holiday weekend is a poor time for this event. We will look at this issue for next time.
Lucky Hand Fun Fly photos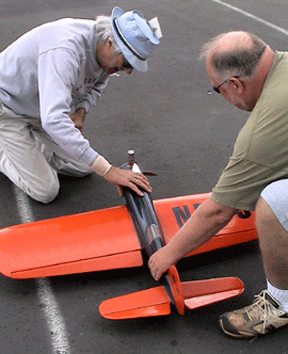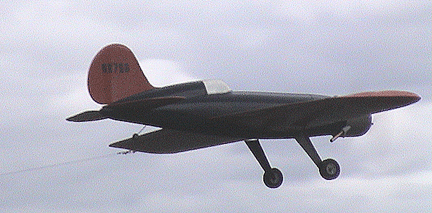 Left photo: Floyd Carter prepares to start his Venus, a Bob Palmer old-timer, as Mike Hazel holds. Right photo: The Venus in flight.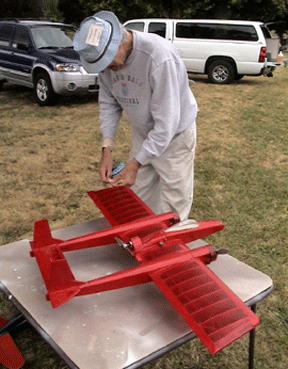 Left photo: Bruce Hunt's Banshee, handed down to Mike Hazel for the Lucky Hand. Right photo: Floyd Carter gets the electric trimotor ready to fly.
Left photo: Jerry Eichten flying. Right photo: Mike Hazel carries Jerry's SV-11 ff the field.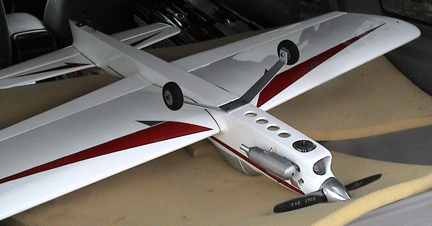 Jerry Eichten's Skylark, built by Don McClave, looks good from any angle!
This page was upated July 8, 2008