Fun-fly and Chili Cook-Off greet CL year in Portland,
after midnight fly says farewell to 2011
By Mark Hansen

Twenty-three (17 Fireballs) brave souls turned out to usher in the new year with the first official control line event for 2012—the Northwest Fireballs January 1st Fun Fly and Chili Cook-Off. The star of this years event was, the mind try weather, and the six entrants in the much anticipated Chili Cook-Off.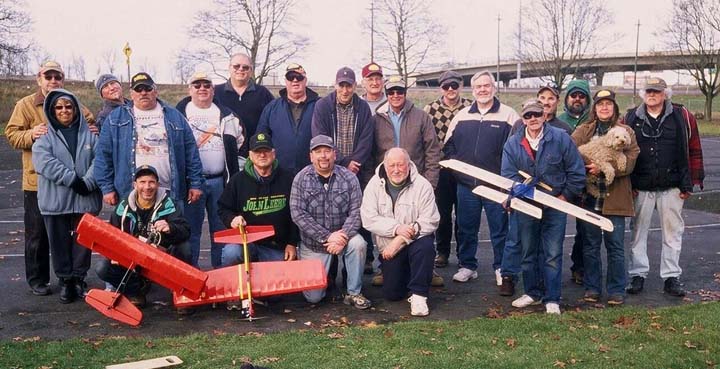 Pictured Left to Right: Geoff Christianson, Andi Christianson, Gary Harris, Jim Cameron, Robert Ladd, Don Curry, Ron Anderson, Art Zehner, Jim Harper, Scott Riese, Jerry Olson, Doug Powers, Mike Hazel, Bill Lee, Tim Wescott, Dave Green, Leo Mehl, Unidentified flyer, Unidentified flyer, Barbara White, Maggie the Dog, and Richard Entwhistle. Mark Hansen photo.
The Chili Cook-Off and raffle were the high points of the event, with top chili honors being shared by Geoff Christianson, and Robert Ladd, while second place went to James Harper, third was Donald Curry, and tied for last were Mark Hansen, and last year's winner Ronald Anderson. This event was purely impromptu, last year, and was advertised this year, and which is undoubtedly the reason for record turnout for this event. Eats also included spaghetti from Richard Entwhistle and Ron Anderson, doughnuts from Jim Cameron, cookies, pastry, and coffee. All in all the food spread was the best seen at any fun fly I have ever been to. Congratulations Fireballs!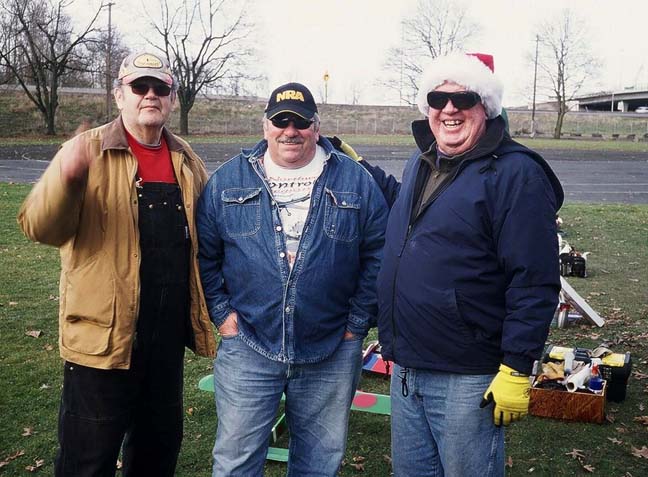 Chili Cook Off winners (left to right): First in a tie, Geoff Christianson and Robert Lad, and second place Jim Harper. Mark Hansen photo.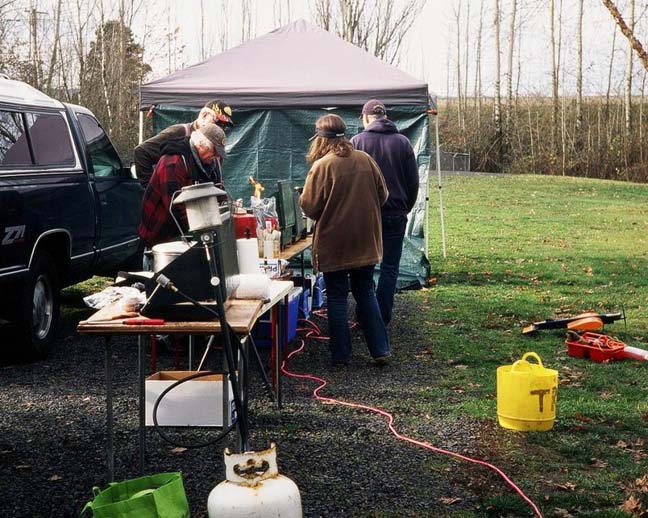 The Cook of Area, with Richard Entwistle , Art Zehner, Barbara White, and Jerry Olson. Note Richard it unsuccessfully trying to eclipse Marks Hansen's now famous 30 minute Coleman stove flood. Mark Hansen photo.
Flying was done almost nonstop from before 10 a.m. to well after the 2 p.m. stop time, with a total of 23 flights, being put up by 13 different flyers. There was a notable crash, from a new flyer in the Portland area (who shall remain nameless). Visiting from out of town was Mike Hazel and Dave Green, which tied the record for most out of town participants.
The winning pot of chili, and chefs and tasters. From left to right: Mark Hansen, Richard Entwhistle, Barbara White, Gary Harris, and Dave Green. Jim Cameron photo.
Some of the aircraft present for this first fun fly, and a few of the flyers. Geoff Christianson in the circle, Mike Hazel seated, Jerry Olson, et al Mark Hansen photo.
Don Curry does a touch and go with his three-line Ringmaster. Mark Hansen photo.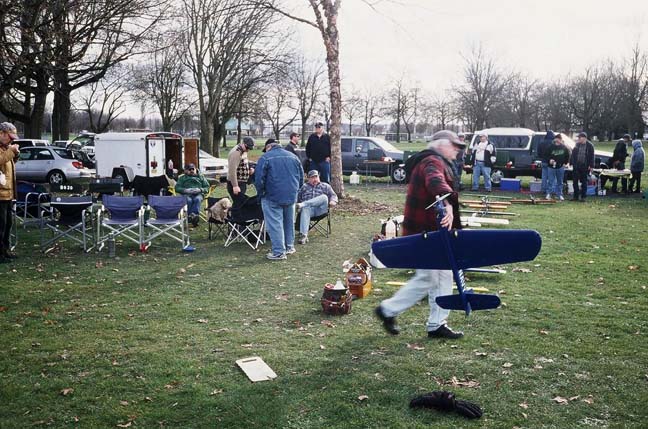 Some of the action! Mark Hansen photo.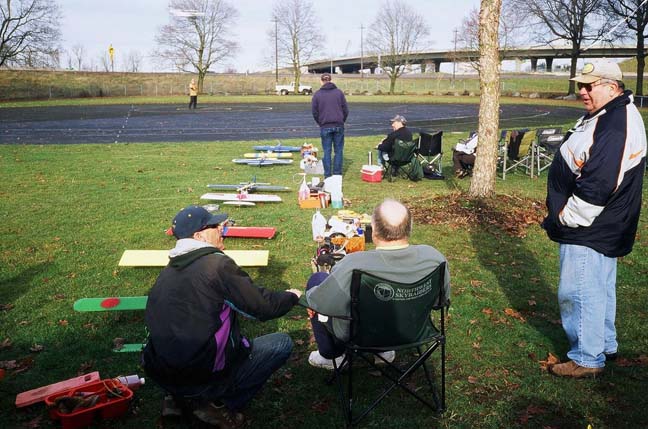 Lots of tall tales, and some flying, from Geoff C. Pictured are, from left to Right: Jim Cameron, Jerry Olson (standing) Mike Hazel, Scott Riese, and Don Curry. Mark Hansen photo.
New Years Eve Flying at Delta Park
By Jim Cameron
First let me set the stage: At about 11:20pm New Year's Eve Ron Anderson, Don Curry, Mark Hansen, and I met out at Delta Park for some flying. The weather was on our side, it was about 20 degrees warmer than last year and no wind. You might be surprised as to the amount of light that is on the circle at this time. There are a few large light stands, illuminating the I-5 ramps and our circle. None of the pilots seemed to have a problem seeing their planes.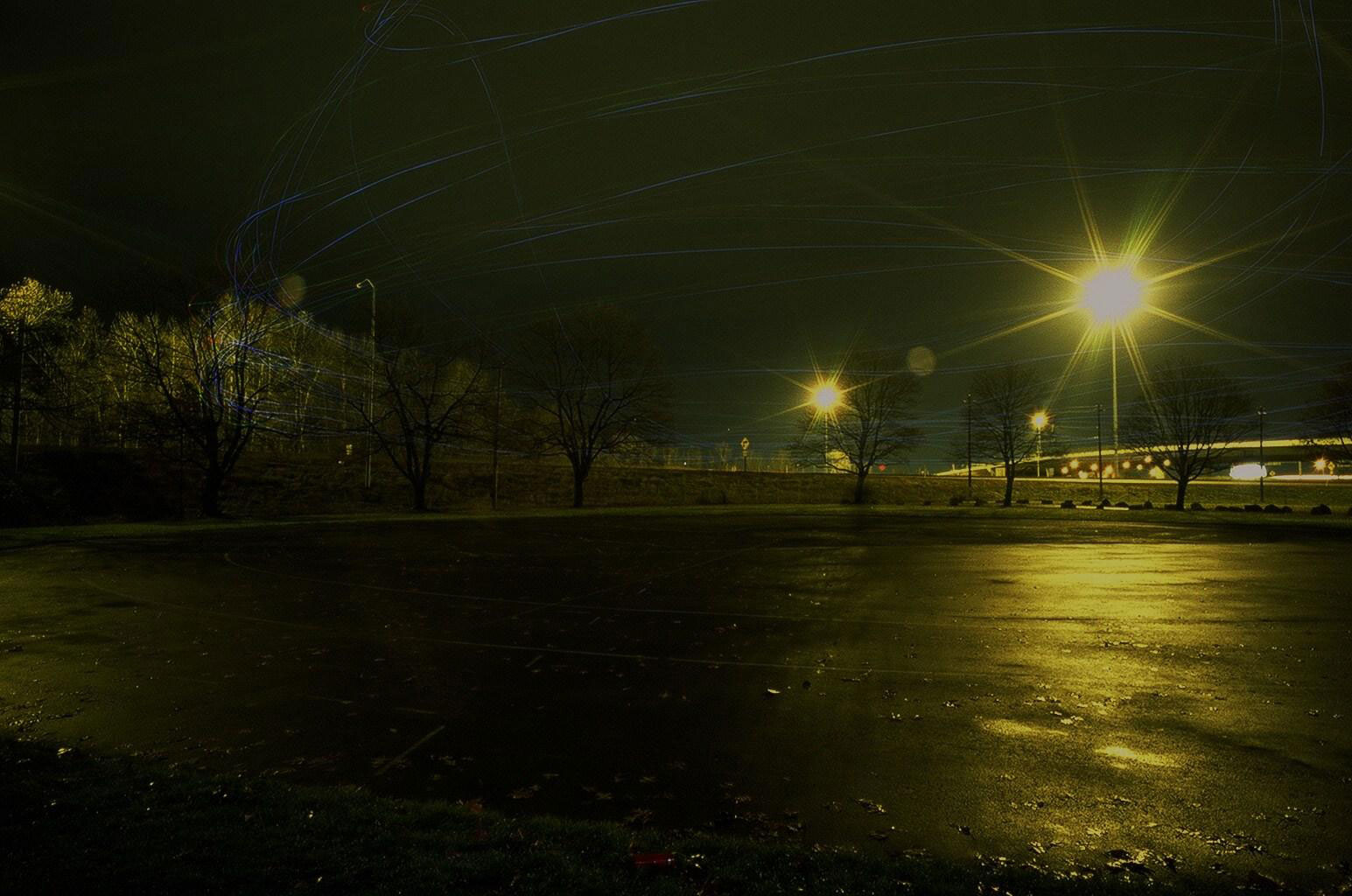 Night trails left by Jim Cameron and Ron Anderson's plane while flying Doubles at night on Jan. 1. Mark Hansen photo.
Ron wanted to have the last flight of 2011 so he went up first at about 11:52 p.m. According to Don's clock Ron was still in the air at midnight. Ron had two sets of battery powered LED lights on his "Tanager." The over 70 lights were set to all go off at the same time and then to all come on a second later. From the outside of the circle the plane seemed to disappear right after launch into a dark background. It was very cool to see the plane reappear from the dark sky a quarter of a lap later. Ron reported that he could see his plane just fine when the lights were out, but it did worry the onlookers.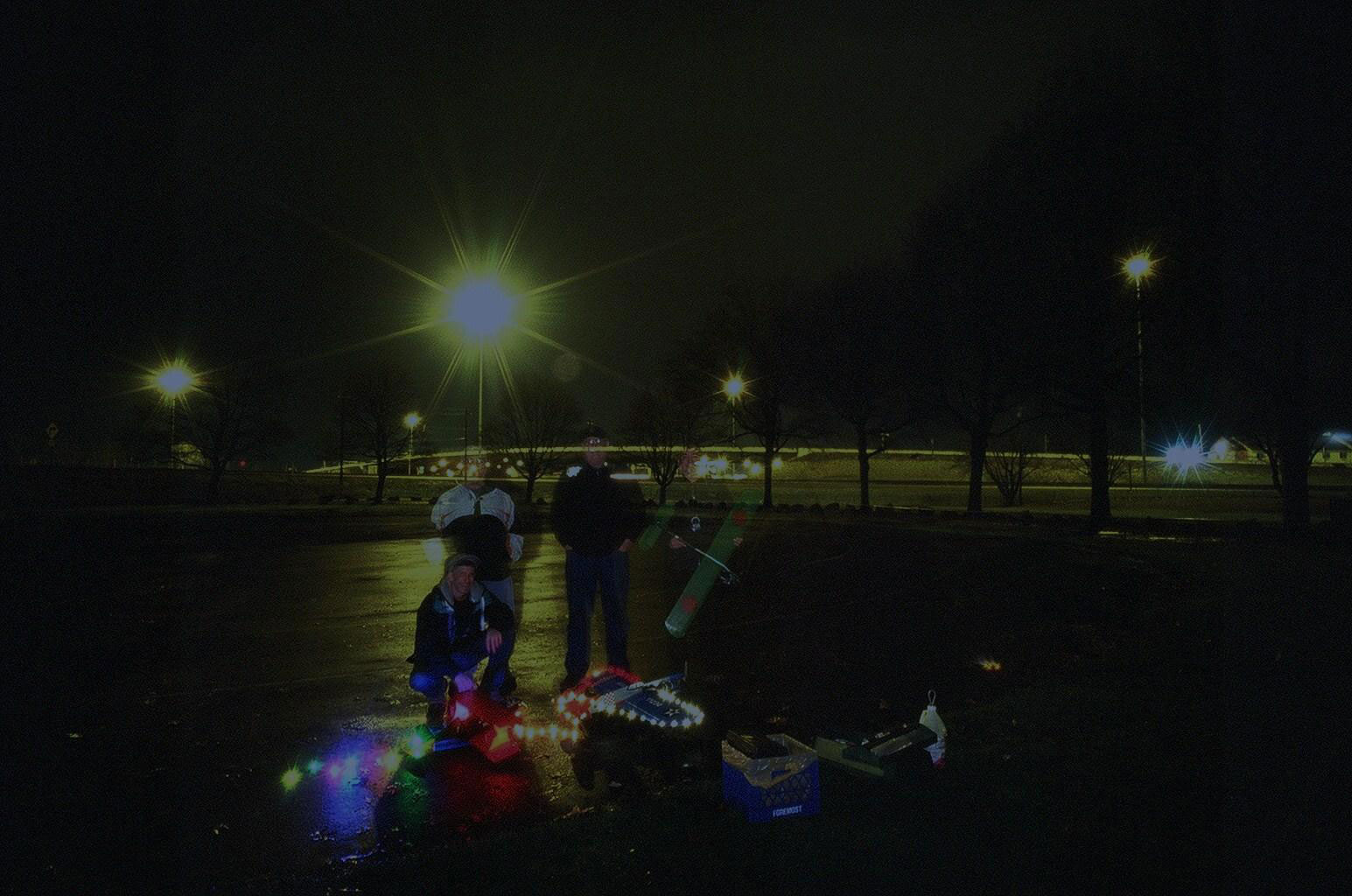 Participants in this years Mid-Night flying were, left to right, Jim Cameron, Don Curry, Ron Anderson, and Mark Hansen. Mark Hansen photo.
It was decided that I would take the next flight on my Bill Darkow built Over Easy powered by my vintage series 75 K&B 35, so at about 12:08 a.m. I took off for the first flight of 2012. My Over Easy, had a set of lights dangling off of the rudder and a red chemical light beacon on the outboard tip. I found that with little elevator, I could make the light string whip around the back of the plane. In the dark this looked very neat to me.
Mark took the next flight with his scratch built Sport Profile Carrier plane, the Kokusai Ki-76, powered by a throttled FP .35. His plane had no lights, and from the outside of the circle it seemed to almost disappear on the far side. Mark's plane has white stripes on the side that he could see throughout the flight. From the outside of the circle the throttle added an interesting dynamic to the flight.
Don took the next flight with Ron's plane. The lights were readjusted so that one set of lights would remain on when the other would cycle off. This way Don wouldn't have to contend with the disappearing plane.
Ron and I decided to fly the last flight two up. For me this was a lot of fun. The planes were very close in speed so there was no passing. Once I was able to get on his tail we flew the next 20 or 30 laps watching the lights of the planes bob around in the sky.
This was the second year for the flying in the dark event. Ron came up with this idea last year and all involved have had a great time. We are already talking about doing this again when the weather is not a concern. Hint, you might want to start thinking about getting some lights now while they are still on sale.
Jim Cameron's Over Easy, and Ron Anderson's Tanager, oh and Ron's feet. Note battery packs for lights, and light stick on outboard wing of Jim's plane. Jim Cameron photo.
The scene of the pits while Jim Cameron puts in a flight. No long waits for your turn at 12:15 a.m.! Mark Hansen photo
The Oregon Flying Fun series moves to Roseburg, Ore., on Feb. 11. See Where the Action Is for details.
---
This page was upated Jan. 7, 2012