Two fun-flies kick off 2011 year in NW CL flying
One of the first flights of 2011 takes place in Richmond, B.C. It's Barry Hobkirk's E-Flite Stearman, converted to glow, using a three-line throttle system, a great looking and flying model. More photos from the Polar Bear Fun Fly are below. Mike Jennings photo.
Oregon and British Columbia Fliers can't wait to start the season
In Portland, Ore., Northwest Fireballs members and guests started off with night flying on New Year's Eve, followed by a bigger New Year's Day fun-fly. In Richmond, B.C., the Vancouver Gas Model Club and friends braved freezing weather for their annual Polar Bear event. Here are reports from both sites. Photos will be added as they become available.
LED lights decorated this Tanager used by the Portland fliers in their 12:05 a.m. first flight of the year at East Delta Park. Jim Cameron photo.
Fireballs host first Fun Fly of 2011, and second ...
By Mark Hansen
Members of the Northwest Fireballs gathered to ring in the New Year the right way -- with CL modeling.
Four hearty souls gathered at East Delta Park on Dec. 31 at 11:30 p.m. to set up and fly for the last time of the decade, and for the first time of the new decade. Present for this late night affair, were Ron Anderson, Donald Curry, Jim Cameron, and Mark Hansen.
Due to some very cold batteries, the last flight of the year had to be moved to a later time, and become the first flight of the year, when Ron Anderson flew his LED Christmas light equipped Tanager, at 12:06 a.m. This was shortly followed by Mark Hansen, flying his vintage, low performance 1/2A combat Kitten. Mark's flight was occasioned by rather gusty winds and become the first official crash of the 2011 flying season!
Within minutes Don Curry put up an official flight with Ron's plane and next was Jim C, followed by Mark H.; who became the first person of 2011 to fly inverted and nearly the first person to crash twice. Or as Mark put it: "That thing goes slack on the lines around 45 degrees …"
Photo: Lineup of planes for Oregon Flying Fun No. 1 in Portland on Jan. 1. Jim Cameron photo.
All involved decided to go for a warm drink and a bit to eat that ended around 2:45 a.m. with all committed to coming to the second "Fun Fly" the next morning.
The Second "Fun Fly" for 2011 began around 8 a.m. (from reports, I was still in bed) and was attended by 11 fiers from all around the Portland Area. This was officially on the schedule as Oregon Flying Fun No. 1, the first of the four annual Oregon fun-flies.
Strictly from memory, the fliers were: Ron Anderson, Don Curry, Jim Cameron, Mark Hansen, Doug Powers, David Royer, Jim Harper, Andi and Geoff Christiansen, Richard Entwhistle, Robert Ladd, and Jerry Olson (there was a new flyer whose name I did not get as well).
There was quite a spread of food provided by the members. This included, sausages and hot dogs, provided by Robert Ladd, who grilled them quite expertly, potato salad from Don Curry, cookies from Jim Cameron, loads of chips, grated cheese, and condiments. Completely without planning, this event morphed into the first ever, Fireballs Chili Cook Off when Ron Anderson and Richard Entwhistle both brought large pots of the warming culinary concoction. Although no official vote was taken, I noticed Ron's braised sirloin cube chili pot appeared to be empty by 1 p.m., and it looked like Richard will be eating chili for the rest of the week. It's just hard to overcome the power of sirloin of beef.
Flying took place in two circles, one over the grass and the other on the traditional paved circle. Both were pretty active, with about a dozen flights taking place from when I arrived to 2 p.m .when I left, and I heard from Jim C. that the event did not break up until close to 4 p.m.! This is made all the more remarkable by the fact the mercury stayed south of the 30 degree mark, and gusty winds made the wind chill well below 20 degrees.
Despite the cold, fun and food was had by all, and I sure hope to see you all next year.
Additional note from Jim Cameron:
Ron Anderson cooked up the idea of flying New Years Eve and the minute I heard what he had planed I was in. Note on the photo of the plane the LED lights that have been attached with the utmost of care and creativity. Over the 35 years that I have been in the hobby I have heard and told my share of stories, but this one will last for some time to come. Ron had the first flight at 12:05 and then the rest of us took turns. It was great. I can't tell you how cool it was to see the lights flying around above the horizon. We must have done something nice over the last year because the Weather Man was good to us. It was cold, but no rain. Don was heard to say that this was the coolest thing that he had done with models in the last 2 years.
To all my friends in the area: Have only the Best New Year!
More photos from Jan. 1 in Portland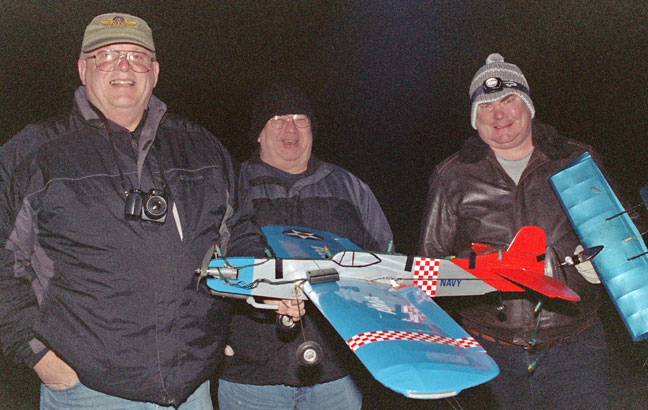 The night fliers (left to right): Ron Anderson, Don Curry, Mark Hansen. Jim Cameron, behind the camera, also participated. Jim Cameron photo.
Fueling up the Tanager for first flight of the year. Jim Cameron photo.
What a spread of food for Oregon Flying Fun No. 1! Jim Cameron photo.
Portland fliers enjoying the chow! Jim Cameron photo.
The second in the Oregon Flying Fun series is scheduled for Saturday, Feb. 12, at Sunshine Park in Roseburg, Ore., 10 a.m.-3 p.m. See Where the Action Is for details.
Dave McCheyne's Brodak F7F, powered by two O.S. .LA .15 engines on three-line throttle, makes a low pass at the Polar Bear Fun Fly. Mike Jennings photo.
Vancouver area fliers turn out in force for Polar Bear event
By Bruce Duncan
The Vancouver Gas Model Club's Polar Bear Fun Fly saw a great turn-out of current and former member, about 21 altogether. It was a great day, hardly a breeze and sunny, cold though. It started at about 21F and warmer all the way up to 32F. Flying started at 9 a.m. and continued until early afternoon. There were a variety of models flown from scale to sport and competition stunt. No crashes and everyone enjoyed themselves!"

A closer look at Barry Hobkirk's Stearman. Mike Jennings photo
Glenn Little and Dave McCheyne watch the flying action. Mike Jennings photo.
Marty Dolinsky and Joe Yau. Mike Jennings photo.
A crowd gathers in the pits, which feature some nice stunt planes. Wayne Scott photo.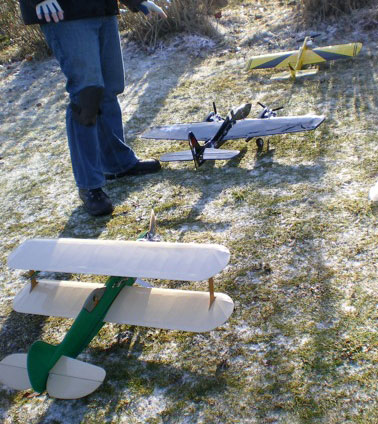 Left photo: Bruce Duncan (left), Chris Cox and Alan Resinger watch flying. Right photo: Lineup of interesting planes. Wayne Scott photos.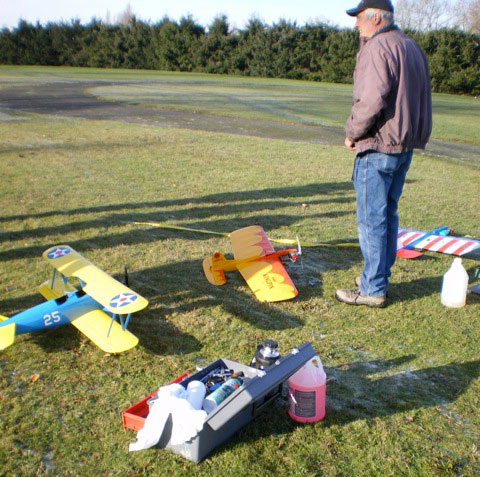 Left photo: Glenn Little. Right photo: Greg Davis among colorful planes in the pits. Wayne Scott photos.
Left photo: Chris Cox (left) and Alan Resinger. Right photo: Mike Conner with snazzy Ringmaster. Wayne Scott photos.
---
This page was upated Jan. 18, 2011