Contest Director Buzz Wilson (left) presents Robert Smith with the 2014 Chehalis Cup Combat Championship trophy at the start of 2015 C-Cup Contest No. 1 in Salem on June 27. Flying Lines phioto.
Salem Speed and Racing
June 27-28, 2015, Bill Riegel Model Airpark, Salem, Ore.
This two-day contest started with a day of Combat as the annual Chehalis Cup series got underway on Saturday, with combat using the grass circle under the direction of Buzz Wilson, and the paved circle open for Speed practice. On Sunday, the Speed fliers held their traditional June meet on the asphalt.
Speed
By Mike Hazel, contest director
The Speed portion of the meet was lightly attended with a some cancellations due to expected hot weather. The hot weather did not materialize on Sunday; in fact it was quite nice. Temps about 80 with light cloud cover and light breeze was refreshing compared to conditions from the previous couple of days.
Besides the official flights noted in the results, there was plenty of test flying done.
Speed results
Northwest Standings Points in parentheses
NORTHWEST B PROTO SPEED (3 entries)
1. Chris Sackett, Maple Ridge, B.C. -- 106.37 mph (3)
2. Jeff Cleaver, Port Ludlow, Wash. -- 95.85 (2)
3. Mike Hazel, Mehama, Ore. -- 83.88 (1)
1/2 A SPEED (1 entry)
1. Jeff Cleaver -- attempt (1)
1/2 A PROTO SPEED (1 entry)
1. Jeff Cleaver -- 81.73 mph (1)
FAI SPEED (1 entry)
1. Jim Booker, La Grande, Ore. -- 84.22 mph (1)
NORTHWEST SPORT JET SPEED (1 entry)
1. Jim Booker -- 151.06 (1)
The 2015 C-Cup season opener was held in Salem with weather predictions forecasting 100 degrees. It is hard to believe that this is the seventh season. At the pilot's meeting, Robert Smith was presented with the cup for winning the 2014 season. At the pilots, meeting, it was agreed that there would be two contests for the "Cup" this season (both in Salem).
There were six entries in double elimination Half A combat. After two rounds, Gene and I were eliminated. One of the more interesting matches was between Robert and Gene. As is the tradition of the C-Cup, the first match is always between Robert and Gene. Gene was ahead on cuts and airtime when Robert got back in the air with less than 30 seconds as Gene was trying to stay away, Robert was able to get a kill.
Next up was Speed Limit Combat (80 mph rules) of which there were six entries. At the end Robert Smith, with three kills, won first, John Thompson second and Daniel Johnson third. This part of the report is brief since I found a way to avoid the heat. In the second round I managed to put my fingers into the prop and spent four hours at in the air-conditioned Salem Hospital emergency room.
Combat results
HIGH-PERFORMANCE 1/2-A COMBAT (6 entriues)
1. Robert Smith, Roy, Wash. (6)
2. Jeff Rein, Covington, Wash. (5)
3. John Thompson, Eugene, Ore. (4)
4. Mike Hazel, Mehama, Ore. (3)
5. Buzz Wilson, Belfair, Wash.
Gene Pape, Eugene, Ore.
SPEED LIMIT COMBAT (80mph) (6 entries)
1. Robert Smith (6)
2. John Thompson (5)
3. Daniel Johnson, Rochester, Wash. (4)
4. Gene Pape (3)
5. Buzz Wilson
Jeff Rein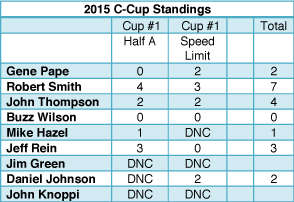 Results of this contest are included in Northwest Control-Line Competition Standings.
---
This page was upated July 1, 2015