Vancouver area fliers work on recovering some of the asphalt on their two circles at the Richmond, B.C., flying site. All photos by Chris Cox.
This past Sunday (June19, 2016) members from the Vancouver Gas Model Club and the Pacific Aeromodellers Club met up at The Rice Mill Road flying site in Richmond, B.C., to do some cleanup and asphalt recovery work. The grass had a tendency to slowly creep onto the asphalt over time resulting in the loss of circle diameter, but even worse, if not tended to regularly, the grass actually migrates its way into the asphalt which ultimately destroys the surface. During a three-hour work period, we were able to reclaim between 6" and 18" of pavement! We did the same task about 10 years ago with similar results.
As pointed out by Henry Hajdik, we were fortunate to have VGMC member Dr. Bob Baldock close at hand should any of us suffer stroke of heart attack, which was anything but far-fetched considering the amount effort required. Not sure who was going to look after Bob if he were to collapse, though! Luckily, no one collapsed, but I suspect there are a bunch of new blisters showing up today, as well as many sore backs, arms and shoulders.
Due to increasing high volume traffic demands, the provincial government is planning a tunnel replacement project with what may be a 10-lane bridge, beginning around this time next year. Although current drawings would indicate our flying site will be unaffected, there is some worry the construction equipment, portable offices and storage facilities may indeed infringe on the flying site. Time well tell, but for the time being, the site is once again is nicely groomed and open for use.
Now, if only those turbulence inducing trees could be removed???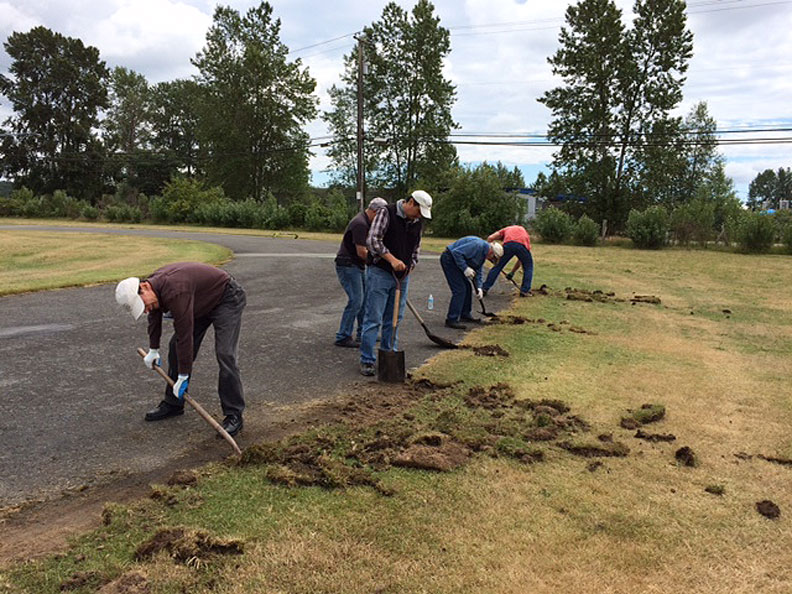 Recovering the asphalt meant a lot of shovel work.
The result: Bigger circles!