Henry Hadjik launches Harold Youds' canard at the Rice Mill Road flying site on Jan. 1. Chris Cox photo.
A quick report on New Year's Day flying festivities way up here in the frozen north. Not a huge exaggeration regarding the temperature, as the day did begin around the freezing mark, and only warmed up a few degrees as the Polar Bear Fun Fly went on.
A quick head count indicating about 20 members from the two clubs -- the Vancouver Gas Model Club and the Pacific Aeromodellers Club -- participating in the first day of flying fun in 2015. Not all flew of course, some electing instead to stand at the sidelines and offer sage advise to anyone who might listen. Coffee and donuts were on hand to keep the bodies warm and energy levels high.
Highlights of the day were, in no particular order: very light breeze and sunny; Harold Youds flying his canard "Galloping Goose" (a fictitious name, as I have no idea what he called it); Glen Little performing "stooge activities" for most participants; Greg Davis brings out his 45-year-old stunt masterpiece Regal for viewing (recently changed ownership); VGMC President Dave McCheyene attempts the year's first "twin engine" flight (leaky fuel tank on the critical engine foiled the attempt); Dennis Matthews presents his new, ready for first flight, Yak 9; Mike Jennings manages to get a diesel running in near freezing conditions!
Dave McCheyene (left) and Glen Little trying to get two engines running on Dave's F7F. Chris Cox photo.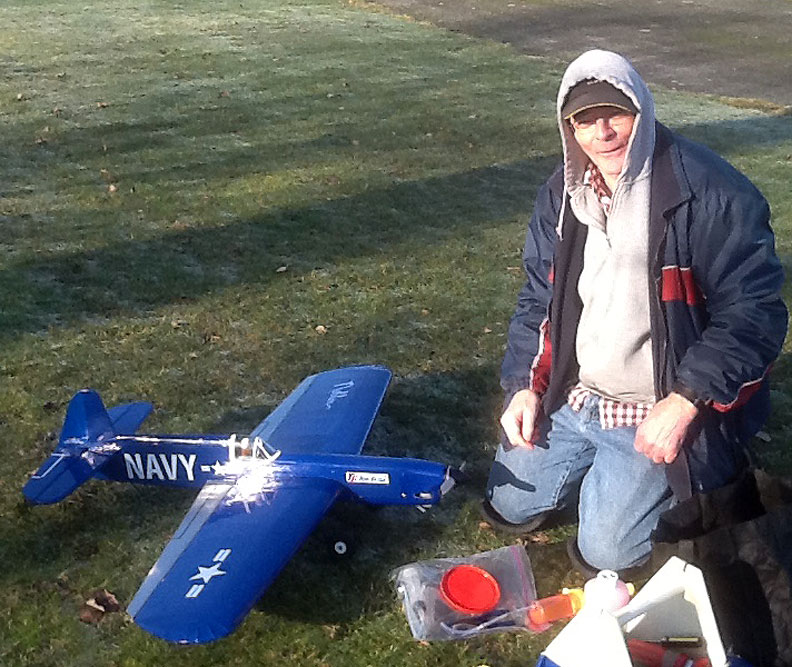 Barrie Shandel prepares for New Year's Day flight with his ARF Nobler. Chris Cox photo.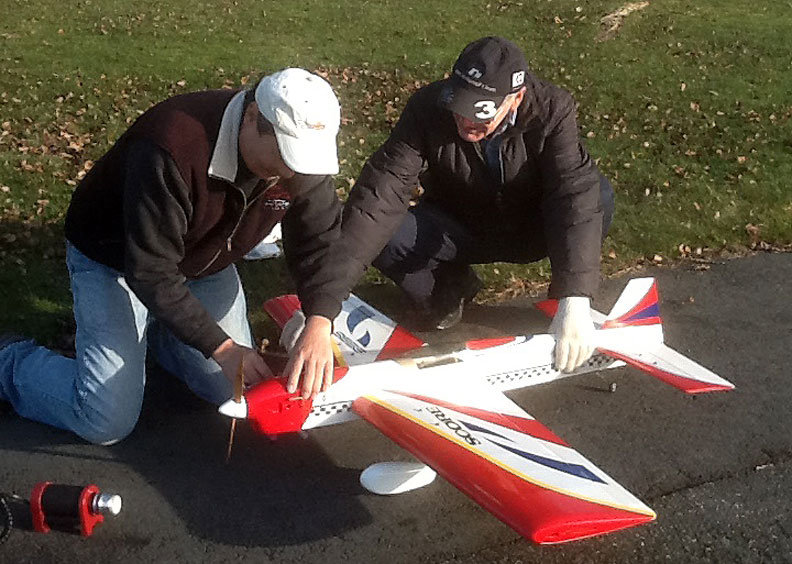 Joe Yau gets ready for a flight with his Score. Chris Cox photo.
Dennis Matthews and Barry Shandel with Dennis' new Yak 9. Chris Cox photo.