Polar Bear Fun-Fly participants gather in the pits at the Rice Mill Road flying site on Jan. 1. Chris Cox photo.
About 15 Vancouver Gas Model Club members in addition to a few Pacific Aeromodellers Club members made it out to the Rice Mill Road flying site to ensure the New Year got off to an appropriate start. Weather was excellent with light to no wind, and a cool temperature of around 7 Celsius.
The majority got one or more flights in, with a few others either too tired or possibly hung over from the previous nights festivities (not really). Mike Conner arrived bright and early to get in the all important first flight of the year. Eugene Tsiang traveled all the way from Honolulu to spectate. Actually he was there for a little skiing with his family, but Eugene always makes a point of stopping by to take in a little control line action! Alan Resinger got out of bed early to bake some cinnamon rolls and coffee cake to feed to troops, in addition to bringing along a box of Tim Horton's coffee to keep everyone warm inside. Thanks Alan!
Model types ranged from Sport, Stunt and Combat. Both IC (2 stroke and 4 stroke) and electric were well represented.
Following the flying, a gaggle of flyers headed over to Original Joe's restaurant for some lunch. All in all, as good a day one good hope for!
Lineup of some of the planes. Joe Yau photo.
Chris Cox gets ready for a flight. Joe Yau photo.
Mike Conner and his Ringmaster were the first to get in the air. Chris Cox photo.
Henry Hadjik brought out these two models for a little round and round time. Chris Cox photo.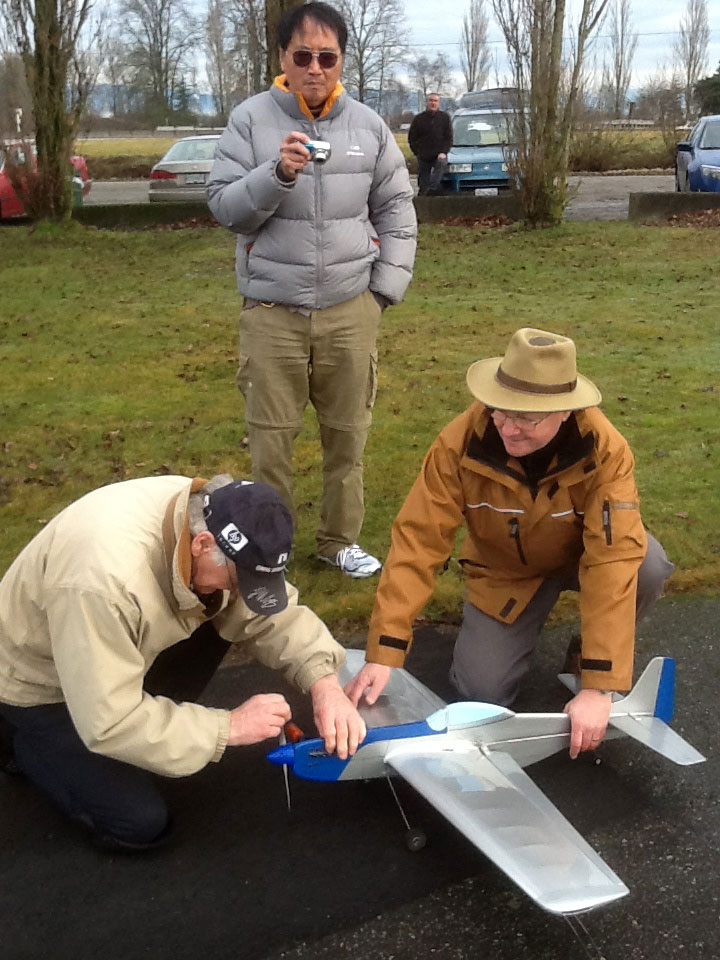 Glen Little prepares to start while Iain Dowling holds. Eugene Tsiang watches over the process. Chris Cox photo.
Time for lunch! Chris Cox photo.