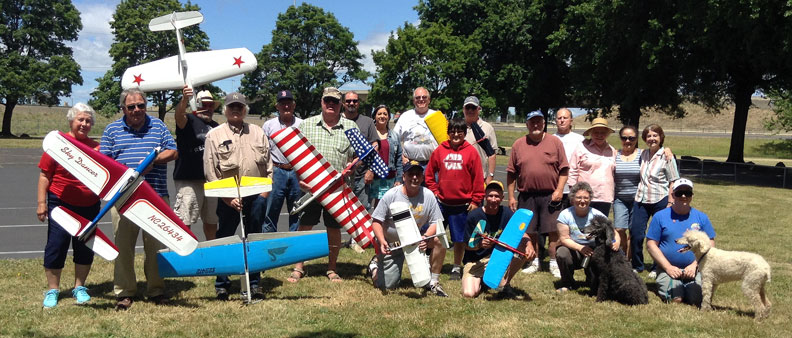 Attending the Fireballs July fun fly were, from left, kneeling in front: Scott Riese, Jim Cameron, Robin Gearn (with AJ), Tim Wescott (with Willow); standing: Joan and Roy Decamera, Robert Ladd, Richard Entwhistle, Doug Powers, Jim Harper, Darrin and Kim Bishop, Ron Anderson, Elijah Bishop, Leighton Mangels, Mike Hazel, Gary Harris, Kathy Powers, Irene Heen and Ines Olson. Barbara White photo.
Oregon fliers celebrate Independence Day
Jim Walker Memorial Control-Line Flying Field, Portland, Ore., July 3, 2016
The Northwest Fireballs held their second fun fly of the year, the Independence Day Fun fly, at East Delta Park in Portland. It started at 9:30 a.m., and the last flyers departed just after 4 p.m. Both circles, paved and grass, were kept busy most of the day. The weather was perfect for flying, visiting and picnicking. We had four tables of hot entrees, cold salads and fruits, home-made desserts and miscellaneous snack items.
We had 23 club members and guests at the event, nine of whom put up 22 flights. Mike Hazel, with a total of six flights over both circles edged out Jim Cameron (who had five). Roy DeCamera flew his Sky Dancer, which he's been building for several years. With only a few flights before today, he is pleased with the plane.
Robert Ladd's plane, making its first flight today (and with a new engine), was built by Don Curry. Jim Harper flew his Cardinal, Stars and Stripes, pulling a red streamer in recognition of this nation's independence.
The prize table for raffle ticket holders (one raffle ticket per flight, one prize per person) contained items donated by members, including several from the estate of Jeff Christianson. In addition to engines, older planes and new kits, there were containers of fuel and paint, electric starters and other airplane parts and pieces, as well as a fishing tackle box (complete with tackle!). Something for everyone.
We all, flyers and non-flyers alike, had an excellent time. Thanks to everyone for participating.

Good food for a good day of flying! Barbara White photo.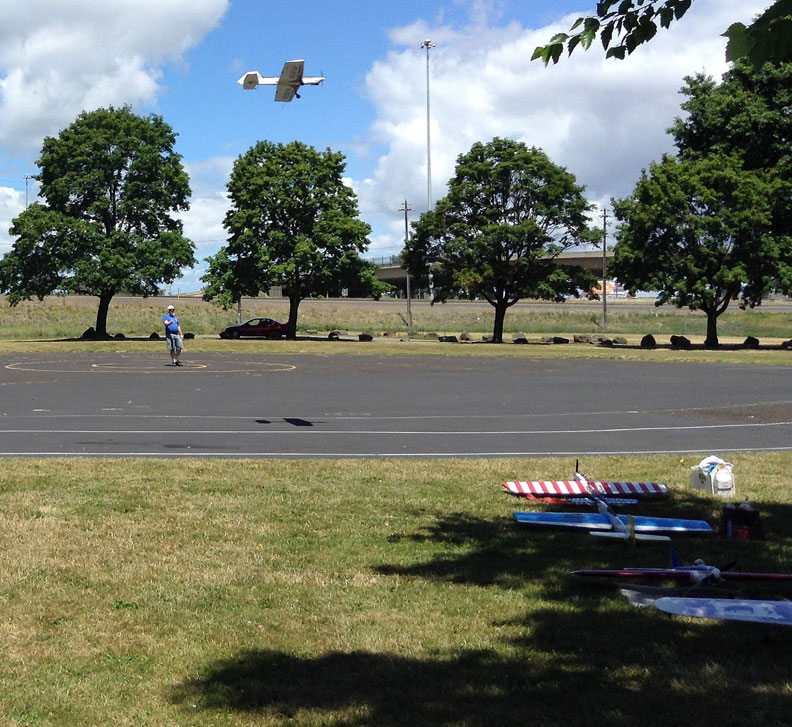 Tim Wescott puts up a flight on a plane built by Paul Walker. Barbara White photo.
Roy DeCamara sarts the engine on his Sky Dancer, with Richard Entwhistle holding. Mike Hazel photo.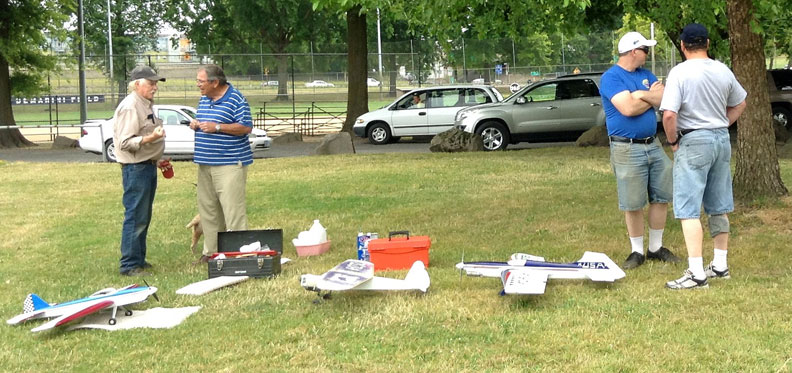 Serious discussions in the pits. From left, Richard Entwhistle, Roy DeCamara, Tim Wescott, Scott Riese. Barbara White photo.
A plane in flight, viewed from the pit area. Barbara White photo.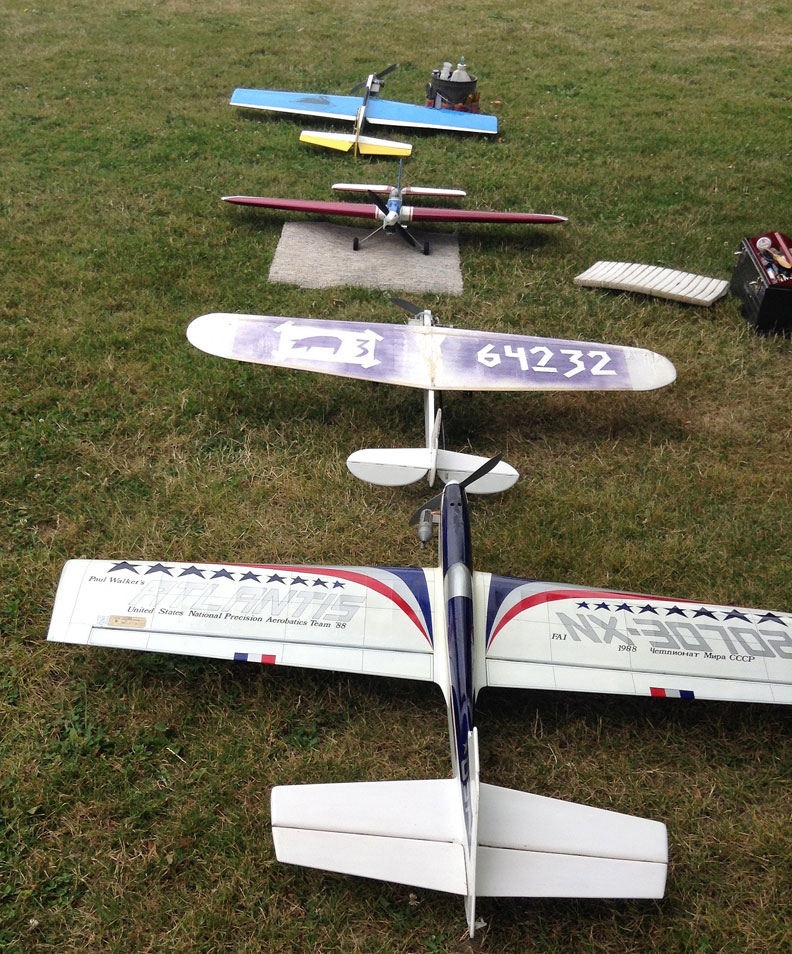 Lineup of some of the planes, including Paul Walker-built Atlantis in the foreground, now flown by Tim Wescott. Barbara White photo.
Robert Ladd made his entry into speed flying with a new B Proto that made its first flights. Mike Hazel photo.
---
This page was upated July 4, 2016