Doug Powers starts the Cox 15 powering his Junior Magician as Leighton Mangels assists at the Jan. 1 fun fly in Portland. Mike Hazel photo.
By Mike Hazel
The New Year's Day fun fly hosted by the Northwest Fireballs at Delta Park turned out to be a nice January day for flying. This event was the first installment of the Oregon Fun Fly series for this year. The day started off a bit cool, but gradually warmed up under a partly cloudy sky with virtually no wind. Some of the coolness went away with the chili lunch that was provided.
Most of the flying was of the usual bore-holes-in-the-sky activity. There were also at least a couple of throttle plane flights doing the usual touch and goes.
All attendees whether flying or not got a turn at the prize table to take home yet another trinket or treasure.
Attending were: Sam Baird, Darrin Bishop, Tom Brightbill, Kristen Brown, Jim Cameron, Don Curry, Roy DeCamara, Gary Harris, Mike Hazel, Niels Madsen, Leighton Mangels, Will Naemura, Doug Powers, Dave Royer and Tim Wescott.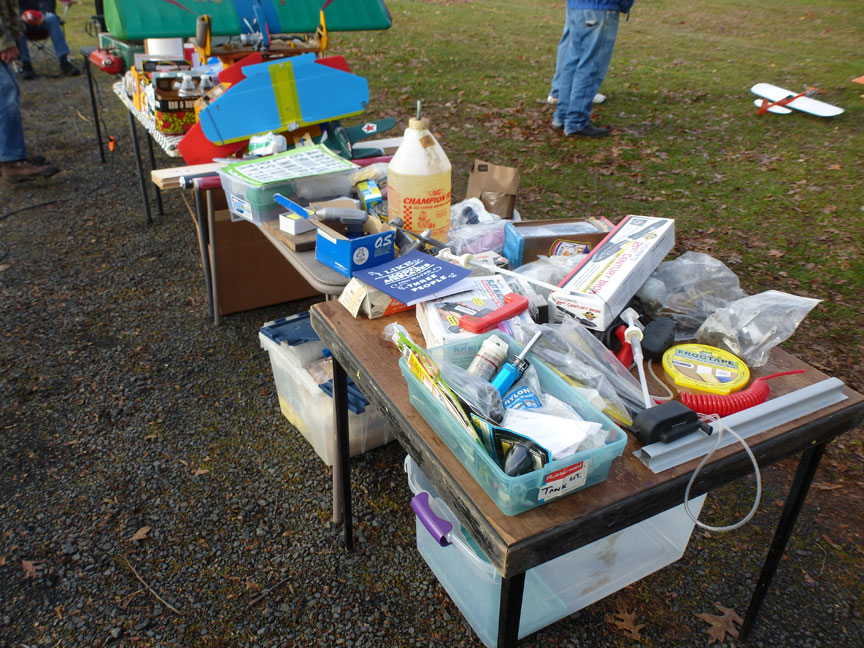 Generous prize table provided modeling goodies for everyone. Mike Hazel photo.
Jim Cameron at the handle. Mike Hazel photo.
Gary Harris starts the engine on his Combat plane while Sam Baird holds. Mike Hazel photo.