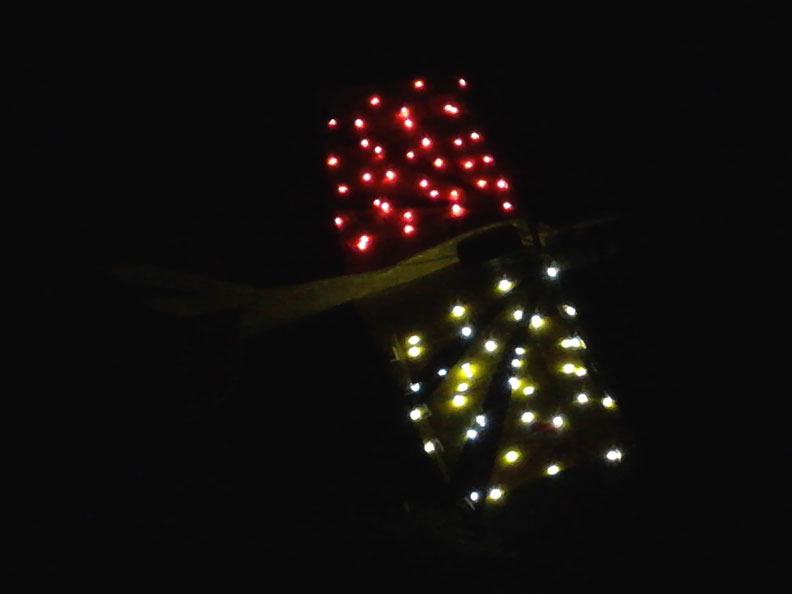 Ron Anderson's Flite Streak shows off its 70 lights during a late-night Dec. 31 flight. All photos by Jim Cameron.
Portland fliers ring in the new year
Jim Walker Memorial Control-Line Flying Field, Portland, Ore., Dec. 31, 2013-Jan. 1, 2014
Members of the Northwest Aeroliners and Northwest Fireballs gathered on Dec. 31 to ring in the New Year with control line flying at East Delta Park. Present at this year's event were: Aeroliners; Mark Hansen, Jim Cameron, Ron Anderson, Sam Baird, and Gary Harris; with Fireballs Gary Harris and Tom Brightbill rounding out the group. This is a very unique Fun Fly put on by the Northwest Aeroliners, as it is the last event of the Oregon Flying Fun series and also the first. I can think of no other event that can boast such a feat!
This year's event was visited by the warmest weather thus far, with temperatures in the mid 40s but with a rather thick fog that actually made it hard to see all but the most well-illuminated aircraft.
Of the six pilots present, only four actually put in a flight, with the total for the evening reaching eight flights. Double raffle tickets were given out for the brave souls who flew. Mark Hansen had the last flight of the old year with a flight on Sam Baird's MVVS 09 Diesel board wing, with the flight finishing at 11:55 p.m. While the first flight of the New Year went to Jim Cameron at 12:05 a.m.
After the flying was over, there was a short bull session held a Shari's Restaurant at Delta Park, which broke up around 1:30 a.m. All agreed that this is one of the more unique and fun events of the "control-line year" and that they will definitely do it again next year.
It bears mention that in years gone by, there has been a question as to whether it is legal to fly at Delta Park at night, and if this event in some ways violates park rules and will jeopardize the use of the circle in the future. It is posted near the entrance to the park that the park is open until 12:01a.m. When we arrive each year around 11 p.m., the park gates are open, there are no park employees present, in point of fact, the entire park is empty. Until this year there has not been anyone even near the park, as far as we can see. This year there was a Portland police officer parked near the entrance to the park when I and several others arrived, who didn't even bother talking to any of the flyers present. So, my best guess is that really no one cares if we go into the park and use it for our legal and legitimate purpose. Our flying is better than many of the illegal uses we see the park put to on a regular basis. So don't be shy, there is no chance of anything negative coming from our late night flying, unless you think flying for fun is a negative!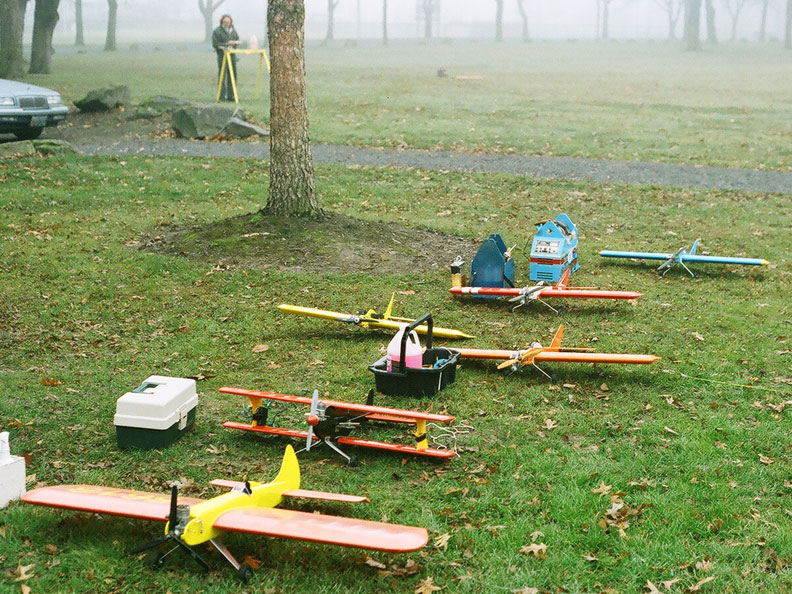 Some of the planes present at this year's Jan. 1 event. Noteworthy is Sam Baird by the test stand in the background. This is just moments before Sam started the O.S. .61 rear rotor, and it nearly tipped over the test stand. The engine was just inches from the ground when Sam grabbed the stand, held it down, and then tuned the needle valve.
Oregon Flying Fun No. 1 and Chili Cook Off
After a brief hiatus, the fun continued on the morning of Jan. 1, with the continuing of the first in the annual Oregon Flying Fun series, hosted by the Northwest Aeroliners.
This year incorporated for the third time in four years a Chili Cook Off, and the flyers present were well fed indeed. This year's Chili Cook Off had thee pots of chili, and the flyers present judged them thusly: First: Scott Johnson, with a slightly hot and somewhat tangy Chili Colorado; Second: Mark Hansen with a healthy, low-fat, low-sodium, mild, Turkey Chili; Third: Ron Anderson with a very tasty Ground Beef Chili. All the entrants in the chili cook off got tickets for the raffle for their efforts, with first place taking three tickets, second two, and third one.
A great deal of flying took place over both the paved circle and the grass circle south of the pavement, however as this is a low-key event, no one bothered to keep track of the number, and tickets were handed out purely on the honor system.
Present at this year's event were: Aeroliners, Mark Hansen, Jim Cameron, Ron Anderson, Sam Baird, Gary Harris and Richard Kennedy; from the Fireballs, David Royer and Gary Harris; from out of town came, Scott Johnson, Daniel Johnson, Nathan Johnson, and a flier from the distant past, Rich Shaper. There were also some passers-by who stopped ate some chili and watched the planes fly, but they were not regular flyers, and were mostly just curious. Now they know what control-line flying is!
The raffle this year was a resounding success! The table was littered with many prizes very useful to building and flying that totaled well over $200. Notable were five kits for the Frank Macy/Jim Cameron designed Firebaby II. These kits were made by Mark Hansen, and contained all the parts pre-cut, with a complete hardware packet that included: All nuts, bolts, screws, washers a control horn, bell crank, lead out wires, crimps and push rod. Ron Anderson is currently building one of the two kits he picked up and says it is going together very nicely and is impressed with the quality of the wood (I culled it out of my collection, as too heavy for me). Ron Anderson donated a very nice set of fractional size Skil brand drill bits, and five very nice totes that could be made into field boxes. From Jim Cameron, came a quart of polyurethane, and a handful of small syringes suitable for priming. Mark Hansen donated a used volume of "The Rand McNally Encyclopedia of Military Aircraft," a bunch of 2-oz. syringes, and five sets of walnut 1/4" sheet sanding blocks, with an assortment of sand paper. To keep up the sanding theme, Richard Kennedy donated a number of foam backed sanding blocks in several different grits. Lastly from last year's event, the Northwest Fireballs donated an O.S. needle valve.
As there was no limit on the number of prizes each person could win, most flyers took home more than one prize with the a couple picking up three. Notable were the Johnsons who each got a Firebaby II kit. It should be interesting to see if any Firebaby II's appear at the rest of the fun flies this year.
The chili cook off was kept lighthearted and fun. In this picture are Nathan and Scott Johnson, Richard Kennedy, Mark Hansen, and with the bunny ears, Sam Baird.
---
This page was upated Jan. 13, 2014