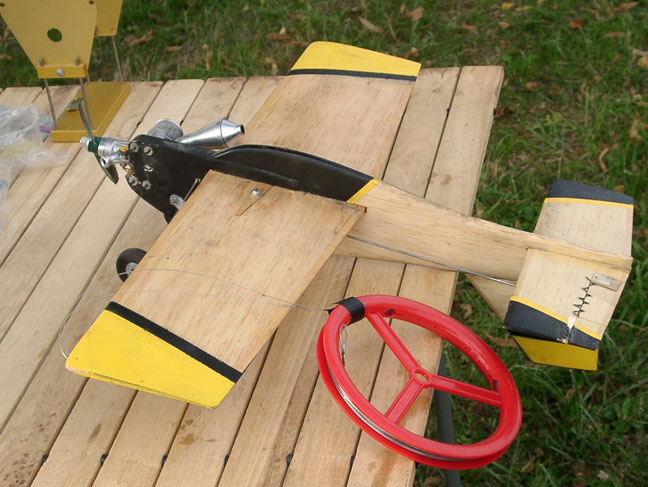 An F2D Proto Speed plane wait on the table for at the Northwest Speed OctoberTest. All photos by Ken Burdick.
Northwest OctoberTest Speed contest
Oct. 23-24, 2010, Bill Riegel Model Airpark, Salem, Ore.
By Mike Hazel, contest director
This speed contest which was sanctioned and scheduled for two days, was reduced to one. The Saturday participants concurred that the forecast for Sunday was just too nasty to bother. Good choice. Although Sunday did see some patches of sun, it also had patches of thunder, lightening, hail, heavy rain, and high winds. Yuk! Although it was a bit windy on Saturday, there was no wetness noted.
Participation was fairly limited with this last minute affair, but the faithful few in attendance had a good time. Craig Bartlett provided a bbq burger & dog lunch, in which we huddled on the downwind side of the field storage shed to keep the chow from blowing away.
On the flying circle, the first bit of action was Ken Burdick with his new class 'C' speedster. His monoline bird was a refurbished formula 40 airframe with a Nelson 40. He did some test runs to find a needle, but it kept running overly rich. The last couple of laps it would come on strong and really go. Before he could get that sorted out, there was a control system glitch which pancaked the plane resulting in very minor damage but it was done for the day.
Next the team of Scott Newkirk and Ron Bennett got out their 1/2 A Proto and managed to get up a flight between the gusts. They then also put up a run with the 21 sport speed. They had some F2A ships to test, but the contest director (yours truly) in his brilliance forgot to bring the fuel. Oops, sorry guys!
Next up was the big iron from the Louie-Louie Team, flying their Louie-mobile for three or four runs. The speed was down a little from the usual with the Louies scratching their collective heads over glow plugs and needle settings.
That was pretty much the action of the day. Loren Howard also motored on down to watch, and showed off his nearly completed assymetrical 'D' bird with a McGee 65 in the nose. Don McKay dropped by for just a bit, returning from a California combat contest.
Here are the official results:
Results
Northwest Standings Points in parentheses
1/2 A PROTO SPEED (1 entry)
1. Newkirk/Bennett Team, Edmonds, Wash./Monmouth, Ore., 78.45 mph (1)
.21 SPORT SPEED (1 entry)
1. Newkirk/Bennett Team, 139.37 mph (1)
NORTHWEST C SPEED (1 entry)
1. Ken Burdick, Kent, Wash., attempt (1)
D SPEED (1 entry)
1. Louie-Louie Team, Kent, Wash./Mehama, Ore., 166.75 mph (1)
OctoberTest photo gallery

Contest Director Mike Hazel basks in the Saturday weather.

Scott Newkirk works on a 1/2-A Proto.

Ron Bennett at work.


Three views of Ken Burdick's new C Speed plane.

---
This page was upated Oct. 25, 2010