Tom Strom receives congratulations for placing in Dick Scobee Memorial stunt contest in Auburn, Wash., in August 2014. Dave Gardner photo.
Tom Strom, a longtime Northwest control-line flier, died of cancer on March 9, 2015.
Strom was active in combat, racing and aerobatics over many years, achieving a high level of performance in all categories. Most recently he had been competing in precision aerobatics, rising fast through the ranks after only a short time of stunt flying. He also was a longtime radio control pylon racing competitor.
Tom was noted as a gentleman on and off the field of competition and always ready to help other modelers. His two sons, Tom and Tim, also were active model airplane competitors.
It has been reported that Tom was being treated for several months for what appeared by be pneumonia, but only recently was discovered to have been lung cancer that had spread.
If anyone would like to add remembrances of Tom, photos or other obituary information, please send it to Flying Lines.
The following information is from the website of the funeral home in Olympia, Wash., handling Tom's services.
Thomas Hall Strom
Birth: 3/24/1952
Death: 3/9/2015
Service Information:
1:00 p.m. on Saturday, March 21, 2015
Olympic Flight Museum
7637 Old Highway 99 SE, Bldg. A
Tumwater, WA 98501

Thomas Hall Strom passed away March 9, 2015, in Olympia, Washington, at the age of 62. He was born March 24, 1952, to Thomas Huntley Strom and Ida Juanita (Rogers) Strom in Seattle, Washington. A resident of Burien, Washington, for more than 55 years, Thomas graduated from Burien's Highline High School in 1970, and attended Highline Community College in Des Moines, Washington.
Thomas married Lois Marie Britton at Fauntleroy Church in West Seattle on November 14, 1975. Professionally, he was a firefighter for North Highline Fire Department from 1977 to 2011. Thomas loved hunting, fishing and model airplanes. He was a member and president of Sanderson Field RC Flyers in Shelton, Washington, as well as a member of the Academy of Model Aeronautics, and National Miniature Pylon Racing Association.
He is survived by his wife, Lois Strom; sons, Thomas Wayne Strom and Timothy Eugene Strom of Olympia; sisters, Gini Strom-Vessecchia of Sumner, WA, Barbara Wright of Fox Island, WA, and Traci Jackson of Winterhaven, FL; parents, Thomas Huntley Strom of Williamsburg, VA, and Juanita Strom of Fox Island, WA; father-in-law, Wayne Clair Britton, and mother-in-law, MaryAnne (Slagle) Britton of Burien, WA.
Donations may be made in Thomas' name to the National Fallen Firefighters Foundation.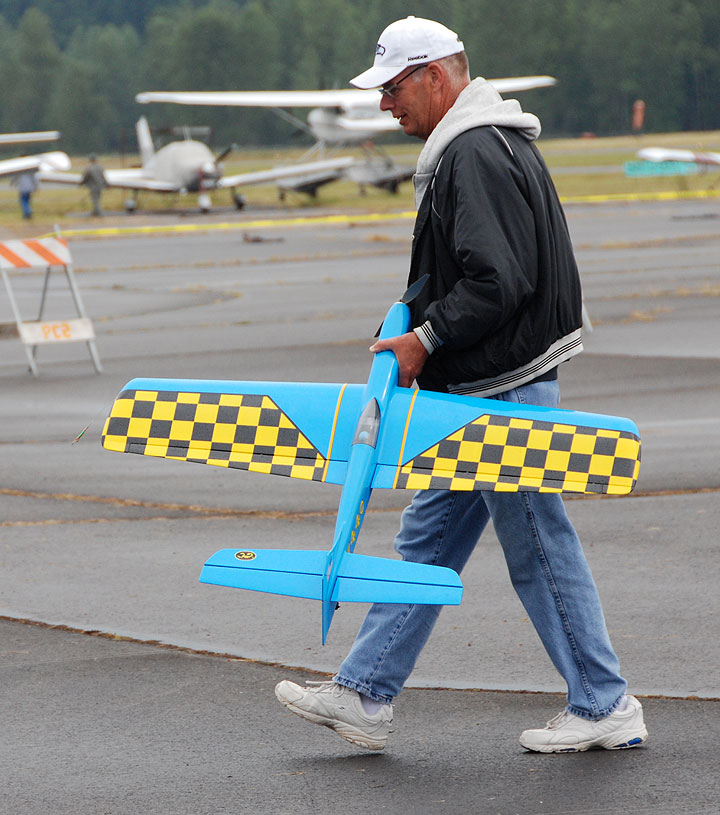 Tom was an excellent builder and finisher of all types of airplanes. Above, he carries his electric Vector 40 at the 2013 Stunt-a-Thon in Puyallup, Wash. Flying Lines photo.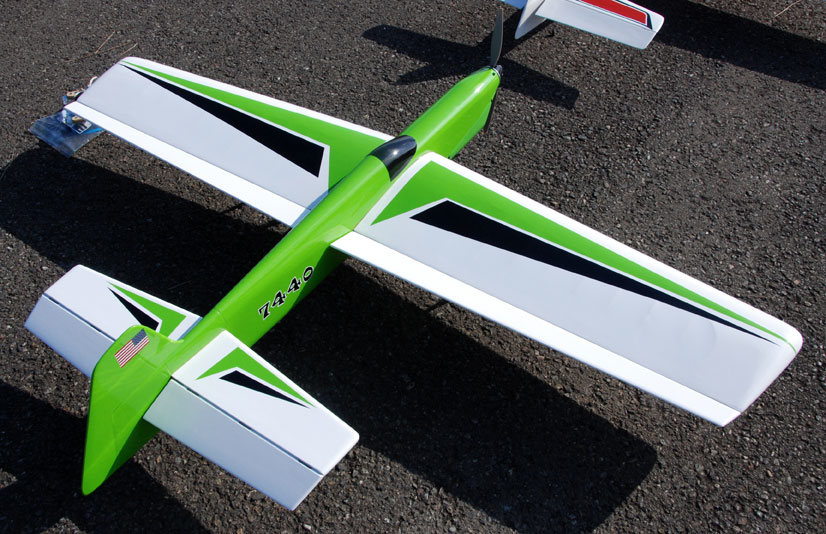 Tom flew this electric Impact in advanced precision aerobatics. Flying Lines photo.

Tom flies his pathfinder in Profile Stunt at the 2014 R.F. Stevenson Memorial contest in Auburn. Rex Abbott photo.