Eugene Prop Spinners member Morrie Gilbert dies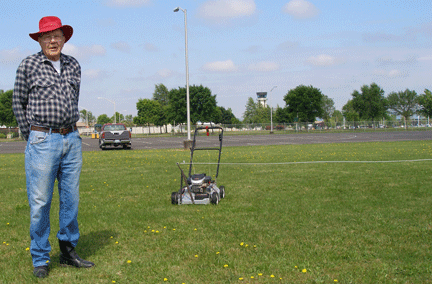 Morrie Gilbert, a member of the Eugene Prop Spinners model airplane club in Eugene, Ore., since the late 1940s, died on May 30 after a long battle with cancer. He was 80.
Morrie was a key member of the club for most of its long existence, and a mentor and inspiration to many fliers. He was honored by the Prop Spinners in a special ceremony at a meeting on Feb. 17 as he stepped down from nearly three decades as club treasurer. See Prop Spinners Page for details.
Morrie was a lifelong model airplane builder who also built much of the club equipment, including the automated mowing system (photo at right). Morrie built many of the stanchions and concrete bases used at the Northwest Regionals. He built tables, stopwatch boxes and many other items over the years.
Morrie was contest director for the Regionals several times and organized other contests over the years. He was a hard worker behind the scenes for many events, along with his late wife, Georgia.
He was a member of the Prop Spinners team that set the world endurance record of more than 64 hours in 1957, a record that still stands. See Northwest CL History page for details on the endurance flight. Most recently, he organized a Prop Spinners demo for stroke victims a the Eugene field in October 2007.
A celebration of life will be held at 2 p.m. June 21, at 170 Formac Ave. in Eugene, which was Morrie's home.
See obituary from Register-Guard newspaper.
---
This page was upated June 6, 2008