Longtime Skyraider Gary Letsinger dies
Information provided by Dave Gardner
Gary Letsinger, a longtime member of the Northwest Skyraiders, died Nov. 27, 2021, at his niece's home in Kelso, Wash. Gary, formerly of Kent, Wash., enjoyed Precision Aerobatics and also was an avid photographer. He frequently attended Skyraiders contests and other events.
Memorial service: Gary's family has scheduled a gathering at Tuscany at Des Moines Creek restaurant, 21830 Marine View Drive S., Des Moines, Wash., on Saturday, Jan. 8, from 1 p.m. to 4 p.m. All are invited. Food will be provided.
See a detailed newspaper obituary.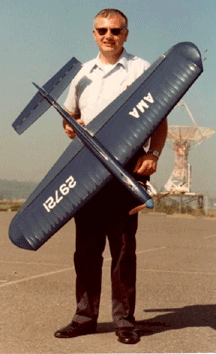 Gary Letsinger with a Stunt plane at the Boeing Aerospace Center in the 1970s. Don Schulz photo.
---
This page was upated Dec. 27, 2021