Some of the Ringmasters lined up in Portland for participation in the global Ringmaster fly. Bill Lee photo.
Control-line model aviators across the Northwest put up flights on various kinds of Ringmasters over the Oct. 3-4 weekend as part of Ringmaster Fly-A-Thon 2015.
The flights took place in Auburn, Wash., Portland, Ore., Waitsburg, Wash., and as part of the Fall Follies in Salem, Ore. These are the flights that we know about; there may have been others not yet reported to Flying Lines. All Flights were reported to the Brotherhood of the Ring for counting in the worldwide effort to fly as many Ringmasters on a single weekend as possible.
The goal was to surpass the 2014 record of 2,714 flights. The Brotherhood reports that they passed that goal and put up 3,487 flights in the worldwide effort, with 684 pilots participating.
To see the final tally of flights and where all the flights were made see the Brotherhood's Ringmaster Fly-A-Thon final results. There's also a fun report on the Fly-A-Thon on the FlyBoyz website.
In Salem during the Fall Follies at Bill Riegel Model Airpark, the following flights were made on Saturday:
John Thompson: Two official flights in Old-Time stunt.
Patrick Chewning: Two official flights in Old-Time Stunt.
Craig Bartlett: One flight
Dave Shrum: One flight.
Bob Lewis: Two flights
Bill Toschik and Russell Shaffer: 14 flights combined
Bill Lee reported that in Portland on Saturday, a total of 23 flights were made by the Northwest Fireballs, including a number of three-up flights. The flights were made mostly at Jim Walker Memorial Field at Delta Park but also at two other fields. Portland fliers includedToday, at the field. Ron Anderson's Super Ringmaster, and his other two Ringmasters, with Don Curry's Imperial Ringmaster in the rear.
Don Curry's Ringmaster on the deck with its throttled Saito 4-stroke engine.
Don Curry, Jim Cameron and Garry Harris.
In Auburn, Wash., Auburn Municipal Airport was the site of the Northwest Skyraiders' version of the Ringmaster event. Nine fliers put in a total of 20 flights, as listed below by Dave Gardner:
Dane Covey -- two flights -- Electric S-1
Bill Darkow -- two flights
Doug Oertli -- two flights
Dave Gardner -- 2 flights -- ARF S-1
Mike Haverly / Colton Lutz - two flights - electric RingRat
Ben Jones -- two flights
Kris Millard (newbie) -- four flights with bonus credit for first flight = 5 flights
Mike Schmidt, from Chicago area -- one flight -- electric RingRat
Gary Letsinger - one flight -- OLD S-1

In Waitsburg, Wash., Joe Just and Dave Miller put in a total of 23 flights over a five-hour period. Joe reports: "Not too bad for two aging guys. There was only Dave and I there, so pictures are limited to just some planes. Because of impending senility and beat up bodies, Dave and I use a portable starting table next to our version of an European style carrier deck for launching. It sure beats a lot of kneeling and trying to get up off the ground after a few hours of having fun. Each of us had a S-1 and Junior Ringmaster. This is our third year trying this fun event, and all flights were using full or nearly full tanks.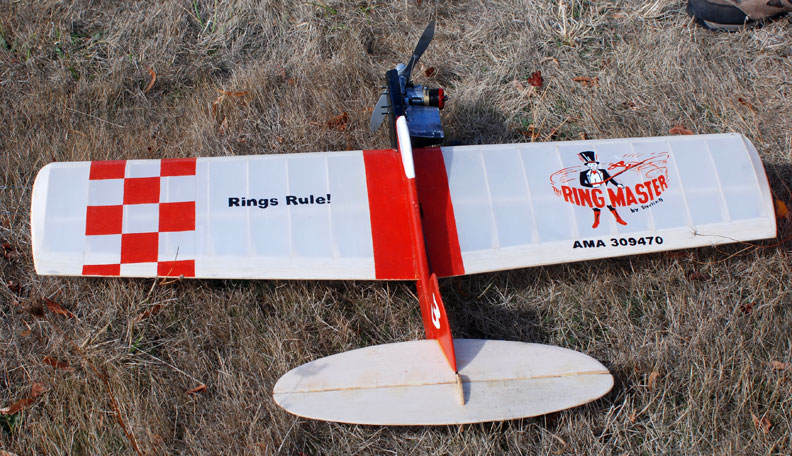 One of the very nice Ringmasters flown in the Northwest over Oct. 2-3. This is Bob Lewis' plane, seen at the Fall Follies in Salem, Ore. Flying Lines photo.
Three-up flying at Delta Park in Portland: From left, Don Curry, Jim Cameron and Gary Harris. Bill Lee photo.

Ringmaster Jr. and S-1 examples in Waitsburg, Wash., flown by Dave Miller and Joe Just. Joe Just photo.
The guys in Waitsburg used a table for stand-up engine starting. Joe Just photo.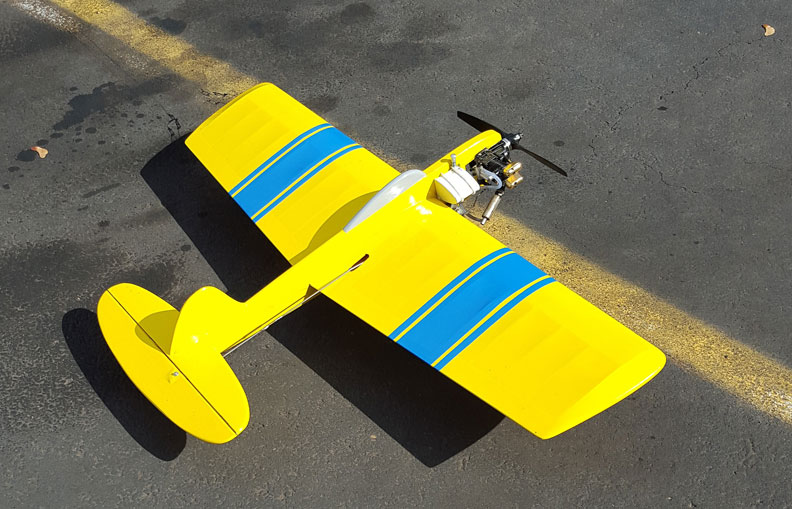 Very nice Ringmaster S-1 example in Portland built by Don Curry, with Saito four-stroke engine. Bill Lee photo.
Pat Chewning flew this nice S-1 in Old-Time Stunt at the Fall Follies. Flying Lines photo.
Lineup of Ringmasters and others at the Auburn fun-fly. Mike Haverly photo.
This is Dave Gardner's Ringmaster, powered by a K&B .18. Mike Haverly photo.
Dane Covey chose electric power for this one flown in Auburn. Mike Haverly photo.
This page was upated Nov. 14, 2015