A View from Broadway

Mike Hazel of the Beaver State Combat Team built this entry in the Dallas Sport Goodyear class of control-line Racing. Mike Hazel photo.
Sport Goodyear challenge
By Ken Burdick
January 2023
Yes folks, it's true.
The once proud Broadway Bod Busters Racing team has not been exactly active the last several years. But rumor has it, there is a new Racing event coming to town.
The ranks of our Racing team have been diminished in recent years, but hope springs eternal, so the mighty BBB has gone into full research mode, or something like it.
Our chief spy Groan Verona tells me that none other than those pesky Beavers ( Oregon's Beaver State Combat Team) have secretly been planning a new Racing event here in the great Northwest called Sport Goodyear. (EDITOR'S NOTE: Not to be confused with the long-existing but dormant official Northwest Sport Goodyear.)
You might ask, "Kennyb, what could that be?" Well lil Geezers, it's nothing if not diabolical, I'll try to splain.
It was none other than the man of many disguises, Louie, ZZ Prop, Combat Beaver, Hey You and others not suitable for tender ears like ours. With so many aliases what could you possibly believe about an event such as Sport Goodyear? Not much, so we had it all verified with the BBBI (Bod Buster Bureau of Investigation.) Need I say more?
Apparently, Mike, or Louie or whoever he is, has conspired with none other than the TEXANS, to create a unified set of Racing rules! If that's not bad enough, he's called it Dallas Sport Goodyear, a thinly veiled attempt to blame Texas somehow
Through great effort and at much personal expense, the BBB has obtained a copy of said rules. If you read closely, you'll notice they don't even know what year it is!
Try as they might to confuse the mighty BBB, the Beavers could not hide the well laid out set of rules and even interjected AMA event 317 into it all for further confusion.
I lay this at the feet of seemingly mild-mannered Beaver State Combat Team. What will they come up with next?
Do these Beavers have no shame? I think not.
This bag of dirty tricks will not go unanswered. Our Racing anchor Paul Gibeault, aka Rocky, had this to say: Yup, my phone is ringing off the hook & my Email inbox is overflowing over this upcoming directive. (Always moving from one crisis to the next)
So apparently the event and its many followers have now extended North to the far reaches of Alberta, Canada!
Well ... this sneaky attempt to create a new event dominated by the Beavers, simply will not go unchallenged. No, not by a long shot. The Mighty Bod Busters have been awakened and will direct their collective rath at the seemingly innocent Beavers.
The BBB will not only stand on the Beavers' tail in this new event, we'll drive them back to their soggy lodges.
I call on all racers here in the Pacific Northwest, do not let this aggression stand!
Join the BBB in building a Sport Goodyear airplane to the Dallas rules and stop the Beavers! Thwart this attempt at domination, otherwise we'll never hear the end of it.
Mike Hazel and Paul Gibeault have both spectacular-looking models. Each is equipped with hardware from Bill Bischoff (see list below). (EDITOR'S NOTE: Also see Bill's updated product list in any recent issue of National Control-Line Racing Association's Torque Roll newsletter, available in FL's Racing section.)
The Bod Buster entry is a Knotty Girl from the plans shown on the NCLRA site. Parts needed and suppliers are listed below.
Author Ken's almost-finished Knotty Girl. Ken Burdick photo.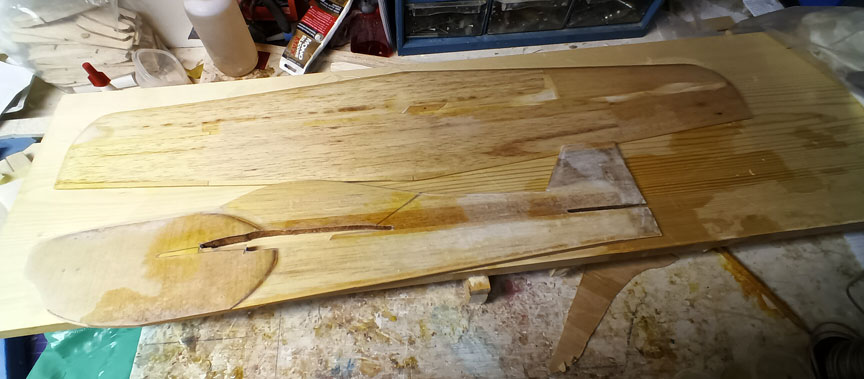 Fuselage and wing roughed out. Ken Burdick photo.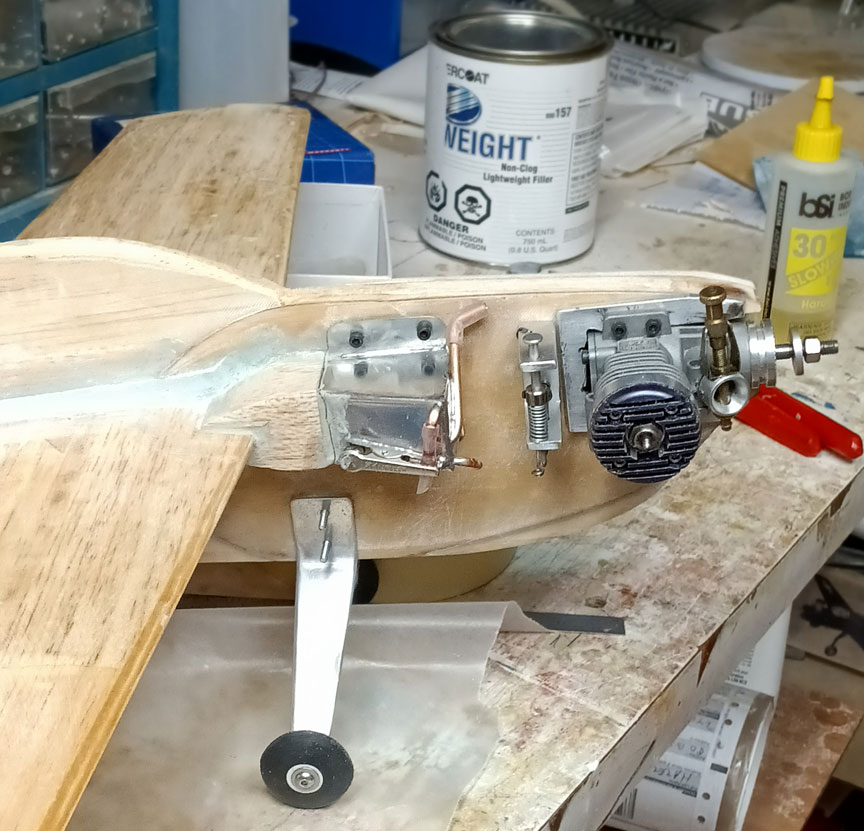 Front end hardware of Ken's Knotty Girl. Ken Burdick photo.
This shows the Knotty Girl's control system, with one pushrod coming forward from the button bellcrank to the shutoff and the other going back to the elevator. The model is painted using an etch type auto body primer (rattle can) and finished in a blue two-part polyurethane from Endura. The Endura comes in a rattle can with a button to push on the bottom to release the hardener. Ken Burdick photo.
Construction photo of Paul Gibeault's Polecat. Paul Gibeault photo.
What and where
For kits of Sport Goodyear, contact Pat King. Brodak caries both the Sig Buster and the Sig Shoestring. Both are affordable and suitable for the event.
For plans, see https://www.nclra.org/Rules/index.php look under plans
For rules see https://www.nclra.org/Rules/index.php Dallas Sport Goodyear.
For hardware see Bill Bischoff. (See list)
Engines: The Dallas rules allow: ASP .15 and Magnum XLS.15 (no longer made), SH .15 (available from Mike Goes Flying.)
BISCHOFF'S RACING PARTS AND ACCESSORIES
Fuselage mounted FUEL SHUTOFF $20.00 specify top or bottom pull, specify Goodyear (1-1/4") or Quickie Rat (1 1/2")
ASP/ Magnum 15 VENTURI $10.00
1/4" ID, 4mm spraybar, fits 10mm hole
blue anodized
RSM Supertigre style needle assembly $11.00
Aluminum landing gear struts $12.00
.090" 2024-T3, drilled & tapped, with screws
Edges pre-rounded.
Aluminum landing gear blanks $5.00
Cut to size, not drilled or bent. One pair.
Williams Bros. 1 1/4" wheels w/ axles $10.00
1 oz Sport Goodyear fuel tank $20.00
with pinch-off overflow
bellcrank button kit $2.00
includes hex buttons, eyelets, screws

8 oz. fuel bottle with fitting $10.00
16 oz fuel bottle $15.00
specify for rubber quick fill or 1/8" tube fill
Racing handle, 3" spacing $25.00
metal frame, walnut grip, stainless cable
(other spacing available by request)
Globee Ni-MH conversion kit $15.00
includes 2.4 volt, 5000 mAh Ni-MH battery
and XT30 wiring harness
XT30 charge lead for above $5.00
with banana plugs. Fits most chargers.
Juice Box MkII glow plug battery $60.00
2.4 volts, 5000 mAh Ni-MH battery
large ammeter, adjustable output
Clothespin style glow plug lead $12.00
with 48" 16 ga silicone wire. XT60
connector fits JuiceBox MkII and Pro
Juice Box "Racer" battery w/ arm strap $75.00
perfect for racing hot glove system
-- Kennyb
This page was upated Jan. 22, 2023