A View from Broadway

The Go .28 (top) and the SuperTigre X-29, two engines for B Speed competition. All photos by Ken Burdick.
Bee-Speed Comparison
By Ken Burdick
Yes Folks, it's true.
As so many things with me go, it began with a conversation. Mike-Louie (Mike Hazel) of the Louie-Louie Speed Team, casually mentioned some thoughts about building a B Speed model.
You know, it's been years since I flew a B ship and it was my most favorite size speed model. The only problem is the pipe -- yes, that stupid metal expansion chamber bolted onto the back of an otherwise simple engine.
Nowadays to really get fast, you need a pipe that will work, but most of the pipes seem to be from the high-nitro era. The 10% nitro rule has changes much of the pipe volume because of the higher rpms now needed to make power with just 10% vitamin N.
The prop size went from 7x10½ to something like 7x8 or less. So our RPM is going to have to be well over 25,000 rpm to get anyplace. In 1983, Nick Sher wrote that his 212 mph B engine was turning 20,000 rpm on the ground and the pipe would add about 5,000 rpm. That was on 78% nitro, however. So if we are going to use a pipe at the new RPM range, it's going to be shorter than the Rossi pipe he used.
Pint Size pipe?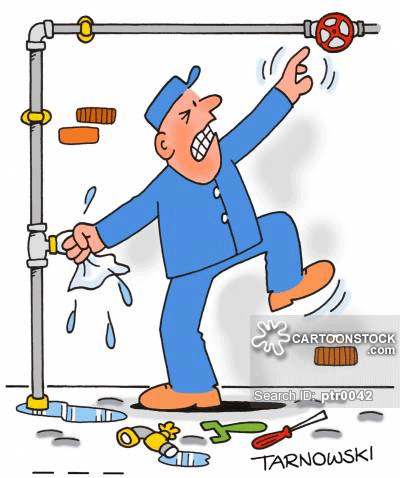 No wonder there are not many full-on B ships anymore. There are pipes around, but mainly for RC cars and a few for the super-fast tether cars, and as always, the legacy of finding a Rossi pipe that has been out of production longer than I can remember. OPS makes a 5cc (.29) pipe that might work as well.
"So what ya got Kenny?" ... I'm getting to that, just hang on.
In this corner, from Bologna, Italy, weighing in at 330 grams, the reigning world champion! SUPER TIGRE X-29!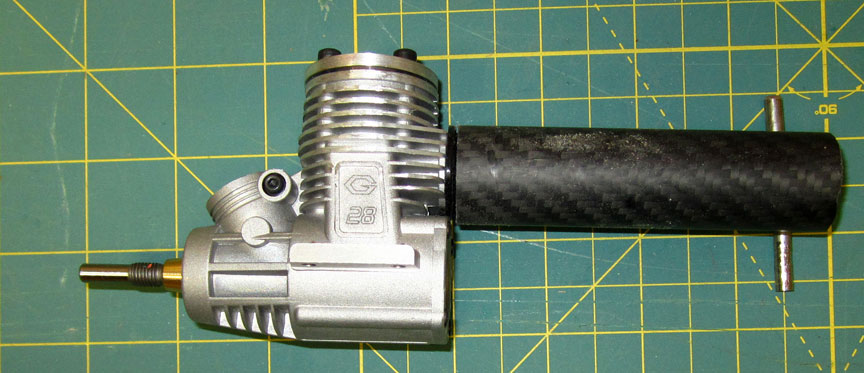 And in this corner, from Ningbo, China, weighing in at 225 grams, the challenger! TRUGGY The GO .28! (No, really -- that's it's name -- Go Engines.)

One fine summer day, I got lost trying to find Ron Bennett, who lives in a secret location somewhere in Northern Oregon, he had some engines for sale.
After completely defeating a GPS, I was able to locate Mr. Ooffy and bought from him one very nice Super Tigre X-29. It has perfect bearings and must have been "set up" by a pro. It is timed for a pipe and I just happen to have a pipe a bit on the smallish side. Who knows? Certainly not me, but I'll find out in the spring when it's bench running season in Canada.
I had seen John Newton and company, run a "truggy" engine in B Speed before. They are .28 c.i.d. and come in a wide variety of manufacturers. I really wanted to see what the new thinking of non-airplane high performance engines was, but unwilling to spend $250-$300 dollars to find out.
RC car engines always boast how many ports they have, grind away much needed balance on the crankshaft and generally polish the insides to make things "look" fast. Hey, before I studied engine theory, it would have fooled me too. So, knowing this, I bought the cheapest .28 I could find, yep it was a GO .28. The engine was heavily discounted because it didn't have a pull start hanging off the backplate, and that was fine by me. I got it for $40.00 on ebay.
The go-go gadget will not use a full-wave pipe, but instead I'll put a mini-pipe on it. I have to tell you that I am impressed with what I have seen so far. The workmanship is excellent, bearing have nylon retainers and are perfect in feel. I like the crank, it has a 9.64 mm hole down it with an oiling hole to help the front end. Lots of breathing via a venturi opening of 14.88. More than enough for the crankshaft. The main issue will be adapting a spinner assembly to the thing and getting a prop nut fabricated. Because the engine was not intended for a spinner or even a propeller, I contacted Richard Heart in Scotland.
Richard, aka Dick, is a control-line speed flier and a great machinist, who will make beautiful spinner assemblies for our speed models, I don't know what I would do without him. Should you need one I can help you get in touch with him.
For this one, I sent him a picture and sketch of what I had to work with. He manufactured it in short order.
Looks simple until you have to make one, no?
That's a finny one ...
So one hurdle is covered. Now to shoehorn this thing into a cowling. The cooling needs for an RC car are quite a bit more than my short run through a speed timing course, the go-go gadget has acres of cooling fins. No way would it fit into a cowling proportional to a speed pan. I have a fixture made by Barrie Hobkirk for work on the .25LA B Proto engine he built.
The fixture allows the engine to be turned on a lathe so the cooling fins can be reduced. Just a couple of mods and it worked like a charm for our Gadget. There were fins that the lathe could not get to without damage to the exhaust stack and those were done by hand. The result was a contour that matched my Rossi .21.
Just a little cranky
Things are progressing a bit too smoothly and I'm suspicious. The last little thing I felt I needed to do was contour the front of the crank port with a bit of JB Weld to smooth the fuel entry into the port.

So that's what's new in Nitro Alley here in the North. I'm going to figure this pipe thing figured out and build a test bed sort of model to do some testing on for the X-29. I have not had the best luck with tuned pipes, so once it all works on a simple open model, then into the Speed ship it will go.
Models? Oh yeah, baby. I'm currently building the B Pink Lady for the X-29, and a smaller model that is roughly a .21 super sport size model. Both will use mono-line, and will be upright models. Engine testing and comparisons are also coming up.
So lil Geezers, stay tuned (pipe) to Flying Lines for the next exciting installment of Bee-Speed comparison.
-- Kennyb
*A truggy is a type of high performance off-road racing vehicle that combines features from two older existing categories of off-road racing vehicles, trucks and buggies. (Wikipedia)
---
This page was upated Jan. 23, 2019