Racing activity showed a bit of a resurgence at the 2017 Jim Walker Memorial, as shown by the lineup of 13 planes for two classes. Racing and Speed events were shifted to Monday from the traditional Friday because of use conflicts at the Delta Park site, but the change seemed to have no negative effect on entry levels. Flying Lines photo.
Jim Walker Memorial opens 2017 contest season
April 29-May 1, Jim Walker Memorial Control-Line Field, East Delta Park, Portland, Ore.
The
Northwest Fireballs
were pleased to again offer the opening sanctioned contest for the 2017 season. As always, it took a fair amount of effort on the part of the majority of the club members to make this event a success.
For those following the calendar, our contest dates finally landed on the only available weekend in April and ran on into May. As it turns out, all the conflicts (automotive swap meet next door, Easter, and a national dog show) pushed us into the best weather of the month. The only moisture of the event was on Monday (Racing and Speed), and even that wasn't enough to stop the action.
As with last year, our attendance was just a hair below normal, at least partially due to scary forecasts. We had 30 flyers registered for 75 events. Stunt is still king at our contest, with 28 entries, followed by 17 in Combat, 12 in Racing, 10 in Speed and eight in Carrier.
On the hospitality front, we had coffee and sweets daily and Robert Ladd's fine barbecue lunch on Saturday and Sunday.
One new feature for this year was our own sanitary station, custom built by Doug Powers with some donated and some purchased items. We had a proper bathroom vanity with running water sitting in the grass; most popular and amazing.
Contest Directors were Dave Royer and Richard Entwhistle. Dave persuaded his newest grandchild, Kevin, to wait until after the contest to arrive; perfect timing there.
From Dave: Aside from a few light sprinkles on Monday, the weather was great for the Tune-Up. Attendance was down on Saturday and Sunday from what was expected on such a lucky weather weekend but there was increased participation in Speed and Racing on Monday. Go figure. I was more directly involved in the Aerobatic events so I'll comment a bit on those.
Only one beginner and no intermediates were entered in Stunt. There were quite a few conspicuous absences in advanced and expert as well. Those who did fly were treated to some uncharacteristically nice air (for Delta) to fly in. As a matter of fact, the two flights I put in for Old Time on Saturday were in "stunt heaven" air making for a most enjoyable experience. Chris Cox, Mike Haverly, and Paul Walker all premiered new ships for this contest and all were most impressive. What amazing craftsmen these guys are! And can they fly them! (That's not a question.)
For the most part I made sure my chair would not blow over in case a gust of wind were to suddenly appear and also did my best to make sure no burgers or dogs went to waste. Robert's grill is one of my favorite events at this contest and I always enter early and often. I hope everyone enjoyed the weekend of shaking out the cobwebs and shmoozin' with friends as much as I did.
Scott Riese was Event Director for Stunt. In addition to running the event, he judged Old Time Stunt (with Leo Mehl), Profile (with Jerry Eichten) and Precision Aerobatics (with Bruce Hunt). Jerry and Dave Royer judged Classic. Thanks to all!
We added a second Racing event this year, Flying Clown Race, and just barely managed to finish everything in time for Speed a little after noon on Monday.
From Doug Powers, Event Director for Racing: We had a larger number of entries in both Northwest Sport and Clown than in the past Jim Walker Memorial Tune-Up contests. There was a brief rain shower at the start of the Sport Race, but no one seemed to mind. There were seven teams entered in the NW Sport Race; even though there were three more planes on site, the lack of pilots prevented then from being used. Six teams entered the Clown Race, and again there were more planes than pilots.
Gene Pape tested a different engine in NW Sport, an ASP .25. This was to see how the plane's speed compared with the currently specified engines. The initial results look promising to use the ASP as a replacement engine. This test was because the Fox .35 and OS .25LA engines are no longer manufactured, while the ASP is available and inexpensive.
Gary Harris was Event Director for Combat. He supervised two busy days of flying on the grass and especially wants to thank these club members who helped: Leighton Mangels, Doug Powers, Pat Chewning and Darrin Bishop.
Mike Potter was our Carrier Event Director again this year. Thanks to him for running this event, and thanks to the flyers and other club members for unloading and reloading the deck.
Bill Lee was club liaison for this event and reports that we got quite a few flights in. From Bill: We really had everything logistically we needed and we also had enough people to officiate so everything went very well and we had a lot of fun.
Last, but never least, Mike Hazel again served as Event Director for Speed. We had a larger than usual complement of Speed flyers this year, and we appreciate them all staying for Monday (did I mention that their usual Friday before the weekend was the last day of the dog show?)
Most folks know we pay a not-unsubstantial fee to the City of Portland to "reserve" our flying fields for this contest. This both guarantees our field for this one weekend and reminds the city these flying circles are used by a serious group of fliers on a regular basis. Thanks to all who attended -- for coming and for donating to help cover the costs of lunch. Thanks, again, to all the members who donated time, materials, food and beverages, and transportation. We look forward to another great event next year.
---
2017 Jim Walker Memorial Results
Compiled by Barbara White
(Pts. column indicates Northwest Standings points)
Click on chart for larger view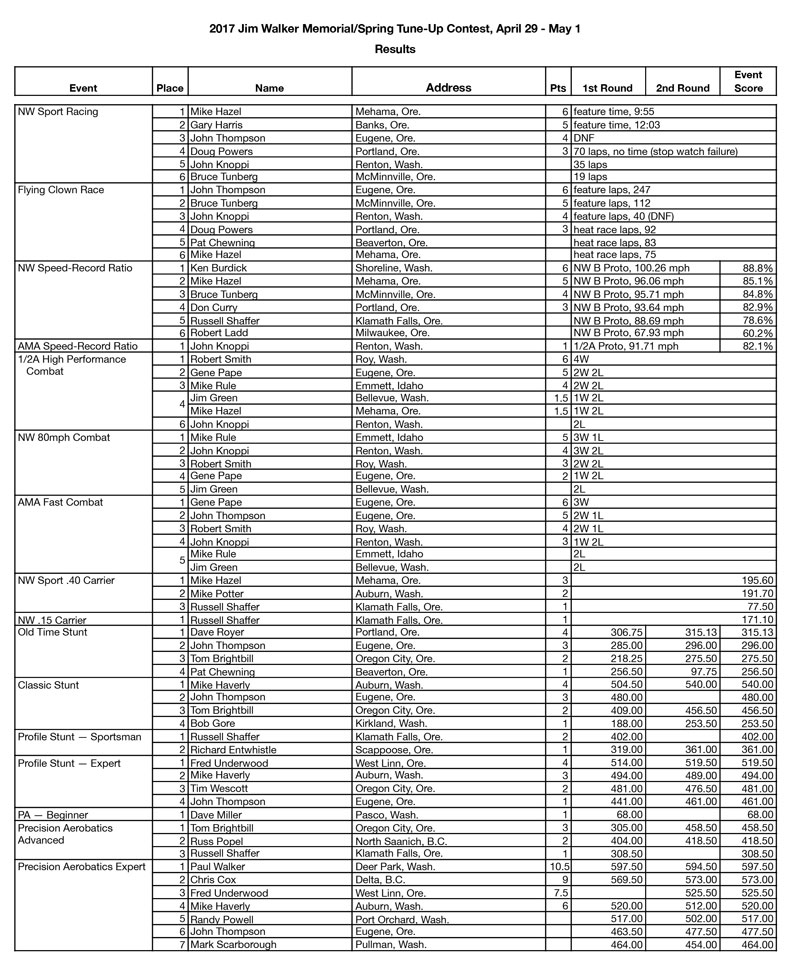 Jim Walker Memorial photo gallery
Fred Underwood's Similar Too glides in for a landing to conclude the winning flight in Expert Profile Stunt, Flying Lines photo.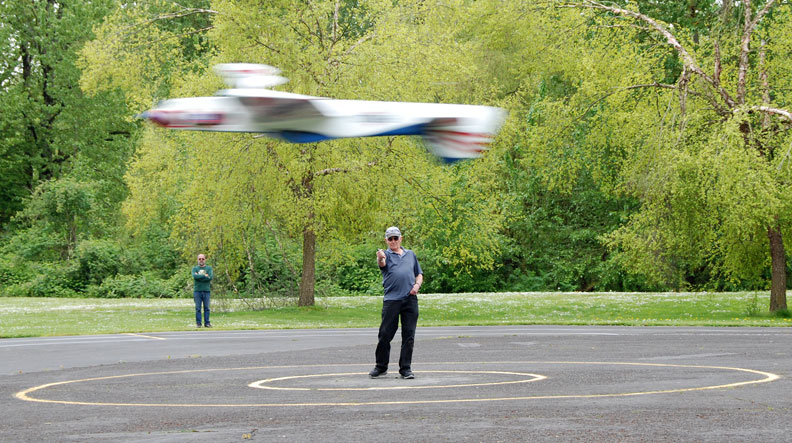 Mike Haverly makes an inverted pass with his Starfinder in Expert Profile Stunt. Flying Lines photo.
Chris Cox's Defiant finished second in Expert Precision Aerobatics. Flying Lines photo.
Robert Smith (left) and Gene Pape battle in 80mph Combat. Flying Lines photo.
Mike Potter's Kingfisher makes a slow lap during Northwest Sport 40 Navy Carrier. Flying Lines photo.
The Kingfisher hits the deck on its second pass. Flying Lines photo.
Old-Time Stunt planes lined up for Saturday action; Dave Royer's winning Humongous in foreground. The orange plane is Mike Haverly's Chizler for Classic Stunt, just visiting in the OTS pits. Flying Lines photo.
Mike Haverly's new electric-powered plane flew well on its first outing in Precision Aerobatics. Flying Lines photo.
Paul Walker finished first in Expert Precision Aerobatics with his brand new P-47. Flying Lines photo.
One of Walker's older planes made an appearance in Expert PA, flown by Mark Scarborough. Flying Lines photo.
Chris Cox's 2017 Defiant made its first contest appearance. Flying Lines photo.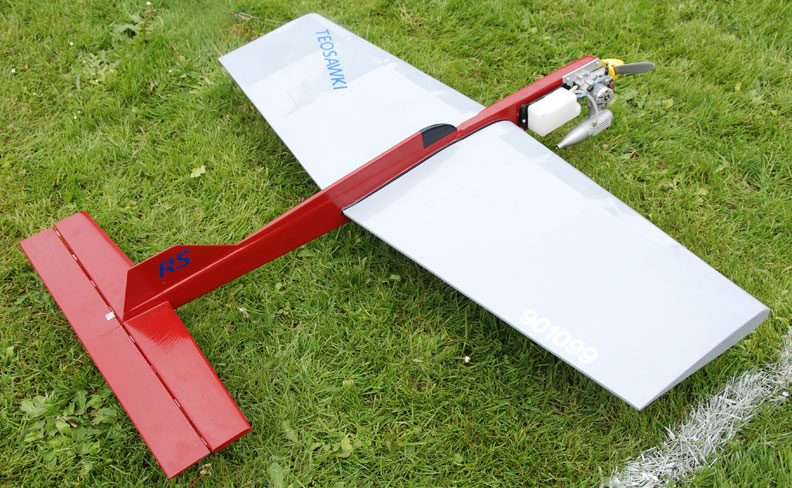 Russell Shaffer flew his TEOSAWKI (The End of Stunt As We Know It) in Advanced Precision Aerobatics. Flying Lines photo.
Tom Brightbill's O'Toole Tucker flew in Classic Stunt. Flying Lines photo.
A gallery of some of the Navy Carrier planes. Flying Lines photo.
---
This page was upated May 8, 2017