The Eugene Prop Spinners displayed a variety of airplanes for the stroke victims at the Eugene flying field. All photos by Jim Corbett.
Eugene Prop Spinners demo for stroke victims
Oct. 10, 2007
The Eugene Prop Spinners spent a Wednesday morning flying and showing off their airplanes to a group of stroke victims at the Eugene Airport flying field. The demonstration was organized by longtime Prop Spinner Morrie Gilbert. About a dozen stroke victims and their caregivers watched flying of all kinds of planes, and then went to lunch with Prop Spinners members at the Wings restaurant at the airport terminal.
EPS member Jim Corbett captured these photos of the demo.
Morrie Gilbert stands with three of his CL biplanes. Other planes in the display are (from left) John Thompson's Ares, Bi-Slobs by Tom Kopriva and John Thompson, Tom Kopriva's Oriental, John Thompson's Mejzlik combat plane, and two of Floyd Carter's Ringmasters.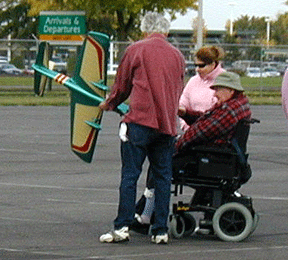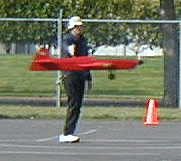 At left, John Thompson shows the Ares to a stroke victim and his caregiver. At right, Mike Denlis flies the Magma buit by Prop Spinners member Mel Marcum.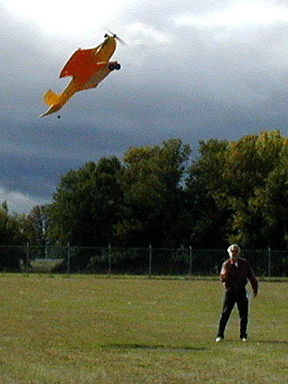 At left, John Thompson flies his Bi-Slob for the stroke victims and caregivers.
This page was upated Dec. 20, 2007