Combat practice: The Eugene Prop Spinners include three members of the resurgent Beaver State Combat team, who have been practicing all summer for the big Bladder Grabber triple-elimination fast combat tournament. Above, Gene Pape launches for Mike Hazel. The plane is a 1984 Undertaker, designed by BSCT/EPS member John Thompson and powered by a Fox Combat Special MkIII. A bit out of date, but good for lots of tune-up flying. Jim Corbett photo.
Eugene Prop Spinners 2008 flying photo gallery
Some of the activity at the Eugene field in the first half of the year
The Prop Spinners are a small but very active club that flies almost every weekend, usually on Sunday mornings. Jim Corbett (right) has captured some of the recent action with his always-handy camera. Flying Lines photo.
Longtime Prop Spinners member and former president Mel Marcum shows off his Focus stunt plane, based on Magnum design. Jim Corbett photo.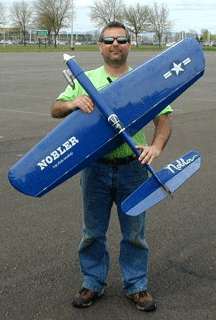 Left: Bill Spalding with his ARF Nobler. Right: Tom Kopriva with his ARF Bi-Slob. Jim Corbett photos.
Prop Spinners President Mike Denlis holds while Tom Kopriva starts up the O.S. LA .46 engine on his ARF Cardinal. Jim Corbett photo.
Left: Tom Kopriva flies th Cardinal. Right: New flier Josh Gonzales. Jim Corbett photos.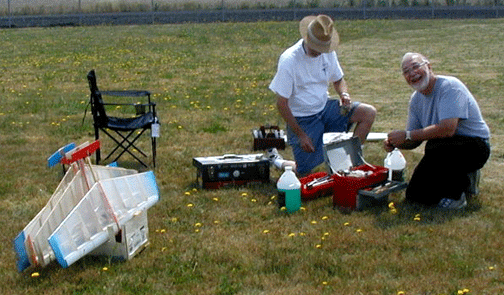 Beaver State Combat Team members in the practice pits: John Thompson (left) and Gene Pape. Planes are a box of Mejzlik fast combat planes waiting for testing. Jim Corbett photo.
Mike Denlis observes the action as John and Gene prepare for a flight on Gene's new fast combat design, Millennium Underdog, powered by Nelson .36. Jim Corbett photo.
John and Gene get ready for a flight on the Millennium Underdog, an update of Gene's very successful 1984 Underdog design. Jim Corbett photo.
The Millennium Underdog leaps away from launch. Jim Corbett photo.
Another flight on the M-Udog, this time with Mike Hazel launching. Jim Corbett photo.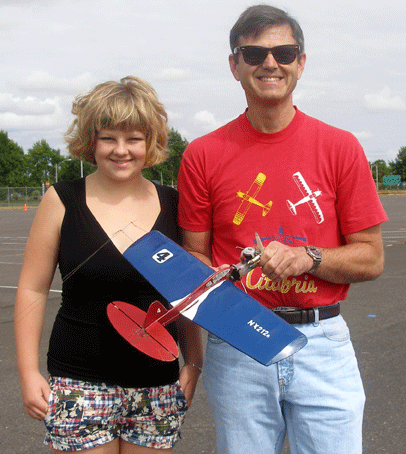 Left photo: New fliers at the Eugene field, Rich and Hannah Gilbert, with Rich's Norvel-powered Baby Ringmaster. Flying Lines photo. Right photo: A relaxing way to end the day after an inensive combat plane test session: John flies his Vector 40 stunt plane, powered by OS LA .40. Half the speed of a fast combat plane! Jim Corbett photo.
---
This page was upated Aug. 1, 2008