Chehalis Air Fair CL flying demonstration
Chehalis, Wash., Aug. 2, 2008
The Northwest Skyraiders Show Team brought lots of planes out to the Chehalis Airport to show control-line flying off to aviation enthusiasts gathered there. They followed up the flying with a barbecue at Bill Darkow's house in Tenino. Here are some photos of the event. All photos by Bill Darkow.
The Skyraiders information booth, staffed by Patti Dubois. Portable carrier deck visible in background.
Lineup of planes for the flying demo. Rod Claus, at right, waits to fly his Re Run, while Walt Russell in the background sets up his 38 Special for the windsock pickup and tow.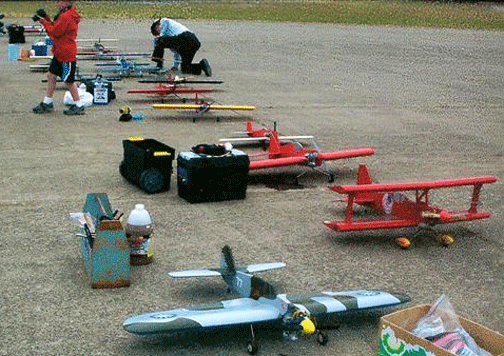 The Skyraiders had lots of interesting planes on hand, including a smoke-trialing P-40 and a banner-towing Ultimate Bipe.
Don and Tristan McKay demonstrated flying Vintage Diesel Combat airplanes.
---
This page was upated Aug. 11, 2008