Fall colors surrounded the circle at Delta Park for the annual late-fall race. Planes are lined up in the pits as contestants get ready for the first race. Pat Chewning photo.
We started doing this race back in 2016. Imagine being excited about the upcoming races that you have planned to compete in. The race is tomorrow and you force yourself to try to get in bed early in order to get a good night's sleep. Is the plane ready? We did get to test fly a week ago and all went well but what about Murphy's law? Is there a prop that would make it go faster? I've made a list of everything to take to the field. Have I forgotten anything? How will the weather be? Who will show up? The Civil War Game is on tomorrow afternoon. Will we get to see some of the game?
Six competitors arrived in Portland at East Delta Park Saturday morning to burn up the sky flying Sportsman Flying Clown Race, Northwest Sport Race and Northwest Super Sport Race.
Sports Flying Clown Race entrants: Mike Hazel, Leighton Mangels, Doug Powers and John Thompson.
Mike and Leighton got the most laps during the preliminary heats so they advanced to the final with Mike Hazel edging out Leighton by one lap.
Northwest Sport Race entrants: Mike Hazel, Gary Harris, Leighton Mangels and John Thompson.
With four planes competing we were again able to fly two preliminary heats of two up with the two quickest pilots advancing to the final. So, the feature pitted the cagey Mike Hazel against the dark horse Leighton Mangels who came ready to take no prisoners. This was top quality NW Sport Racing with Leighton holding the handle while Doug was the man starting and pitting for him. Mike had expert racer John Thompson doing precision pitting for him but after all the dust settled Leighton took the win by 1.16 second!
Northwest Super Sport Race entrants: Mike Hazel, Pat Chewning and Leighton Mangels.
Flying a 70-lap heat round robin format would mean that each team would fly twice. After the third round was flown the score sheet showed Pat Chewning with the quickest time with a very good 4:06 heat.
We got really lucky with the weather. NO RAIN! There was some very little mist briefly, but it caused no problem. A bright spot in the sky smiled on us for a moment and was gone. All in all, overcast skies seem to be just fine for control-line flying. Also, no wind to speak of making for comfortable conditions. After all gear was picked up and folks were gone, I thought to myself that it would have been fun to stick around and sport fly.
When I got home I came close to practice starting my NW Sport racer but got sidetracked watching the Civil War game. Way to go Beavers!
If a spectator were to sit and watch control line racing, they may find it somewhat entertaining but when a person gets their own hands into it and experiences the thrill of the moment the excitement is heart pounding and memorable,
Much thanks to the Northwest Fireballs club for putting this together. Members were at the field early sweeping leaves off the flying circle and setting up a couple tables. A portable heater was brought out but didn't really need to be turned on.
Officiating helpers: Don Curry and Darrin Bishop. Jim Cameron acted as alternate contest director and helped with most of the event directing duties plus pull testing of planes. Supporters Sam Baird and Roy DeCamara came to spectate and give encouragement.
Results
(Northwest standings points in parentheses)
SPORTSMAN FLYING CLOWN RACE (4 entries)
1. Mike Hazel, Mehama, Ore., O.S. .15FP — 145 laps (4) (Pit: John Thompson)
2. Leighton Mangels, North Plains, Ore., O.S. .15LA — 144 (3) (Pit: Doug Powers)
3. Doug Powers, Portland, Ore., O.S. .15LA — 62 heat (2) (Pilot: Leighton Mangels)
4. John Thompson, Eugene, Ore., O.S. .15LA — 53 heat (1) (Pilot: Mike Hazel)
NORTHWEST SPORT RACE (4 entries)
1. Leighton Mangels, SuperFly, ASP .25— 9:12.5 (4) (Pit: Powers)
2. Mike Hazel, Artesian, O.S. .25LA — 9:13.66 (3) (Pilot: Thompson)
3. Gary Harris, Banks, Ore., SuperFly, ASP .25— 6:15.35 heat (2) (Pilot: Pat Chewning)
4. John Thompson, Super Clown, ASP .25 — 6:15.5 heat (1) (Pilot: Hazel)
NORTHWEST SUPER SPORT RACE (3 entries)
1. Pat Chewning, Beaverton, Ore., Super Fly, K&B .40 — 4:06.38 (3) (Pit: Gary Harris)
2. Leighton Mangels, Ringleader, K&B .40 — 4:19.22 (2) (Pit: Powers)
3. Mike Hazel, unnamed original, K&B .40 — 4:36.31 (1) (Pilot: Thompson)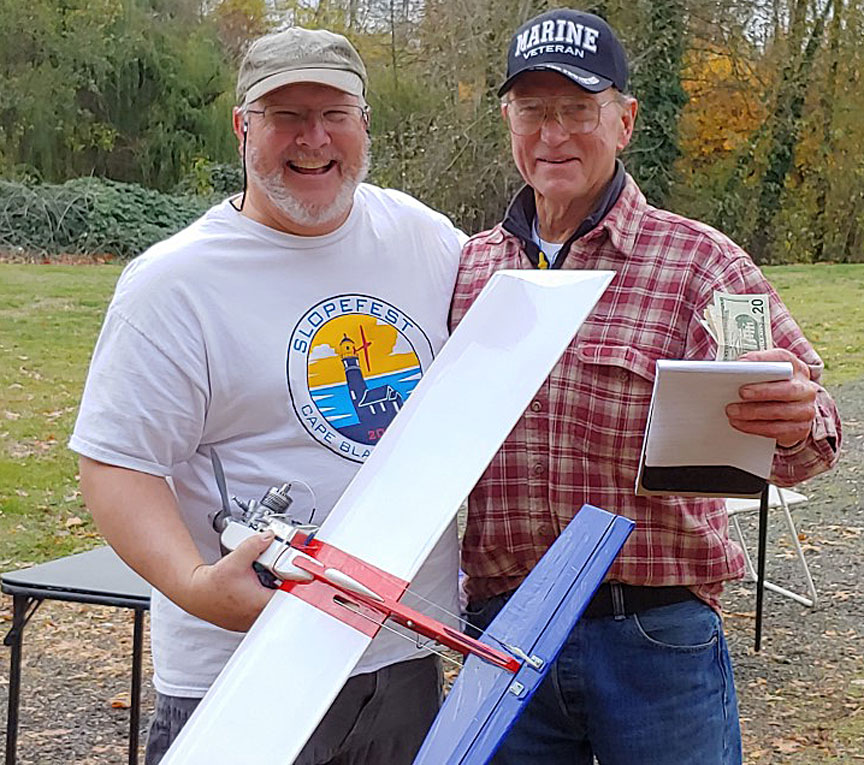 Pat Chewning celebrates his first win in Northwest Super Sport Race along with Contest Director Gary Harris (right). Pat Chewning photo.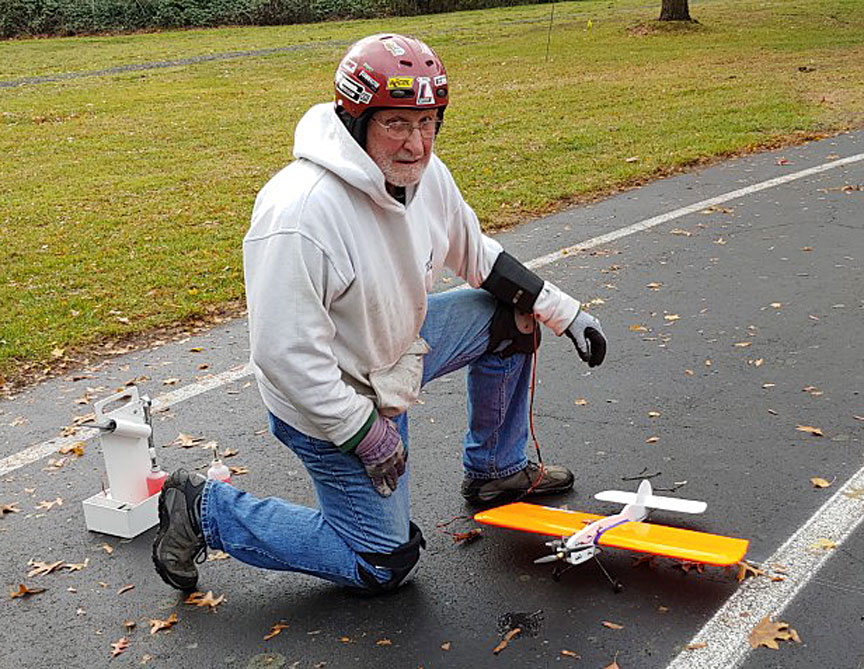 Doug Powers is ready to start a Clown Racer. Pat Chewning photo.
Nitroholics Racing Team member John Thompson makes a minor repair to partner Mike Hazel's Sportsman Flying Clown racer before a heat, as Mike holds. Pat Chewning photo.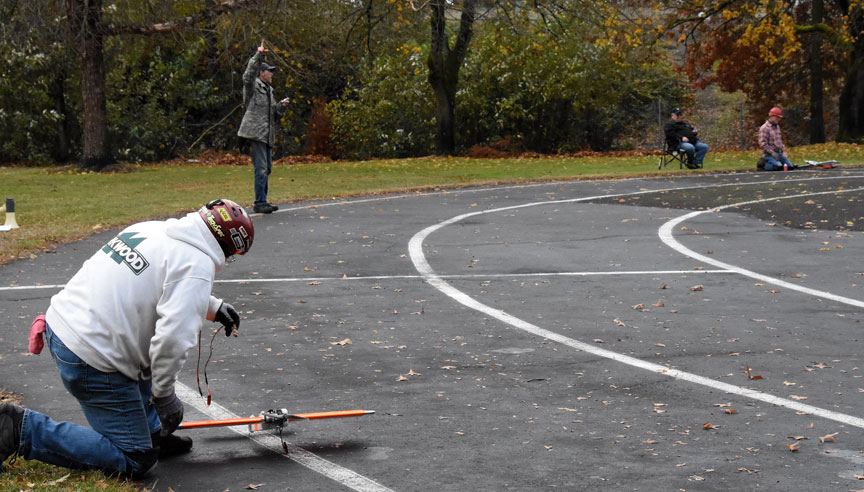 Event Director Jim Cameron gives the one-minute signal during the countdown to a Northwest Super Sport Race heat. Flying Lines photo.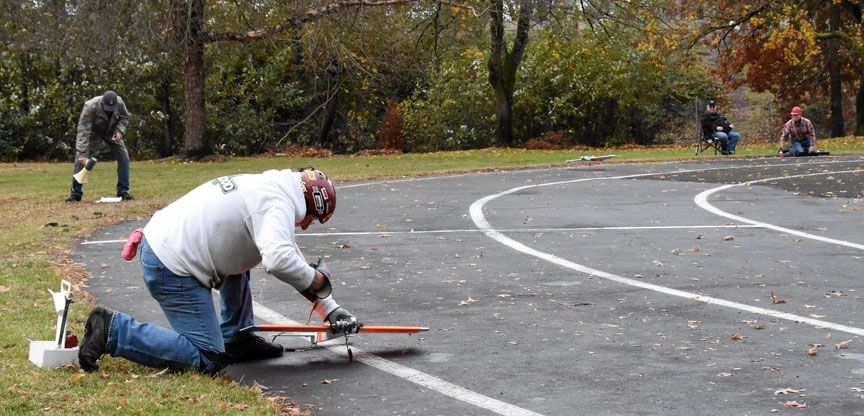 Pat Chewning's plane lifts away from pitman Gary Harris as Doug Powers prepares to release Leighton Mangels' plane at the start of the heat. Flying Lines photo.
Leighton Mangels (left) and Pat Chewning at work in the pilots' circle. Flying Lines photo.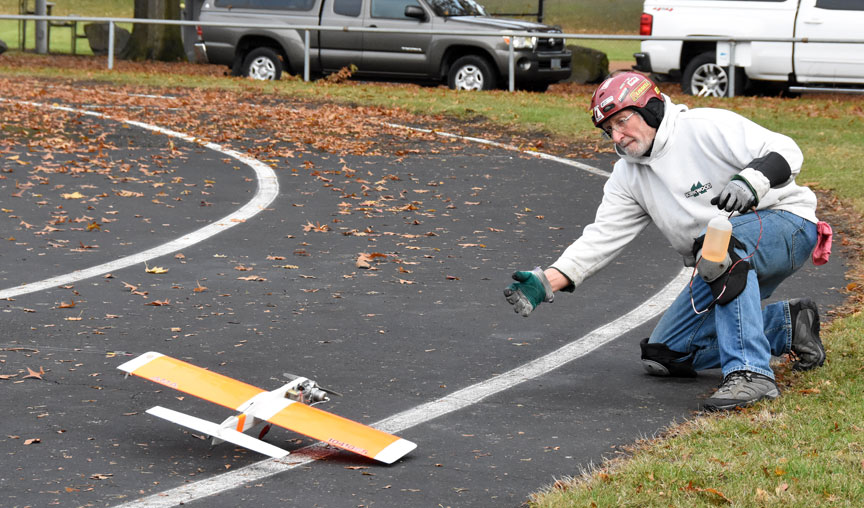 Doug Powers reaches out to catch Leighton Mangels' Super Sport plane for a pit stop. Flying Lines photo.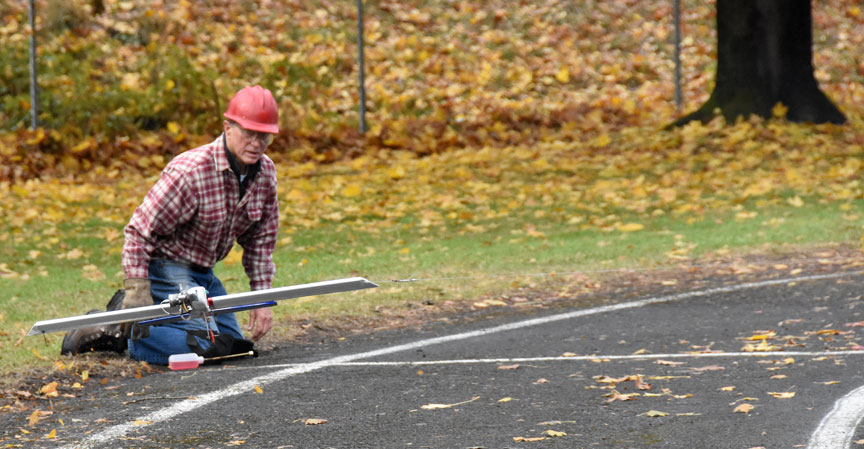 Pat Chewning's Super Sport takes off after Gary Harris' quick pit stop. Flying Lines photo.

Darrin Bishop is the timer as Doug Powers makes a pit stop. Flying Lines photo.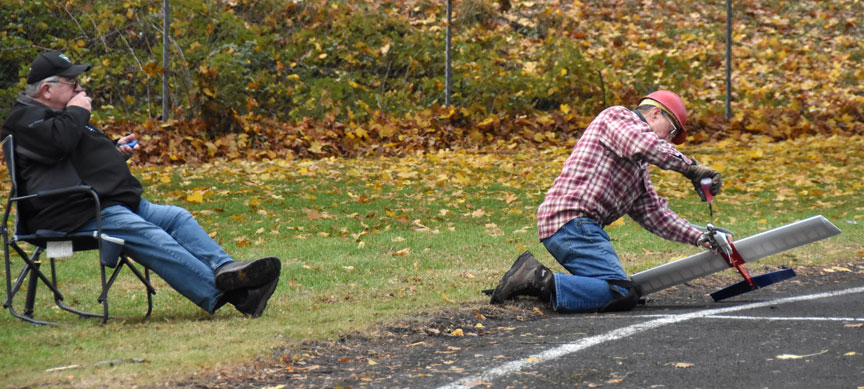 Don Curry at work timing as Gary Harris refuels. Flying Lines photo.
This page was upated Dec. 2, 2022