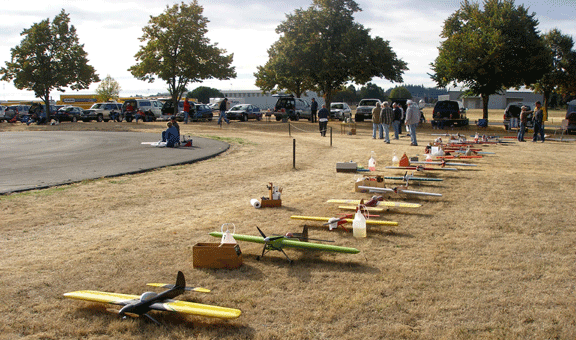 The 20th annual Fall Follies in Salem, Ore., drew 33 modelers flying in numerous stunt, combat and racing events. The pits on both circles were busy all of both days. Here's an overview of the pit area for the asphalt circle during Sunday's precision aerobatics flying. Flying Lines photo.
20th annual Fall Follies
Oct. 7-8, Bill Riegel Field, Salem, Ore.
Prologue:
It started out as an idea for a small, season-ending get-together. A little Sunday stunt contest in October at the airport flying field in Eugene called the Fall Follies, with a little combat thrown in on the side. Everybody had fun. A few years later, we added a separate contest called Really Racing, for the Saturday before the Follies. Site problems in Eugene caused the contest to move to Delta Park in Portland for a few years. Combat was dropped somewhere along the way. Then Bill Riegel Field in Salem was developed, and the Follies/Really Racing moved there. At some point, the contests were combined into a two-day event called the Fall Follies. And there, the contest really settled into a groove. Gradually, the Fall Follies matured and grew into a full-blown aerobatics contest, still offering a few racing events as well. Combat was back in 2006 for the 20th anniversary running of the "little contest" in October. It's still the same relaxed day in the park it always was: Crisp, mostly sunny fall air and the atmosphere of a bunch of pals getting together for some flying to say farewell to the flying season. But it's no longer just a little contest in October ...
Fall Follies 2006:
The annual season-ender in Salem drew 33 people flying in seven stunt events, three racing events and one combat event. Almost everyone flew in more than one event. PAMPA-class precision aerobatics on Sunday drew 29 entries, 27 of which actually flew. The weather was almost perfect for the two days, with very little breeze. There was a light rain for about an hour on Sunday, but not enough to slow down the activities very much.
There was drama, excitement and a little bit of mayhem, as is to be expected in a contest that kept two circles busy for two full days. And there was food! The Saturday night dinner party at Bruce and Kris Hunt's home was followed up by the traditional Sunday afternoon barbecue at the field, hosted by CD Mike Hazel.
Drama unfolded on the stunt circle as the annual Vintage Stunt Champion trophy race came down to the last few flights in Classic Stunt on Saturday. On Sunday, the drama continued as those in the know intently watched the expert precision aerobatics scoreboard to see if Howard Rush could defend his September Seattle win over superstar Paul Walker. For excitement, fliers could turn and watch 80mph combat on the grass circle, where a small entry of fliers put on a dazzling show of combat. There were a couple of the finest combat matches of the year, and the event was a showcase of combat flying skill with most matches ending in clean kills, no crashing and almost now bashing. Racing was where the bashing took place, but nonetheless some excellent times were turned and there were some close races in all three events.
There was a special electricity in the air on Saturday morning as Classic Stunt got under way, because this year's Follies Classic was also a shootout for the Vintage Stunt trophy. The Vintage Stunt Champion trophy is awarded annually to the flier with the best combined performance in Old-Time and Classic Stunt in Northwest contests, based on Flying Lines standings. Going into the R.F. Stevenson Memorial contest in Portland in September, there was a three-way tie in the trophy race. Don McClave, originator and sponsor of the annual trophy, edged out to a two-point lead in September, but he signed up as a judge for the Follies, leaving the field open for Pat Johnston and Bruce Hunt Pat had a one-point lead, and managed to hold onto it through the first round by posting a second-place score, with Bruce in third. Needless to say, all eyes were on the second-round flight of both fliers. Bruce Hunt piloted the venerable Shark, with its purring SuperTigre .60, through a fabulous second-round flight, with a 533 score that jumped him two spots to first place in the contest. But there were other expert fliers still to go, so nothing was settled until the last flight of the round, when it was determined that Bruce's score held up for first in the contest -- and the Vintage Stunt champion trophy. Pat ended up third in the contest and second in the season trophy race. Both got a hearty round of applause in the impromptu trophy ceremony just after Classic flying finished.
Classic was flown in one class, though a special award was given to the best Sportsman (non-expert) flier, Greg Hart, who finished fifth overall.
Sunday's expert Precision Aerobatics competition had a similar "Impact" as the first found finished with Paul Walker leading Howard Rush by a half-point, 555 to 554.5. Paul was flying his "For Reals" Impact, and Howard his own Impact with the innovative flap design. Howard went first in the second round and bumped his score up to 566.5 and Paul, flying third in the round, bore down for a 570 score and a 3.5-point victory. This is developing into a friendly rivalry that looks like it may continue for years to come.
Over on the combat circle, Buzz Wilson and Jeff Rein put on some spectacular displays of close-quarters combat flying, with Buzz getting the Follies 80mph combat title, well deserved after flying well all day. On the racing circle Saturday afternoon, Mac Ryan bumped the Northwest Flying Clown record up a lap to 320 for the15-minute feature race. Team Ryan also turned a spectacular time in Northwest Sport Race to capture the victory there. Only some mechanical "issues" took just enough time off the Team Ryan Super Sport to prevent a sweep of the three events.
A special event at the Follies was a silent auction for a Tucker Special kit, including spinner and hardware, a $140 value, donated by Don McClave to benefit Flying Lines. Mike Foley was the high bidder at $100. Mike took the kit home to build for next season, and the proceeds will help defray FL web site expenses.
The excellent entry level raised some logistical questions about the scheduling of events for the two-circle site, and those will be reviewed by the host club, the Western Oregon Control-Line Flyers, before next year. But, after a fine No. 20, the anticipation already is building toward October of 2007. We'll see you there!
Fall Follies Results
NW Standings points in parentheses
CLASSIC STUNT (7 entries)
1. Bruce Hunt, Salem, Ore. (7) -- 533.5
2. Scott Riese, Portland, Ore. (6) -- 530.5
3. Pat Johnston, Boise, Idaho (5) -- 526.5
4. Dan Rutherford, Bothell, Wash. (4) -- 494.5
5. Greg Hart, Donald, Ore. (Best Classic Sportsman trophy) -- 486
6. Mike Haverly, Auburn, Wash. -- 463.5
7. Mike Foley, College Place, Wash. -- 457
Judges: Don McClave, Steve Helmick
SPORTSMAN P-40 STUNT (7 entries)
1. Mike Foley (7) -- 465
2. Mike Haverly (6) -- 457.5
3. Greg Hart (5) -- 440
4. Dave Gardner, Renton, Wash. (4) -- 380
5. Roger Hebner, Medford, Ore. -- 364
6. Art Zehner, Portland, Ore. -- 356.5
7. Mark Scarborough, Pullman, Wash. -- 243.5
Judges: Leo Mehl, Scott Riese
EXPERT P-40 STUNT (5 entries)
1. Scott Riese (5) -- 497
2. Pat Johnston (4) -- 491.5
3. Jerry Eichten, Newberg, Ore. (3) -- 487.5
4. Dan Rutherford (2) -- 476
5. Bruce Hunt -- 467.5
Judges: Leo Mehl, Steve Helmick
BEGINNER PRECISION AEROBATICS (7 entries)
1. Mark Scarborough (7) -- 240.5
2. Dave Miller, Pasco, Wash. (6) -- 211.5
3. Richard Entwistle, Scappoose, Ore. (5) -- 210.5
4. Guy Laine, Medford, Ore. (4) -- 204
5. Buzz Wilson, Belfair, Wash. --144
6. Joe Just, Waitsburg, Wash. -- 133
7. Norma Miller, Pasco, Wash. -- 65
Judges: Scott Riese, Jerry Eichten, Dan Rutherford, Bruce Hunt
INTERMEDIATE PRECISION AEROBATICS (4 entries)
1. Max Boyd, Covington, Wash. (4) -- 411.5
2. Art Zehner (3) -- 388
3. Roger Hebner (2) -- 362.5
4. Jeff Rein, Covington, Wash. (1) -- 349.5
Judges: Scott Riese, Jerry Eichten, Dan Rutherford, Bruce Hunt
ADVANCED PRECISION AEROBATICS (8 entries)
1. Mark Conner, Othello, Wash. (8) -- 493.5
2. Todd Ryan, Moses Lake, Wash. (7) -- 471.5
3. Mike Foley (6) -- 391-462
4. Mike Haverly (5) -- 462-170.5
5. John Thompson, Eugene, Ore. -- 453
6. Dave Gardner -- 425
7. Floyd Carter, Eugene, Ore. -- 423.5
8. Greg Hart -- 398
Judges: Scott Riese, Jerry Eichten
EXPERT PRECISION AEROBATICS (9 entries)
1. Paul Walker, Kent, Wash. (13.5) -- 570
2. Howard Rush, Bellevue, Wash. (12) -- 566.5
3. Bruce Hunt (10.5) -- 526
4. Dan Rutherford (9) -- 522
5. Pat Johnson -- 515.5
6. Jerry Eichten -- 511.5
7. Randy Powell, Port Orchard, Wash. -- 495
8. John Leidle, Kirkland, Wash. -- 481.5
9. Leo Mehl, Portland, Ore. -- 467
Judges: Scott Riese, Steve Helmick
80MPH COMBAT (5 entries)
1. Buzz Wilson (5)
2. Jeff Rein (4)
3. Max Boyd (3)
4. Bob Smith, Roy, Wash. (2)
5. John Thompson
Combat officials: Gary Harris, John Anderson, Mac Ryan
NORTHWEST SPORT RACE (4 entries)
1. Todd Ryan (4) -- time under review for possible watch error
2. Nitroholics Racing Team, Salem/Eugene, Ore. (3) -- 9:03
3. Mac Ryan, Burbank, Wash. (2) -- 3:59 heat
4. Joe Just (1) 6:12 heat
FLYING CLOWN RACE (5 entries)
1. Mac Ryan (5) -- 320 laps
2. Nitroholics Racing Team (4) 287 laps
3. Joe Just (3) -- 2 laps heat
4. Todd Ryan (2) -- 1 lap heat
5. Dave Miller -- DQ heat
NORTHWEST SUPER SPORT RACE (3 entries)
1. Nitroholics Racing Team (3) -- 7:35
2. Todd Ryan (2) -- 7:49
3. Dave Miller (1) -- 0 laps
Racing officials: John Thompson, Mike Hazel, Bruce Hunt, Dan Rutherford, Jim Holmack, Craig Bartlett, Norma Miller
Results of this contest are included in the Northwest Control-Line Competition Standings.
Fall Follies photo gallery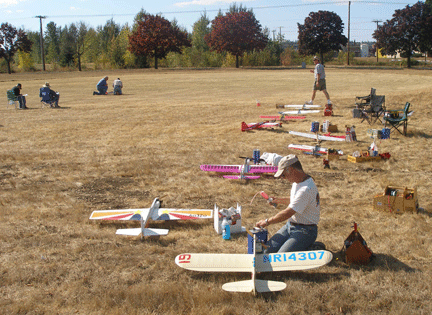 Lots of planes, busy pit areas. Left photo, the P-40 pit area on the grass circle, with Pat Johnston in the foreground working on the GeeBee. Right photo, precision aerobatics pits. Flying Lines photos.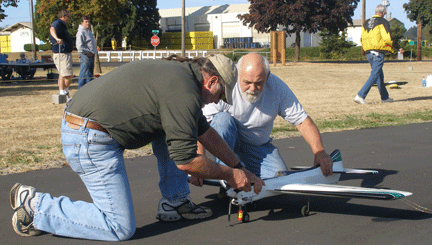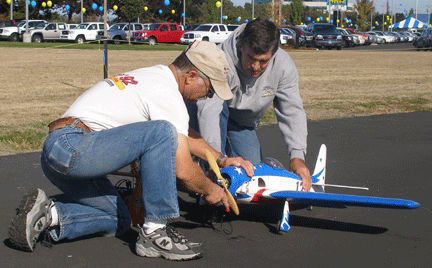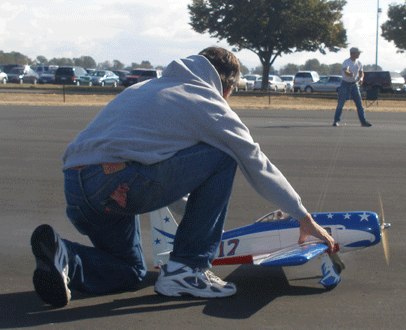 The Vintage Stunt Champion trophy race came down to a last-round shootout in Classic Stunt between Bruce Hunt and Pat Johnston. Top left: Bruce prepares the Shark, with Dan Rutherford assisting. Top right: Dan prepares to launch the Shark. Bottom left: Pat gets ready to start the Mustang,with Mark Conner holding. Bottom right: Mark waits to launch for Pat. Flying Lines photos.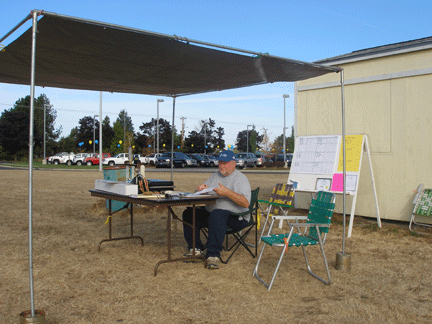 Left photo: An Expert Precision Aerobatics rivalry has developed between perennial champion Paul Walker and protege Howard Rush. These are their airplanes, both Walker-designed Impacts with OS .40VF piped power. Right photo: Hardest-working person at the Fall Follies was Contest Director and barbecue chef Mike "ZZ" Hazel, seen at work in the "office." Flying Lines photos.
Left photo: Buzz Wilson was the 80mph combat champion for the day. Right photo: Teams prepare for a match. Ken Burdick prepares Max Boyd's plane on the right, while Bob Smith (in red shirt) helps Buzz Wilson prepare on the right. Flying Lines photos.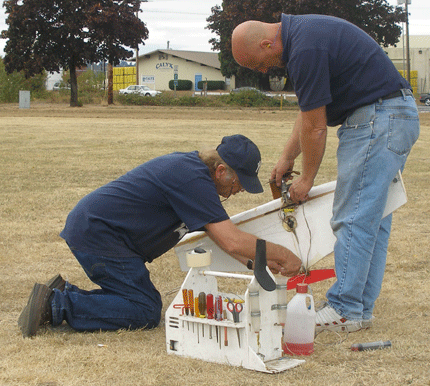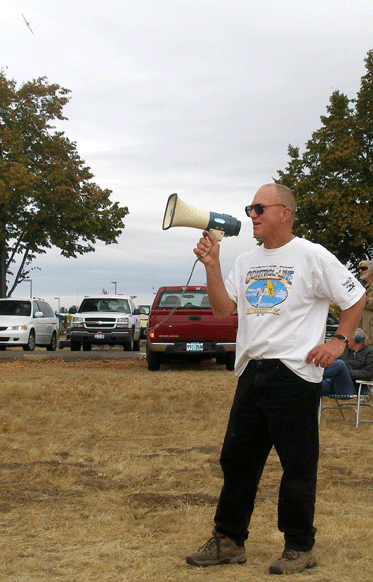 Left photo: Closeup of Ken and Max getting Max's plane ready for a match. Right photo: Combat Director Gary Harris at work (you can just see a stunt plane above the asphalt circle across the road in the background.
Left photo: It's not all hard work at the contest; Greg Hart (left) and Leo Mehl chill out. Right photo: Don McClave (left) and Steve Helmick judge Classic Stunt. Flying Lines photos.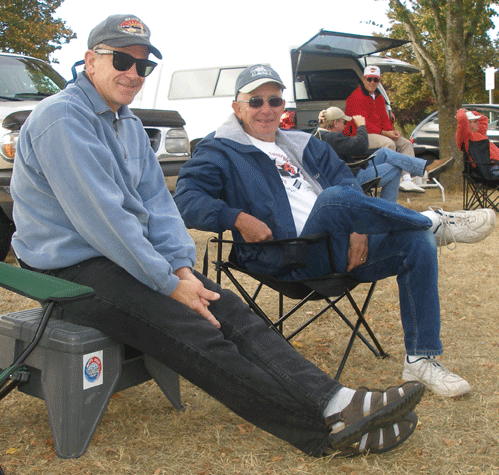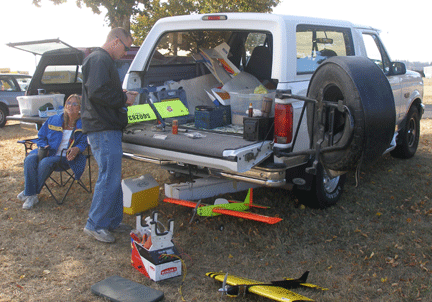 More sideline views. Left photo: John Leidle (left) and Mike Haverly. Right photo: Todd Ryan does airplane maintenance around the Miller rig, as Norma Miller watches from the background. Flying Lines photos.
Scott Riese pull-tests the Cobra while Bruce Hunt checks the weather. Yep, that was a blue sky, and it was that way all Saturday. Pretty nice most of Sunday, too, though overcast. About an hour of light sprinkles. Flying Lines photo.
This page was upated Oct. 12, 2006