A view of the pits shows some of the airplanes brought by the 21 fliers who participated in the Columbia Basin Control Liners Fun Fly in the parking lot of the local baseball stadium in Pasco, Wash. Joe Just photo.
Columbia Basin Control Liners Fun Fly
Sept. 16-17, Pasco, Wash.
I was fortunate enough to be able to attend one day's worth of this fun event. Saturday morning was already booked for me, but I did manage a good getaway from Salem which put me into Pasco at about 6 PM. This worked out pretty good, as I had just checked into my room and called up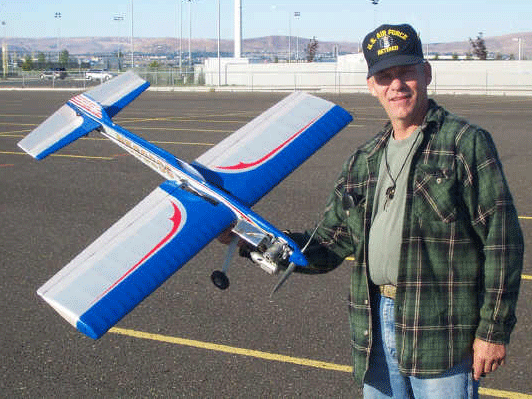 local guy Dave Miller who said the burgers were just going onto the grill for their BBQ get-together. At the BBQ I learned that the turnout for the flying was pretty good. Only downsides was that the afternoon was a bit windy, and there were twenty million soccer players on the adjacent area.
Sunday morning saw mostly clear skies and very calm air. The breeze came up later in the day, but was still mostly very light. And there were zero soccer players (maybe they caused the wind?????)
Most of the flying centered on two circles marked off on a large parking lot. A couple of flyers ventured off elsewhere nearby for grass surface to fly on. The two primary circles were kept busy most of the day.
I believe the official count of participants was at 21. Most of these were of course from the Eastern Washington area, but there were also "outsiders" from Oregon, British Columbia, and Idaho.
On Sunday afternoon, master of ceremonies Joe Just put a hold on the flying activity to hand out dozens of prizes. It was quite a generous array, which included kits, lines, glow plugs, fuel, certificates, and other miscellaneous items. All the participants drew three numbers at random out of the hat, numbers corresponding to the aforementioned selection of prizes. Everybody got plenty of booty!
Many thanks to the gracious Columbia Basin Control Liners club for putting on this great event.
Photo captions: Above, Contest worker and CBCL member Dave Miller, with his new Twister. Below: CBCL members Joe Just and grandson Logan. Photos provided by Joe Just.
Host club's report on the fun fly
Before I get to the report on the get together we all had this past weekend let me say this. First, while it was an AMA sanctioned event it was not a "contest", but a fun fly. For those who may be thinking that my approach to the event was based on some sort of "touchy feelie," "give all an award to keep them from feeling they might not be happy in a loosing situation" scenario, remember that I have been a professional athlete, a two-sport letterman in College and an avid competitor in several endeavors as well as control-line flying. I believe that competition is important but not everything in ones' approach to modeling. However, it is not the only way of enjoying the hobby.
Our local control-line club, the Columbia Basin Control-liners, wanted to test the waters of competition, but lacking a lot of experience in handling contests we decided to have a fun fly. What happened this past weekend not only was FUN, it was a great learning experience for all of us.
The set up of the flying site was handled by Dave Miller and his crew and a great job was done with very litte difficulty. just about everything went very well and my thanks go out to all that helped with running the event.
We had 21 people attend as flyers, and perhaps 6 more that came as spectators. The 21 flyers put up 145 flights over the two day period.
We drew flyers from as much as 400 miles away, who came to enjoy and fly as much as they wanted to without the challange of being scored and pressured into being ready to fly when the event directors said they must. With 145 flights the two days had planes in the air on the two circles almost constantly.
The control line fraternity will by its nature always be centered on competition in the various catagories. However having a fun fly opens up a whole new way of having fun without pressure. For example I had at least 4 guys helping me get in the first flight on my new twin. It took some doing, what with the "new plane first flight" snydrome that seems rampant. This would have been totally unavailable if I was trying to get things sorted out on the flightline at a contest. My grandson Logan got to fly 15 times this weekend. He only gets to fly with me on rare occasions. At his only two contests he only got to fly a total of 4 times, 2 in Beginner PA and twice in profile carrier. The fun fly approach was really great for him, with just the right amount of pressure to keep his heart beating as he flew in front of strangers.
We were very fortunate in receiving 67 seperate items to give away, and each flyer got 3 prizes ranging from a single glow plug to kits well worth up to $90.
So, in closing let me reccomend that any club, particularly one that is new, give a fun fly a try. The attempt will be very educational. The results will be a great memory!
This page was upated Sept. 19, 2006